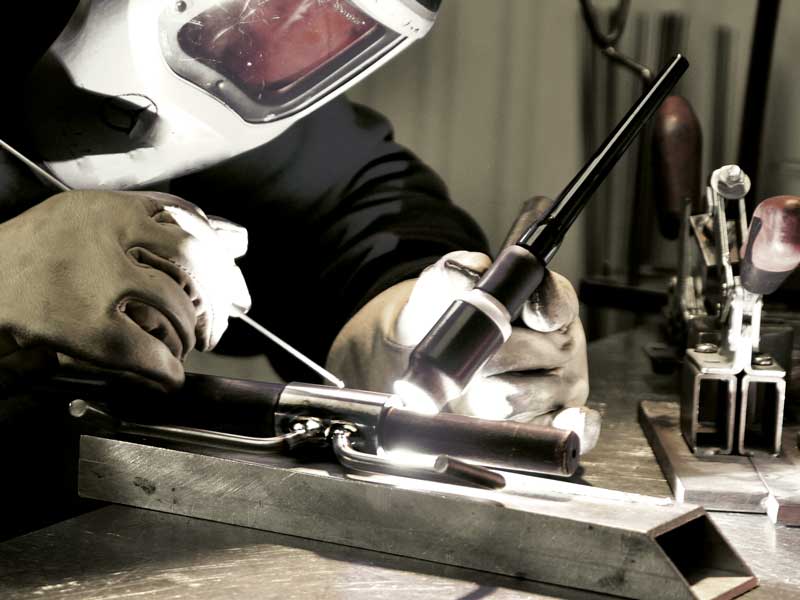 Dedication to authenticity and craftsmanship has made the classic TiCad Star and premium TiCad Liberty trolleys a permanent fixture on golf courses around the world&nbsp
Author:
Bjoern Hillesheim, Managing Director, TiCad GmbH & Co KG
May 4, 2018
In a world increasingly dominated by new technologies and production lines, the desire for authenticity – for something genuine – continues to drive demand for handmade products. Whether it's the impeccable design, the traceable manufacturing process or just the noticeable passion for the product, customers have always had an innate connection to items born of an individual's expertise.
The artistry and high-quality materials adopted by TiCad have ensured great longevity, providing customers with the perfect combination of style and substance
Based in the town of Altenstadt, in the central German state of Hesse, TiCad lends special meaning to the term 'handmade in Germany'. The company has produced premium golf trolleys since opening its doors in 1989 and, to this day, employs experienced experts to perform every step of the manufacturing process with care and precision.
Such dedication to authenticity and craftsmanship has made the classic TiCad Star and premium TiCad Liberty trolleys a permanent fixture on golf courses around the world. In fact, the artistry and high-quality materials adopted by TiCad have ensured great longevity, providing customers with the perfect combination of style and substance. What's more, each TiCad trolley is unique, with customers able to customise everything from special bag holders and personalised engraving to the type of leather and thread on the handle.
It is this commitment to design and production that has seen TiCad become the first manufacturer of golf products to be inducted into the prestigious Meisterkreis Deutschland network, an organisation that seeks to showcase the outstanding achievements of German engineering to the wider world.
The art of the game
Over the years, TiCad has grown its portfolio to include five hand trolleys and four electric models. Whether electric or manual, each trolley benefits from broad-based expertise, skilled workmanship and an impeccable eye for detail. Every component passes through the hands of an expert, and is perfected through the company's steadfast commitment to both the craft and the product.
At a time when many other manufacturers have looked to outsource the production of their components, TiCad has consistently extended its own value chain, making almost all of its own parts. During the manufacture of the trolley's titanium wheels, for example, numerous steps are taken to form the classic three-spoke design in house. Crafting the rim, hub and spokes alone involves cutting, bending, pressing, milling, spindling, deburring, welding, blasting and polishing the titanium.
The TiCad leather shop, meanwhile, uses first-class hides from free-range southern German cattle to create high-quality tailored handles. Precision-crafted decorative seams put the perfect finishing touches on the trolley's overall appearance, and customers can choose from a wide range of colourings to make the trolley their own. Further, by crafting each leather grip by hand, TiCad is able to accommodate any special requests into the design. The success of TiCad's bespoke handles has even encouraged the company to expand its offering, with a number of new leather projects set to carry the brand's unmistakable signature in the near future.
Unsurprisingly, the unparallelled quality of TiCad golf trolleys has earned plaudits from customers and industry commentators alike. The TiCad Star, for instance, has delighted generations of golfers as a timeless, elegant and functional trolley, made of lightweight – yet sturdy – titanium. Its ingenious design, which led fans to affectionately dub it 'the paper clip', is just as appealing today as it was when the trolley first entered the market in 1991.
Winning the German Industry Innovation Award the year it was launched, as well as an iF Design Award a year later, the TiCad Star has since made guest appearances at two prestigious museums: the Deutsches Museum in Munich and the Museu de Arte do Rio in Rio de Janeiro. But perhaps most impressively, the TiCad Star was officially recognised as a work of applied art by the Regional Court of Frankfurt in 2003 for "surpassing creative intellectual content".
Perfect drive
With a sleek, clean-lined style and titanium frame, the TiCad Liberty embodies all the values TiCad holds dear. Its innovative button and twist-grip controls ensure automatic forward motion, while the handy joints at the drawbar and axle allow it to be set up and dismantled in seconds. The powerful motors, which are ultra-quiet and efficient, combine with high-performance lithium-ion batteries to keep the trolley running for at least 27 holes. And, for more extreme performance demands, TiCad has developed a powerful sports drive which, combined with the electromagnetic parking and downhill brake that come as standard, makes it easier to navigate hilly courses and difficult terrain.
When you buy a TiCad trolley, you are never buying 'off the rack': countless accessories turn playing a round of golf into a true experience and provide storage for everything from scorecards and umbrellas to smartphones and GPS devices. The top-of-the-line model even features a special power supply that will keep your smartphone battery from running down on the course. This is an especially useful feature for those making use of the company's app to find the nearest golf course, track scores and store notes.
TiCad is widely recognised in the market for its inventive creations: in 2017, for example, the innovative TiCad flight battery was acknowledged under patent law. First launched in 2016, the flight battery doesn't require vetting from international airlines, which often stipulate batteries above 100Wh must be approved prior to flight. The flight battery's intelligent structure is based on two separate battery modules – each storing 92.9Wh of power – that are mechanically separated from each other.
Critically, the German Federal Office of Aviation has confirmed the patented TiCad flight battery is suitable to be carried on passenger aircraft – this is also noted in the manufacturer's certificate that accompanies the battery. With a total power of almost 190Wh, the TiCad flight battery ensures there are no obstacles to an extended round of golf – even on vacation.
Down to a tee
TiCad understands that good design means more than just appealing looks, and believes the evolution from pure form development towards functionality is a key consideration for any manufacturer. With this in mind, every TiCad product is measured against three criteria: aesthetics, comfort and convenience.
As such, trolleys like the classic TiCad Star and TiCad Canto (launched in 2017) are based on the folding principle: opening and packing away in just a single smooth motion. The ingeniously simple folding technology is based on a plug-in principle known as the 'fixfest connection', and never fails to impress golfers by adding perfect functionality to the trolley's refined look. Precision-crafted by hand, the fixfest connector eliminates the friction between frame parts and requires zero maintenance – not even a drop of oil. All these features allow TiCad trolleys – whether manual or electric – to be stowed effectively within seconds.
The TiCad approach to functional design has won many admirers. The company's employees are experts in their field and, thanks to this know-how, are able to achieve design standards unparallelled by the latest manufacturing technology. The result is an authentic, high-quality and harmonious design that is appreciated the world over. With 15 awards and distinctions from prestigious international design competitions, it's clear TiCad ranks among the experts of product design. The German outfit has consistently proven the benefits of authentic handmade products and, in a world often driven by quick and cheap production, has crafted stylish and functional classics in line with its claim to provide the perfect trolley.