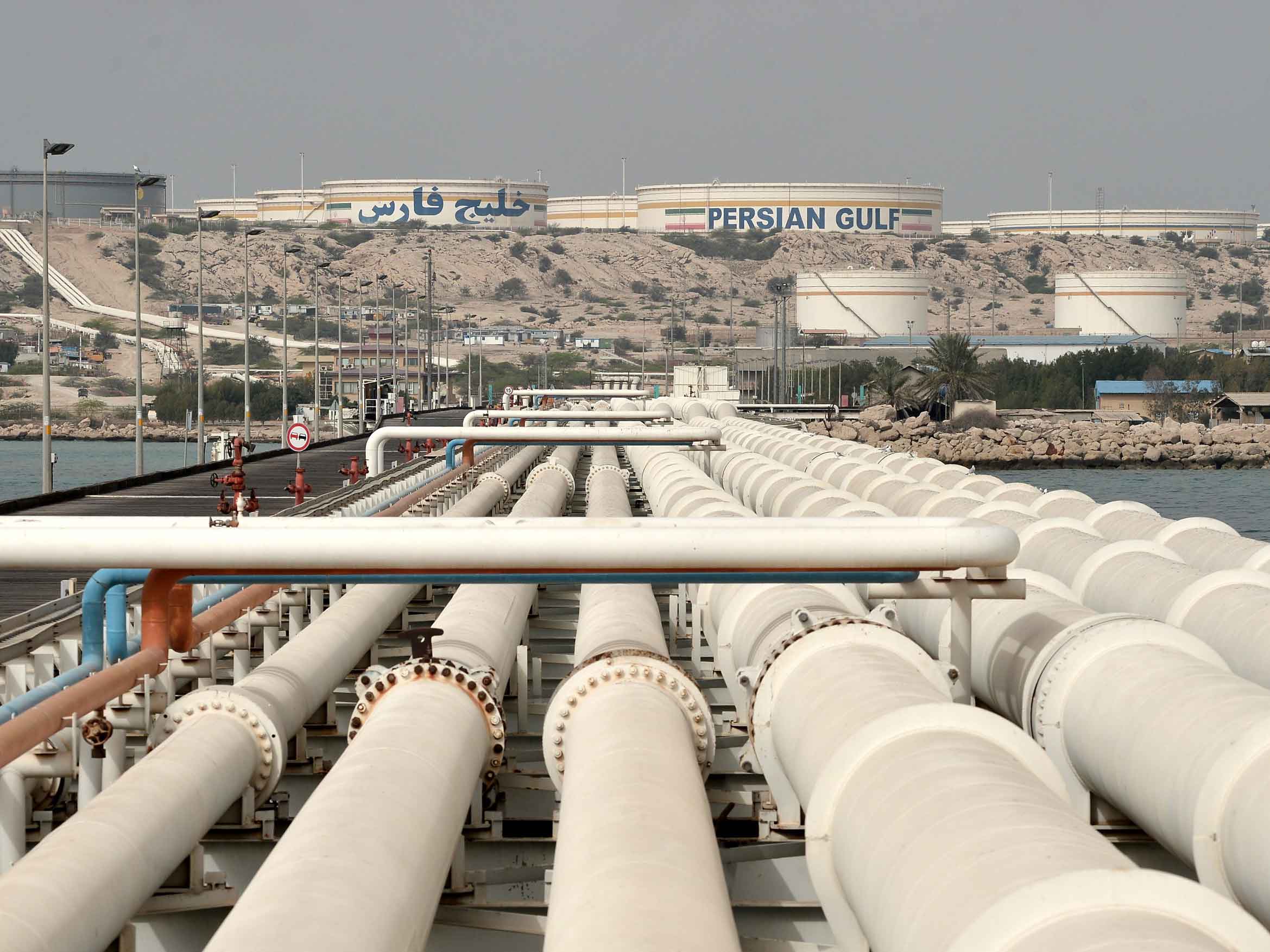 Kharg Island Oil Terminal is located 25km from the coast of Iran. 95 percent of Iran's crude oil exports are moved through the terminal&nbsp
The US has agreed to allow eight nations including Japan, India and South Korea to continue purchasing oil from Iran after the reimposition of sanctions on November 5.
According to a senior White House official, the waivers have been awarded in exchange for continued import cuts to avoid driving up oil prices.
China, the leading importer of Iranian oil, is still in discussions with the US regarding the terms of the waiver. Two anonymous officials have confirmed that Japan, India and South Korea are among the eight nations, while the other four countries have not yet been named.
The Trump administration must weigh its options carefully with regards to the sanctions, given that Iran is one of the world's largest oil suppliers
The Trump administration must weigh its options carefully with regards to the Iran sanctions, given that the country is one of the world's largest oil suppliers. This will involve ensuring that there is adequate supply in the global market to prevent a damaging spike in fuel prices, while also guaranteeing that Iran's government still feels the pinch from US sanctions.
Aside from the oil industry, the US president has also applied penalties to the shipping and financial services sectors. More than 700 individuals, entities vessels and aircraft are now subject to sanction, including major banks and shipping firms. US Secretary of State Mike Pompeo said in a briefing on November 4 that over 100 large international firms had already withdrawn from Iran due to the threat of sanctions.
A balancing act
In May this year, crude oil hit its highest price per barrel since 2014 due to a spike in demand that was not matched by increases in production. Price hikes such as these can have devastating effects for smaller nations that rely on imported oil for their energy needs.
Following rumours of the waivers, global benchmark Brent crude fell around 15 percent from last month's high of $85 a barrel. There has also been increasing speculation that other oil-producing nations will pump more to offset the supply gap.
The waivers awarded are temporary, and the US has stated previously that it expects these nations to minimise their reliance upon Iranian exports as much as possible. US Secretary of State Mike Pompeo said the exempted countries had already made "significant reductions in their crude oil exports" but needed "a little bit more time to get to zero". He also recognised that it was not always possible from a logistical point of view for certain nations to cut trade ties when they have nowhere else to turn for raw materials.
One such example is Turkey, a key destination for Iranian crude oil. Turkey has few oil and gas reserves of its own and, as such, imports around 90 percent of its national demand for these two materials. Energy Minister Fatih Donmez told reporters in Ankara last week that the Middle Eastern nation could be one of the four unnamed countries to receive a waiver from the Trump administration. Of the 830,000 barrels that Turkey imported daily last year, over a quarter came from Iran.
A long time coming
Oil sanctions have been looming over Iran for the past six months, ever since Trump decided to pull the US out of the 2015 nuclear deal between the Middle Eastern nation and six other global powers including France, the UK, Russia, China and Germany. The sanctions have been used as a threat by the US in an attempt to constrain Iran's oil exports. Although this tactic has been unpopular with the other nations involved in the nuclear deal, it has delivered impressive results, with Tehran's exports falling from 2.3 million barrels a day to 1.5 million in just three months, according to internal estimates.
Robert Palladino, Deputy Spokesperson for the US Department of State, said at a briefing on November 1 that the US was feeling "quite confident" that the sanctions would help to "exert maximum pressure against the Iranian regime".
"This leading state sponsor of terrorism is going to see revenues cut off significantly that will deprive it of its ability to fund terrorism throughout the region," Palladino said.
Under the terms of the waivers, countries must pay for Iranian oil using escrow accounts in their local currency. These accounts will be managed by western banks, which will ensure that the money can only be used by Iran to buy food, medicine or other non-sanctioned goods. By not handing the cash directly to Iran, Trump's administration is attempting to constrain the country's economy and prevent the government from using the money in any nuclear development programmes.
At a meeting of economic officials on November 5, Iranian president Hassan Rouhani said that Iran would "continue selling oil" and would "proudly break the sanctions".