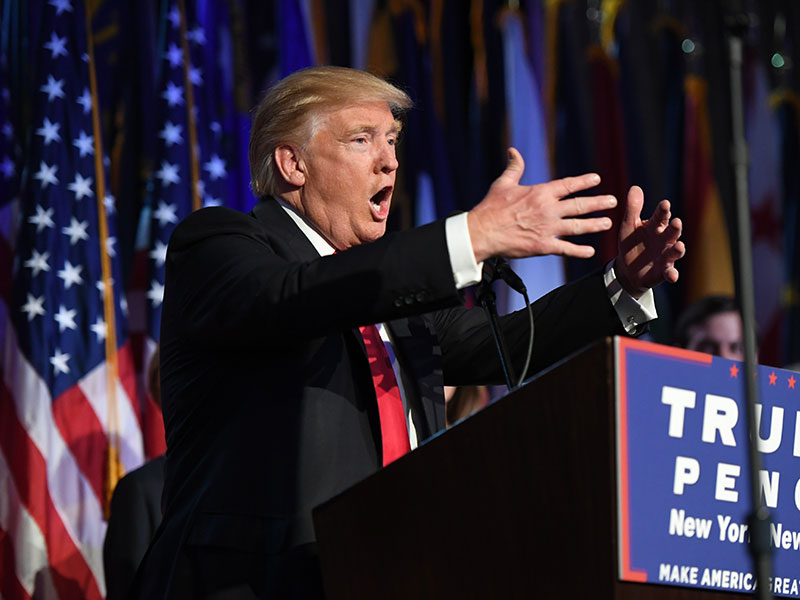 Following Donald Trump's victory over Hillary Clinton this week, global markets are beginning to assess how his presidency may affect them&nbsp
In a turn of events that defied the predictions of opinion polls and widespread media expectations, Donald Trump has taken victory over his democratic rival, Hillary Clinton. After a particularly fierce campaign, global markets now have begun the process of figuring out what exactly Trump's policies will mean for both the US and international economies.
Trump led a freewheeling and aggressive campaign full of contradictory statements, which led to fears of an uncertain future. These concerns initially rattled markets as the election results trickled in. On Tuesday night, as Trump's victory became clear, futures trading of US stocks immediately crashed – however, markets began to turn around following his victory speech, which struck a far more conciliatory tone than his previous campaign efforts.
Immediately following Trump's victory, the peso suffered its largest drop in nearly 20 years
In the days following, investors have continued to push the stock markets in sectors that are expected to benefit from Trump's policies. As reported by Reuters, the healthcare and financial sectors posted gains of three percent each on Wednesday, with Trump's ambition to repeal the Affordable Care Act and free up banking regulations seen as a chance for growth. The US manufacturing sector also saw a boost, with a rise of one percent across the Dow Jones industrial average. Returning manufacturing to the US was a lynchpin of Trump's campaign, and overall Wall Street has welcomed Trump's broadly pro-business sentiment, Bloomberg reports.
One sector of the US economy facing increased uncertainty is Silicon Valley. While Obama was particularly supportive of the technology industry during his presidency, Trump has expressed hostility towards companies including Apple and Amazon. As reported by TechCrunch, Trump could stall attempts solidify net neutrality and weaken encryption standards to allow law enforcement agencies greater access to data. He is also opposed to overseas manufacturing and shifting profits offshore, particularly at Apple.
Other industries that have seen a fall in confidence are those that rely on open trade, with transport firms and manufacturers in Asia hit particularly hard. Trump's protectionist policies, which are designed to reinvigorate US manufacturing, may result in a drop of Asian imports, Reuters reported.
In the lead up to the vote, the value of the Mexican peso had been matching Clinton's support polls. Immediately following Trump's victory, the peso suffered its largest drop in nearly 20 years, reported The New York Times. More uncertainty is expected in the future.
Markets will undoubtedly continue to carefully scrutinise all of Trump's statements leading up to January next year, when he officially takes office.