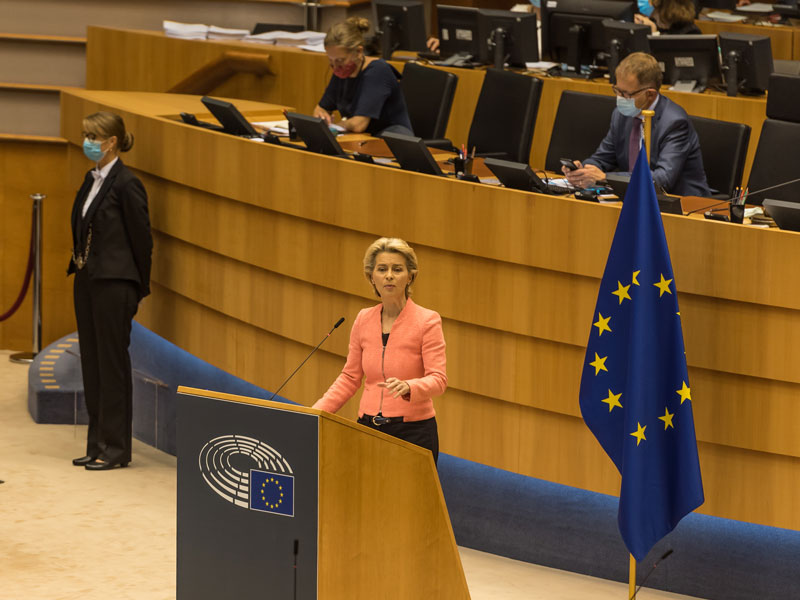 European Commission President Ursula von der Leyen delivers her first State of the Union speech of 2020 on 16 September in Brussels, Belgium&nbsp
On 16 September, the president of the European Commission Ursula von der Leyen outlined plans to bring the bloc out of the deepest recession in its history while also making European nations more resilient in the future.
Von der Leyen is determined that the EU emerges from the coronavirus pandemic better prepared to face another looming crisis: climate change. Addressing EU lawmakers in her first State of the Union address, she reinforced her commitment to cutting greenhouse gas emissions, announcing that the EU should increase its emissions-cutting target to at least 55 percent by 2030, up from an existing target of 40 percent.
"I recognise that this increase from 40 to 55 is too much for some, and not enough for others," she said. "But our impact assessment clearly shows that our economy and industry can manage this."
She also stressed the importance of international cooperation during the pandemic, urging European governments to work together on common healthcare policies. She promised that the EU would create a biomedical research agency and convene at a global health summit. "We need to build a stronger European Health Union," she said. "And we need to strengthen our crisis preparedness and management of cross-border health threats."
Von der Leyen's calls for cooperation stand in contrast with the union's apparent fragility at this time. Her State of the Union address comes amid growing antagonism between the EU and the UK over a Brexit deal. The European Commission President warned that hopes of a post-Brexit trade deal were "fading" and that UK Prime Minister Boris Johnson's attempt to override parts of the withdrawal treaty was illegal.