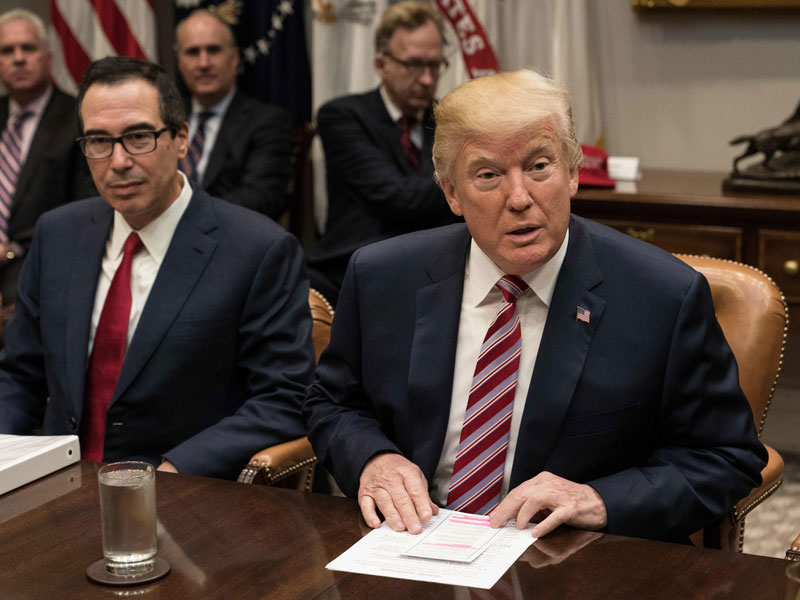 Trump speaks at a meeting with business leaders on tax reform earlier this year&nbsp
As it moves towards its final stages, Donald Trump's tax plan has run into a new potential obstacle: Europe. The finance ministers of five of the largest EU economies have signed an open letter to the White House and US Treasury, arguing that certain aspects of the planned US tax overhaul amount to 'America first' trade discrimination. The strongly worded critique also held that the proposed tax rules risk "having a major distorting impact on international trade".
By wading into the tax debate, the finance chiefs acknowledged tax policy as one of "the essential pillars of a state's sovereignty". Despite this, they argued that, in its current form, the plan embodies unfair and illegal international trade dimensions.
In its current form, Trump's tax plan embodies unfair and illegal international trade dimensions.
"It is important that the US Government's rights over domestic tax policy be exercised in a way that adheres with international obligations to which it has signed-up," the letter said.
The main focus of the finance ministers' critique is the way in which the US plans to tax multinational and foreign companies. Specifically, they fear that the proposed framework to shore up base erosion, which would protect the US tax base from the use of tax havens, could step on the toes of European business. The ministers outlined: "We have strong concerns if [US action to protect its tax base] is done via measures that are not targeted on abusive arrangements as this would impact on genuine business activities."
Another key sticking point is the proposed rule that US exporters would be taxed less heavily if their profits were based on intangible assets like brands. Hinting at the possibility of European retaliation, the letter said that this provision could "face challenges as an illegal export subsidy".
The attack from European ministers is not the only international resistance the bill has faced. China is the process of drawing up a contingency plan to combat the problems the bill might cause the Chinese economy. The Wall Street Journal quoted one Chinese official who speculated: "We'll likely have some tough battles in the first quarter."