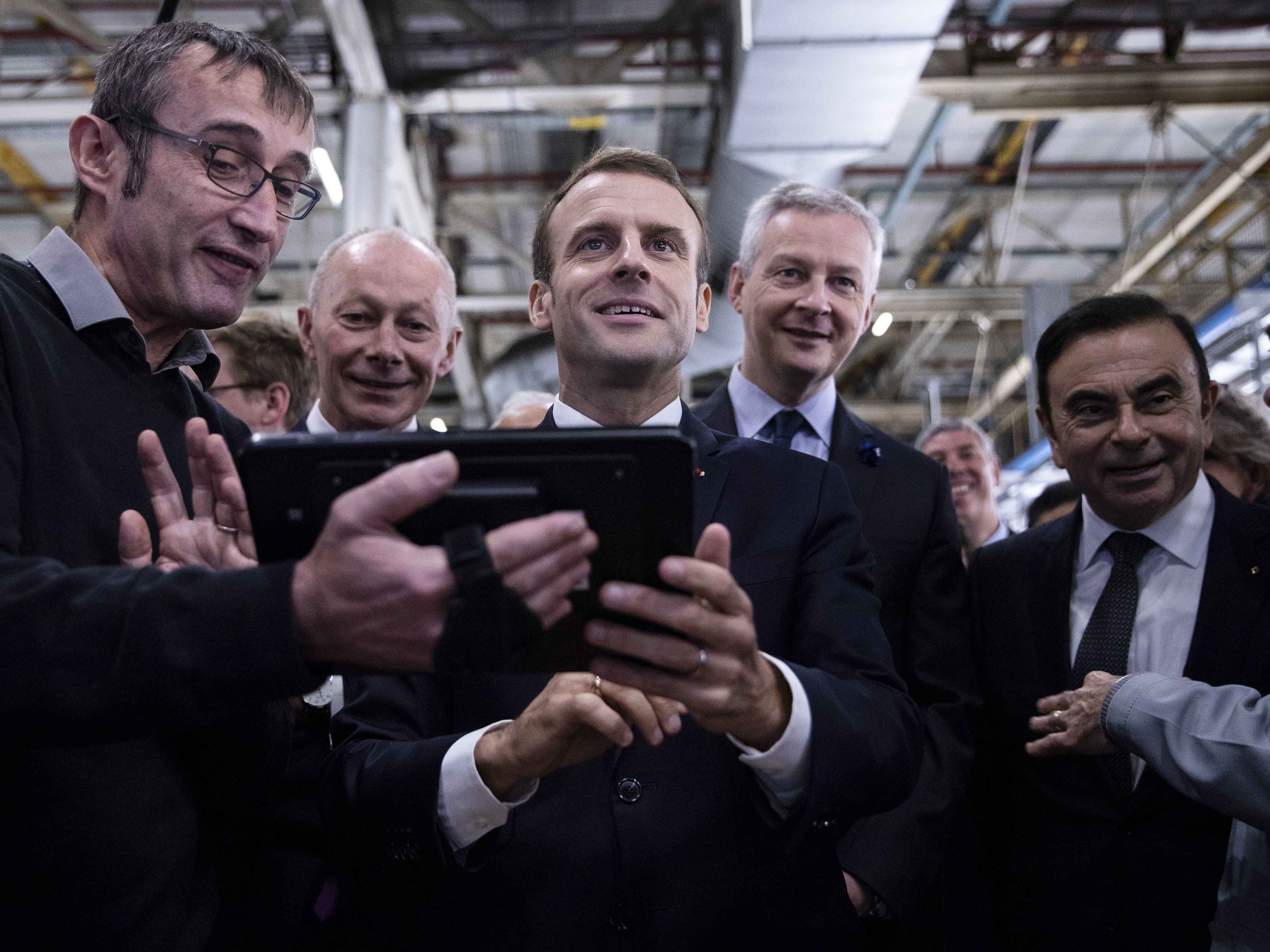 Macron meets with Renault CEO Carlos Ghosn at the Renault factory in November 2018. Renault was set to merge with Italian carmaker Fiat until Macron delayed the board vote&nbsp
Author:
John West, Managing Editor EMEA, Mergermarket and Dealreporter
For some time now, French President Emmanuel Macron has been stressing the need for European industry champions. Supportive of the proposed deal between Alstom and Siemens that was eventually killed off in Brussels, Macron also seemed to rubber stamp the Fiat/Renault tie-up. Finance Minister Bruno Le Maire was given the crucial green light to support the merger, given that France owns a 15 percent stake in Renault. The merged entity would need to abide by a list of commitments to secure French Government support.
However, Macron's administration potentially wrong-footed concerned parties with a requested delay to the merger so that Japanese stakeholders could first be consulted. Renault's alliance with Yokohama-based Nissan had been a key area of uncertainty for the outcome of the proposed merger. Fiat then threw in the towel, arguing that the "political conditions in France [did] not currently exist" for the deal to go forward. Macron — a former investment banker championing economic liberalisation — ended up stymying the deal, in a fashion akin to so many dirigiste French presidents of the past. Meanwhile, Italian Deputy Prime Minister Matteo Salvini — known for his nationalistic policies — lamented the collapse of a cross-European project.
Last month, President Macron declared "European naïveté" needed replacing with fresh European oversight of Chinese investment in the continent.
The state of play
At May's Mergermarket M&A Executive Club conference in Paris, panellists praised Macron for defusing the gilets jaunes movement without abandoning his liberalising reform agenda. They were convinced that France is becoming an increasingly popular place for luring investment from overseas.
Over the past six years, the contribution of inbound M&A to France has varied wildly: a mere 35.2 percent back in 2013 and touching a low of 34.7 percent in 2018. Nonetheless, peaks of 75.2 percent and 70 percent recorded in 2014 and 2016 were trumped by the 80.7 percent seen year-to-date in 2019, according to Mergermarket data.
Further, China is among the more prolific acquirers of French targets. Its trade dispute with the US has directed its interest increasingly towards Europe. France in particular is becoming a popular hunting ground, despite the recent social unrest, revealing good confidence in the country's economic outlook.
Last month, President Macron declared that "European naiveté" needed replacing with fresh European oversight of Chinese investment in the continent. This could be seen, along with the politically charged collapse of the Fiat/Renault merger, as evidence of France returning to the old playbook.
If investment from China comes with strings attached, any deal could be viewed as a national security risk by both the left and the right. Equally, if wanting to shield against Chinese state-backed economic power games, it would seem prudent to ensure Japan remains onside as an Asian ally. The game's afoot to become Japan's primary territory for European investment now that Shinzo Abe's administration and domestic companies have lost faith in a British Government hell-bent on a hard Brexit.
Striking a deal
EU competition rules saw off the Siemens/Alstom merger, yet Le Maire and German Economy Minister Peter Altmaier presented a joint industrial manifesto earlier this year, seeking to amend merger control legislation to allow European champions to emerge and compete on the world stage.
Examining recent deals that France has struck indicate that the country is producing forward-thinking corporations, which are attracting overseas investment due to France's stable economic and political environment. Such a mindset among large cap companies has helped prompt more foreign players to regard France as ripe for investment, and follows an emerging small to mid-cap group of companies, especially within the field of technology, that is also garnering international interest. As such, about 30 percent of small-cap companies end up in the hands of foreign bidders.
In addition, French opportunities may emerge, as stock market volatility has slowed equity capital market activity. As volatility continues, France's IPO pipeline remains narrow after various companies pulled plans to go public, which could instead turn towards sale routes that may further appeal to international buyers.
Sika AG's €2.2bn ($2.4bn) takeover of chemicals company Parex Group in January, and BlackRock's €1.3bn ($1.5bn) buyout of investment software provider eFront two months later, collectively garnered fewer headlines, and less numerous clichéd column inches, than Fiat/Renault. However, they do highlight France as a place in which to do deals.