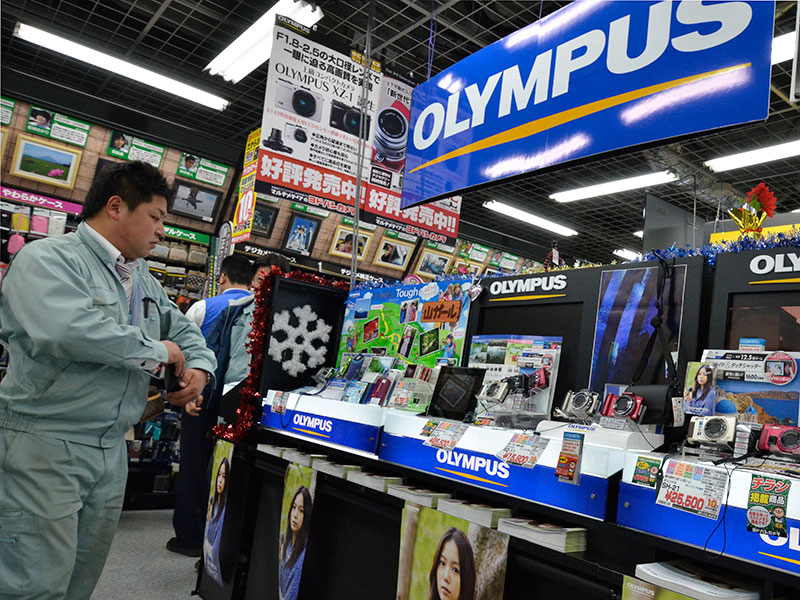 Olympus cameras on sale in Tokyo, Japan. Six former Olympus executives have been collectively charged with $520m worth of damages related to a scandal that came to light in 2011&nbsp
Six years ago, it emerged top executives at camera manufacturer Olympus had falsified accounts to conceal losses of more than $900m in one of the biggest financial frauds in Japan's history. The scandal has now culminated in a $520m fine, which has been charged jointly to six individuals who were implicated in the cover-up.
The defendants include five former high-ranking executives of Olympus, as well as the company's former chairman, Tsuyoshi Kikukawa. While one of the six individuals has since died, the fine will be passed on to his heirs.
While one of the six individuals has since died, the fine will be passed on to his heirs
The Olympus scandal came to a head in 2011 when then-CEO Michael Woodford confronted the board regarding his concerns over suspiciously large payments related to acquisitions. Following the challenge, Woodford was promptly dismissed by the board. An investigation into the incident revealed a long-running cover-up effort dating back to the 1990s, in which losses of $1.7bn were concealed from shareholders.
The lawsuit was filed by Olympus and its shareholders, who were looking to receive compensation for the damage incurred by the company as a result of the fraud.
According to The Mainichi, upon making the charge, Presiding Judge Akihiko Otake said: "If the former chairman and the others had not neglected their duties, the company would not have submitted false securities reports. Therefore, the defendants are obligated to compensate the company."
The case was launched against 16 executives, but ultimately only six were held responsible for damages. The remaining 10 were absolved as, according to Otake, they "were not in a position to become suspicious. Therefore, it cannot be recognised that they neglected their duties, such as those to investigate any alleged illegal practices".
Since the scandal erupted in 2011, Olympus' stock prices have gradually recovered. The company's reputation, however, remains dented.