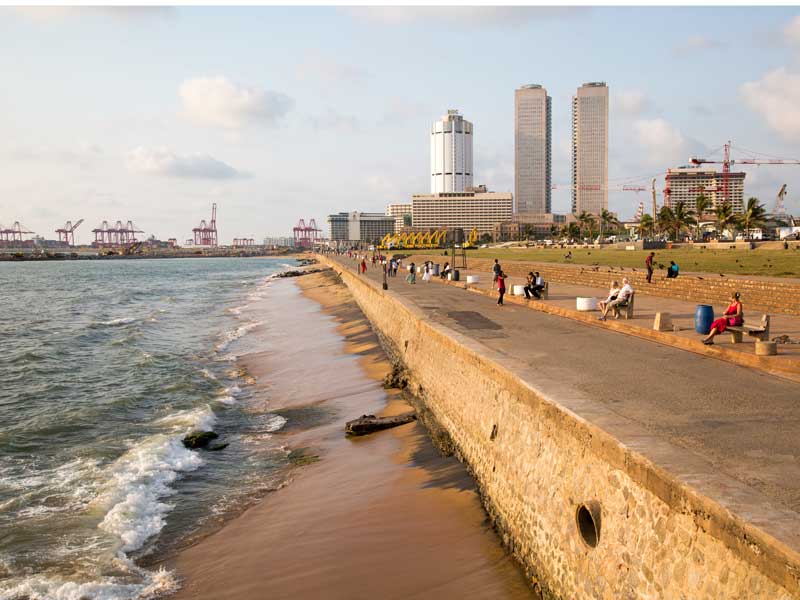 Sri Lanka has moved away from the mainly agriculture-based economy of its past, the country has experienced rapid urbanisation and significant modernisation over recent years&nbsp
Interview with:
R Renganathan, Managing Director and CEO at Ceylinco Life Insurance
Since emerging from a long and bitter civil war in 2009, the island nation of Sri Lanka has embarked on a programme of accelerated economic development. Shifting away from the predominately agriculture-based economy of its past, the country has experienced rapid urbanisation and modernisation over the past eight years. According to the World Bank, the nation's economy has grown at an average of 6.2 percent since the end of the civil war, with manufacturing and services helping to drive this upward trend.
Sri Lanka's life insurance market is one of the nation's most innovative, and as the country experiences GDP growth and rapid urbanisation, the demand for it grows
While most of the world has struggled in the years following the global financial crisis, Sri Lanka has enjoyed steady economic growth and now boasts the highest per capita GDP in the South Asia region. Similarly, Sri Lanka is one of only two South Asian countries currently rated as 'high' on the Human Development Index and is on target to transition to upper-middle income status by 2018.
Amid this rapid socioeconomic development, one sector is showing particularly impressive results. Despite being a relatively young industry, Sri Lanka's life insurance market is one of the nation's most innovative and competitive. Assets belonging to Sri Lankan life insurance companies amounted to $3bn as of 2012, a figure that has continued to climb in the years since. As the country experiences impressive GDP growth and rapid urbanisation, the demand for life insurance products grows, and opportunities for companies improve.
Steady growth
The Sri Lankan life insurance market has historically been modest, accounting for just a small percentage of the nation's wider industry. In 1988, the state-owned insurance sector was liberalised, allowing private sector insurers to re-enter the market. Nonetheless, despite the sudden influx of new players, life insurance uptake in Sri Lanka has remained low. Just 13.7 percent of the Sri Lankan population is covered by life insurance as it stands – a relatively low level of penetration.
R Renganathan, Managing Director and CEO of Ceylinco Life Insurance, said: "There is undoubtedly potential for selling medium-to-long-term life insurance in the country." He continued: "The challenge is to capture that segment of the market by increasing life insurance penetration in the country in the future. This is not just a priority for Ceylinco Life, but for every life insurance provider in the country."
However, these low levels of life insurance penetration may soon be set to change thanks to the significant demographic shifts currently taking place in the island nation. Like many countries around the world, Sri Lanka now has a rapidly ageing population: in 1971, just 6.3 percent of the nation's population was aged 60 years and above, but by 2012, this figure had almost doubled to 12.2 percent. As life expectancy continues to rise, as much as 16.7 percent of the Sri Lankan population could be aged 60 or over by the year 2021.
Renganathan explained: "It is evident that the country's population is ageing rapidly. Demographists predict that by 2041, one quarter of our population will be elderly. We view this as an opportunity for life insurance providers to reach out to the senior citizens in the market to create tailored life insurance policies, as well as retirement planning products."
Indeed, with its inhabitants now living longer, Sri Lanka is expected to see a bigger demand for life insurance products such as pensions and endowment policies, while retirement planning is becoming increasingly essential. Furthermore, the nation's rapid urbanisation is also contributing to greater life insurance penetration among its citizens. Urban populations are expected to grow by 3.3 percent annually over the next 15 years, as vast numbers of citizens relocate to the nation's sprawling city centres. While rural families can often rely on village support and other means of localised security, urban families tend to depend on a single breadwinner, leaving them vulnerable to financial difficulties in the event of family tragedy. Urbanisation can thus have a positive effect on life insurance demand, as families look for financial security in their new city lives.
What's more, along with rapid urbanisation and rising life expectancy, Sri Lanka is also experiencing impressive GDP growth. In 2015, the nation achieved its Millennium Development Goal of halving extreme poverty, and the country is now expected to achieve upper-middle income status as soon as next year. With its citizens now enjoying greater financial security, Sri Lanka may well see an increased demand for life insurance over the coming years.
A relationship for life
As interest in life insurance policies grows among Sri Lankans, the nation's leading life insurance companies are now looking for new ways to engage with a wider customer base. In addition to appealing to the country's ageing population, life insurance companies must also be able to connect with younger clients if they wish to stay ahead of the competition. Representing one million lives with active policies, Ceylinco Life's commitment to innovation and outreach has cemented the company as Sri Lanka's most successful life insurance firm, winning loyal clients across various generations.
Renganathan explained: "Ceylinco Life's current objective is to focus on different policy solutions, devise effective retirement plans for Sri Lanka's ageing population and roll out long-term insurance policies for the younger urban markets." He added: "We are developing an extensive and original portfolio of products that cater to the different life stages of potential policy holders."
These products range from basic protection-based products to investment-orientated life insurance policies. For younger clients, Ceylinco Life offers a range of medical plans and retirement planning, and has created an array of education-related products specifically targeted at parents. One such product is the recently launched Ceylinco Life Degree Saver, which helps families put money aside for their child's further education, while still providing valuable financial protection. This diverse collection of policies reflects the company's belief that life insurance is a relationship for life, with different products available for every stage in a client's lifespan.
In addition to this wide range of products for clients of different ages, Ceylinco Life is also committed to modernising the life insurance market by prioritising customer convenience. Thanks to a recent collaboration with the Sri Lankan postal service, Ceylinco Life customers can now pay their insurance premiums at any post office in the country. By offering time-saving services, Ceylinco Life is effectively creating a new style of life insurance that is compatible with the busy pace of urban life. Furthermore, in addition to serving its existing client base, the company is also passionate about highlighting the importance of life insurance among the wider community.
"We conduct two annual islandwide campaigns to address the lack of awareness of life insurance and retirement planning," said Renganathan. "Conducted primarily through door-to-door visits and social media, our Life Insurance Week and Retirement Planning Month have both contributed significantly to increasing life insurance penetration in Sri Lanka."
A modern market
In recent years, technology has drastically transformed the world's financial services industries, as mobile banking and instant-pay products have fast become the norm. While the banking sector has undergone something of a digital revolution, the life insurance industry has been slow to modernise its services. However, this trend may be set to change in Sri Lanka, as Ceylinco Life has made digitalisation a key priority in its future development plan.
Indeed, the transformation to an all-digital environment is already well underway, with more than 1,000 Ceylinco Life sales agents currently equipped with tablets and smartphones. The company also boasts its own app, which allows its agents to deliver a comprehensive and digitalised service to customers. Along with improving services for existing customers, Ceylinco Life hopes that this digital drive will help the company engage with the elusive Millennial client base.
"Selling life insurance to Millennials and Generation Z is tough," said Renganathan. "They prefer instant gratification and demand returns in a much shorter period of time."
Many young people fail to prioritise future financial protection and retirement planning, as later life simply feels too far away to worry about. While it can be tempting for young people to purely focus on their current finances, future planning is an unavoidable necessity. Neglecting future plans at a young age can prove extremely detrimental when approaching retirement, leaving the person in question with little financial security in the later years of their life.
Renganathan explained: "The challenge is to tap into this Millennial market by making them aware of the need for a longer-term commitment and by providing innovative insurance solutions that appeal to their needs."
With the company now beginning to make in-roads into this Millennial market, the future certainly looks promising for Ceylinco Life. Through community engagements and product innovation, it continues to successfully raise awareness of life insurance and show that it is a practical investment for all modern Sri Lankans.