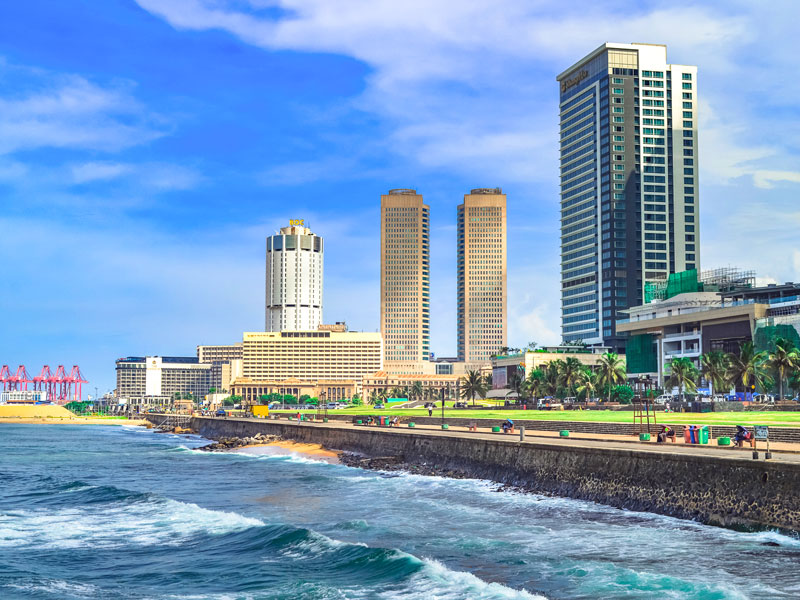 Colombo, Sri Lanka. The island nation's economy has been expanding at a steady rate over the last decade, with school enrolment and employment both increasing markedly &nbsp
Interview with:
Rajkumar Renganathan, Managing Director and CEO, Ceylinco Life Insurance
January 31, 2019
Sri Lanka is a nation transformed. The island nation has ushered in a new era of accelerated growth, with its economy consistently expanding at a steady rate over the last decade (see Fig 1).
From boosting school enrolment to cutting unemployment rates, Sri Lanka has made significant strides to improve the lives of its citizens. It has also reduced the percentage of its population living below the poverty line from 23 percent in 2002 to 4.1 percent in 2016.
Sri Lanka's commitment to investing in education and training programmes has yielded decidedly positive results. Thanks to its well-funded education system, Sri Lanka now boasts the highest literacy rate in South Asia, which has resulted in a host of highly skilled workers flooding the jobs market. The Sri Lankan labour force is now expanding steadily, posting an impressive employment rate of 96 percent for 2018.
However, as a growing number of educated Sri Lankans enter the workforce, disposable incomes are beginning to shrink as a result of high inflation and erratic price hikes on essential commodities, such as fuel. This squeezing of household incomes poses a significant challenge to the nation's fledgling life insurance market. With less money in workers' pockets at the end of every month, the number of life insurance policies among working citizens dropped from a high of 37.6 percent in 2016 to 35.4 percent last year.
To avoid becoming a casualty of shrinking disposable incomes, insurers must act fast to connect with untapped customer bases and to raise awareness of the immeasurable value of life insurance policies. World Finance spoke to Rajkumar Renganathan, Managing Director and CEO of Ceylinco Life Insurance, about the growing importance of life insurance products and effective retirement planning among working Sri Lankans.
A necessary investment
In Sri Lanka, the informal economy continues to thrive. With thousands of workers engaged in small, informal businesses, the sector plays an essential role in the nation's economy, generating an estimated 40 percent of GDP. While cash-in-hand work can foster entrepreneurialism and provide easy-entry employment opportunities for low-skilled workers, it is also precarious by its very nature, with informal employees often earning unpredictable salaries and working erratic hours. What's more, the absence of government protection for workers involved in the informal economy leaves many Sri Lankans in a vulnerable financial position. If an employee in the formal economy falls ill, for instance, they are protected from any serious risk to their income by an extensive buffer of state benefits, whereas informal workers lack this crucial protection. Many Sri Lankans involved in the informal sector have also been left out of structured pension arrangements, leaving them largely dependent on their families for financial support in their retirement and later life.
Thanks to its well-funded education system, Sri Lanka now boasts the highest literacy rate in South Asia
"Life insurance is particularly important in a country like Sri Lanka, where the informal economy is large," said Renganathan. "The majority of the population has no safety net to protect them in the event of a crisis and, as such, the current low levels of life insurance penetration are a real cause for concern."
Although they could stand to benefit from investing in life insurance products, many informal workers are simply unaware that such services exist. It is crucial, therefore, that key players in the insurance market connect with these untapped consumers and effectively communicate the countless benefits of life insurance and retirement planning to Sri Lanka's informal employees. Furthermore, there is a sense of urgency behind this awareness drive, as the island nation is facing a significant demographic shift.
Like many of its Asian neighbours, Sri Lanka is home to a rapidly ageing population, and this 'silver tsunami' is creating a number of substantial socioeconomic challenges for the nation. By 2041, one in every four Sri Lankans will be aged 60 or over, marking a seismic shift for a country once blessed with a large working-age population. As life expectancy continues to rise, the importance of efficient retirement planning and reliable life insurance options simply can't be ignored. It is never too late to begin planning for later life, and for Sri Lankans hoping to enjoy a happy and comfortable retirement, life insurance products such as pension plans and endowment policies are set to be crucial investments.
Spreading the word
Despite the steady progress made by insurers in recent years, Sri Lanka still remains an underpenetrated market. While many Sri Lankans could benefit from investing in life insurance products and retirement solutions, a lack of public awareness of these services has resulted in a modest uptake of policies, particularly among rural communities. In order to combat this knowledge gap among its citizens, Sri Lanka's government has designated September 1 as National Insurance Day, while the entire month of September has been dedicated to a collective effort by competing companies to promote the importance of life insurance to the Sri Lankan public.
"This government-led effort has helped to create greater awareness of life insurance throughout the country," said Renganathan. "Previous awareness drives have tended to feature an individual insurance company looking to raise awareness through branded promotion and product advertising, but this collaborative effort has proved far more successful."
In addition to contributing to this government-backed initiative, Ceylinco Life has been engaged with boosting public awareness of life insurance for over a decade. As the nation's leading life insurance provider, Ceylinco Life is committed to increasing policy penetration in Sri Lanka. It therefore runs a variety of island-wide campaigns to address the lack of knowledge of life insurance offerings. Combining door-to-door visits with social media blasts, Ceylinco Life's Retirement Planning Month and Life Insurance Week are two of the company's most celebrated campaigns.
"Life Insurance Week is a high-intensity, nationwide operation, which sees our entire sales force engaging in in-branch promotional activities and door-to-door visits across the nation," said Renganathan. "Retirement Planning Month is a similar operation, but it is primarily focused on demonstrating the importance of planning for later life."
These interactive, customer-focused campaigns have allowed Ceylinco Life to effectively engage with urban and rural communities alike, and have contributed significantly to increasing life insurance penetration through the island nation. Before the launch of Ceylinco Life's Life Insurance Week initiative, less than 10 percent of the Sri Lankan population was covered by life insurance policies. Today, 14.3 percent of Sri Lankans are protected by active policies, demonstrating an increased public awareness of the value of life insurance products.
During this year's Life Insurance Week, Ceylinco Life reported higher-than-average sales of policies, reflecting the hard work of its nearly 4,000 sales professionals who took to the streets during the campaign. By reaching out to uninsured Sri Lankans and educating them on the benefits of life insurance products, Ceylinco Life is helping citizens effectively plan for the future.
Invaluable advice
While awareness campaigns certainly play a vital role in educating the public on the life insurance market, the important work of life insurance advisors is just as valuable. These dedicated and experienced team members are always on hand to answer any queries that potential customers might have, and often serve as the first point of contact between an insurer and a new client. In 2016, 87.4 percent of the total premiums generated industry-wide in Sri Lanka stemmed directly from business brought in by life insurance advisors, demonstrating the indispensable role that these professionals serve in the insurance industry. With a comprehensive knowledge of wide-ranging insurance products – in addition to a sound understanding of current economic and financial trends – Ceylinco Life advisors are well equipped to explain life insurance concepts and highlight their importance to potential customers.
"Since life insurance is not considered a priority by many in Sri Lanka, our life insurance advisors play a crucial role in appealing to new customers," said Renganathan. "In most instances, these experienced professionals are also the main contact point between the company and the customer, and the service levels offered by advisors can thus help to build loyal, long-term relationships with clients."
Indeed, in addition to bringing new customers onboard, life insurance advisors also play a vital role in helping to retain current clients. If a customer is sold a life insurance policy that doesn't quite suit their needs or their financial situation, then they are likely to abandon this policy in favour of other options. It is therefore vital that customers are accurately matched with a policy that meets their present and future requirements, as correctly sold policies are the key to retaining loyal customers.
"Life insurance advisors need to be adept at conducting in-depth needs analyses on prospective customers, taking care to factor in a potential client's current earnings and future earning capacity," explained Renganathan. "A correctly sold policy has a higher chance of being kept active, so this needs analysis is crucial to building long-lasting relationships with our customers."
With a dedicated advisory team committed to establishing new customer relationships and attentively maintaining existing ones, Ceylinco Life is succeeding in its mission to improve Sri Lanka's understanding of life insurance and retirement planning.