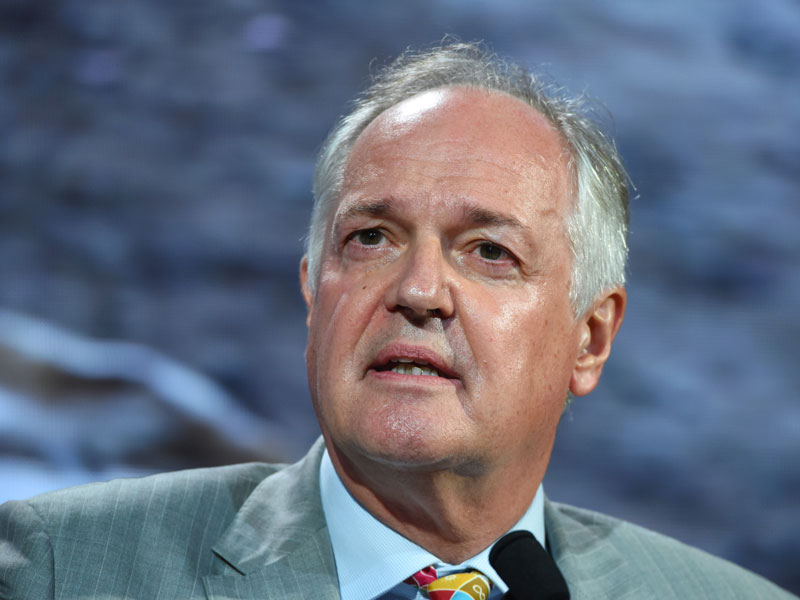 Paul Polman, fomer Unilever CEO. He gave an inspiring speech on fiduciary responsibility at the 2018 PRI in Person forum in San Francisco &nbsp
Author:
Daniela Door, Head of Alternatives and Research, Prima AFP
March 1, 2019
In September 2018, more than 1,200 representatives of nearly 600 organisations from 37 different countries gathered in San Francisco to participate in the 2018 PRI in Person forum, the largest ever gathering of professionals in the responsible investment space. Formed by a group of institutional investors following a United Nations initiative in 2005, the Principles for Responsible Investment (PRI) network is the main promoter of responsible investment in the world.
If everyone on Earth lived as American citizens do, we would need three planets to sustain our consumption
Responsible investing is a relatively new concept that refers to the integration of environmental, social and corporate governance (ESG) factors in decision-making and investment processes. ESG factors cover a broad spectrum of topics that have not been traditionally considered in financial analyses, such as how corporations respond to climate change, water shortages and corruption risks. They also consider how firms ensure their supply chains are not only sustainable and avoid excess costs, but also do not promote child labour or modern slavery. Investors are finally beginning to recognise that ESG issues are financially relevant, as well as being morally significant.
A conscious economy
The PRI's main objective is to assist its signatories in incorporating its guidelines into their decision-making processes and fiduciary duties. The PRI has more than 2,000 signatories, including some of the largest institutional investors in the world, with a total of more than $100trn in assets under management.
Attendance at the PRI in Person forum
1,200
representatives
600
organisations
37
countries
Given the conference's focus on ESG factors, it was unsurprising that the food served during the three-day event was exclusively vegetarian. Thanks to a new technology, we could enjoy a hamburger with the texture and flavour of meat that was entirely plant-based. Importantly, compared with a normal hamburger, this vegetarian burger produces eight times fewer greenhouse gas emissions, uses four times less water and 20 times less land.
Meal options aside, Paul Polman, the former CEO of Unilever, gave one of the most inspiring presentations of the conference. Polman began his speech by saying that, while he is dedicated to being the CEO of Unilever in his spare time, his full-time job is working towards a sustainable future. This emotive message demonstrated Polman's commitment and passion for creating a more conscious economy that works to produce solutions for the environmental and social
challenges we face.
Serving the 99 percent
Another key moment came later in Polman's speech, when he mentioned the huge challenge of moving from a linear to a circular economy. The world consumes 1.5 times more resources than are available on Earth, and if everyone on the planet lived as American citizens do, we would need three planets to sustain our consumption. It is increasingly important that we preserve our resources for as long as possible.
A particularly relevant topic Polman discussed was the growing inequality afflicting the world. We live in a world where 87 percent of the wealth created in 2017 belonged to the top one percent of the population, and just eight people accumulated the same wealth as the 3.5 billion poorest people. Polman stressed the urgent need to seek more equitable forms of growth.
In 2015, representatives of 197 countries met at the United Nations to work on the Sustainable Development Goals, 17 global goals that act as a road map to a sustainable future. But instead of thinking about corporate social responsibility as one aspect of a company's operations, Polman said businesses must change their entire vision and business management approach to become socially responsible corporations.
A new reality
Former US Vice President Al Gore also spoke at the event. The sustainable revolution, Gore said, has the magnitude of the industrial revolution and the speed of the digital revolution. Crucially, we are reaching a turning point: institutional investors are waking up not only to the risks of what climate change means for their portfolios, but also to the extraordinary opportunities it presents. Gore described climate change as the greatest investment opportunity in the history of humanity.
In his closing remarks, Gore summarised the issue of responsible investment: "If you do not integrate ESG factors in investment processes, you are violating fiduciary responsibility," he said. "This is the new reality in the market."