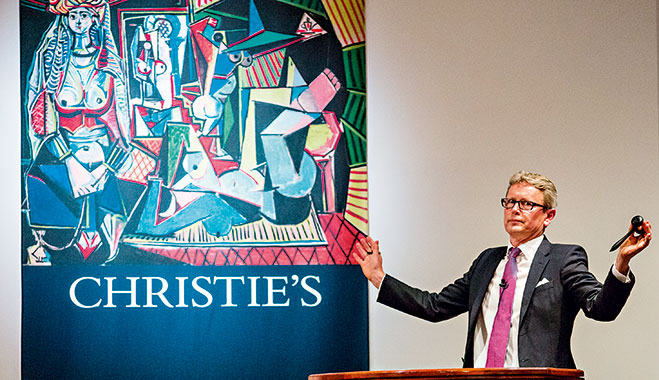 An auction in full effect for the artwork of Pablo Picasso, at Christie's in New York City&nbsp
The stock market may be favoured by many risk-defying people eager to make a quick buck, but for some, a steady investment offers a much more attractive way of spending money. While that may have traditionally come in the form of government bonds, the desperately low interest rates being experienced around the world is meaning risk-averse investors have to seek out alternative measures for parting with their money.
While there are many dull sounding investments that people can make with financial institutions that will yield solid – if unspectacular returns – the many complex traditional financial investments don't exactly offer much in the way of inspiration or attachment. However, an alternative category of investments is beginning to offer people prestige, engagement and substantial capital growth. Rare collectables are proving to be the sort of safe long-term investment that many people have been looking for over the last few troubled years.
Collectable items tend to attract people with an interest or emotional attachment, in a way that other investments couldn't
These unique forms of investment are particularly resistant to the sort of fluctuations in value that other products have because they are both rare and unlikely to see any major rise in the number of items in the market. For example, a rare piece of art by a long-dead painter will retain its value because the artist is unlikely to be creating new works from beyond the grave.
However, while they might retain their value, they are also more susceptible to impulse purchases made more from the heart rather than the head. Few people will pour their money into a government bond because they particularly love the work of that country's central banker, but an enthusiastic lover of impressionist art might decide to pay over the odds for a painting by Claude Monet were it to become available.
An investment like any other
Some businesses have long been focused on helping investors build portfolios of rare collectables. Stanley Gibbons Group is an alternative investment market listed company that focuses on managing rare stamp collections, among other similarly unique products. A long history that dates back to 1856, the company is one of the leading stamp dealers in the world and has offices in the UK, Hong Kong and Singapore.
In a video discussion with European CEO, Stanley Gibbons' Managing Director Keith Heddle talked of the misconceptions people have towards the rare collectables investment industry: "When you invest in rare stamps and rare coins, people think of it as a very left-field investment, and sure, to some extent it is. But we're not necessarily competing with classic cars, art, all of the other range of passion investments. What we're really competing with is the dollar in the investor's pocket, for the right strategy."
Heddle says that his firm is like any other investment company that is trying to attract clients that want safer investments: "When we find an investor who is looking for long-term growth, capital appreciation, and for something to diversify their portfolio, we're competing with the noise out there, to attract attention and say 'this could be right for your investment strategy.'"
Investing in rare collectables can be done in many different forms. From vintage cars to highly sought after pieces of art, collectable items tend to attract people with an interest or emotional attachment, in a way that other investments couldn't. For some, vintage cars can prove to be an attractive investment. Indeed, since 2005, values of some classic cars have soared by as much as 257 percent, according to private bank Coutts.
Cars made by Ferrari, Lamborghini and Porsche have all seen considerable jumps in value, even though the people buying them might not dare to actually drive them. While such iconic vehicles seem to be good long-term investments, based on recent rises the market has seen sharp peaks and troughs in the past. During the 1980s, values of classic cars soared to record levels, only to collapse during the early part of the next decade. The reasons for this seem to be because many buyers were funding their cars with loans, and were more concerned with the status that came from having a vintage car in the garage, rather than as a canny investment.
Works of art have always been something people spend staggering sums of money on, largely because of a buyers' love for the work, but they can prove to be some of the most secure forms of investment too. Just recently, a painting by Pablo Picasso set a world record for the most expensive piece ever sold at auction when it was bought for $179.4m (see Fig. 1).
Speaking to the International Business Times (IBTimes) website after the record sale of Picasso's 'Women of Algiers', Art Economics Founder and Managing Director Dr Clare McAndrew said that art can deliver substantial returns to investors: "In terms of yield, it differs across categories, but you can see returns as high as 40 percent."
With regards to the record selling Picasso, McAndrew told IBTimes that she thought the extremely high price represented a bad decision: "Purely from an investment point of view, Picasso's 'Women of Algiers' is a very bad investment because it will be difficult to find someone willing to pay more than this. It's irrational from that perspective. What investors should look for is investing in quality art that stands the test of time. Typically, the top tier art works will only increase incrementally, so you probably want something in the second tier that might provide a decent return."
Small but mighty
Perhaps the least glamorous items in the rare collectables market are stamps. While few wealthy businessmen are going to invite their dinner guests to come and see their dazzling collection of rare stamps, these tiny pieces of paper have proven to be one of the most resilient forms of investment around. According to Heddle, the global stamp collecting market is now worth an impressive £6bn ($9.49bn), and there are roughly 60 million collectors around the world. Notable investors in the market include Warren Buffet and Bill Gross, who appreciate the stable market that stamp collecting provides. It is also a particularly liquid market because of the large number of buyers driving up demand.
Heddle told The Express newspaper recently that Chinese buyers were particularly keen on looking to invest in stamps, partly for prestige reasons: "The Chinese are collecting in their millions. In China there is no stigma about collecting stamps – they want to reclaim their history. Millions of people go to stamp shows – they are looking for sophistication and want things that are traditionally British." The most valuable stamps are British, with the Penny Black and Two Penny Blue stamps the most sought after by collectors, and a collection of four Penny Blacks were recently on sale for £140,000. However, the most expensive stamp ever sold is the Swedish Treskilling Yellow stamp, which sold at auction in 1996 for a staggering $2.3m.
Another investment popular among many collectors is vintage wine and whiskey. Collectors frequently pay huge amounts of money for extremely old bottles of wine they are unlikely to ever drink. Whiskey has started to emerge as a similarly lucrative market, with the number of vintage single malts sold during 2014 soaring by 68 percent on the previous year. The temptation to drink these bottles, however, means putting your money in vintage whiskey or wine could prove more risky than first thought.
Rare collectables provide a unique form of investment for people looking to put their money in a low-risk, long-term portfolio. They also provide a far more interesting way of managing money than the sort of complex financial instruments traditionally used. With an additional benefit attached to many of these products, it is understandable that people might want to put their money in rare cars, paintings and wine, when low interest rates mean bonds aren't delivering decent returns.