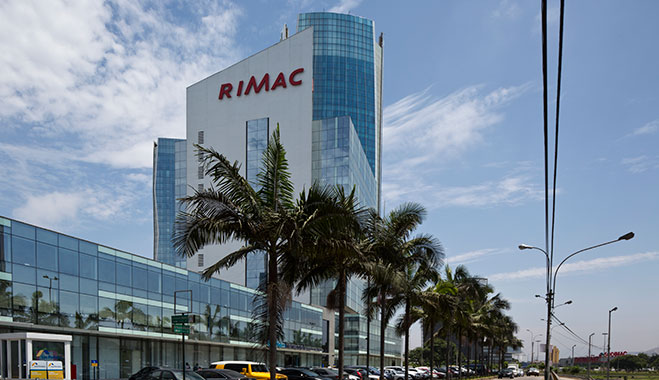 Rimac Seguros is playing a leading role in some of the Peruvian insurance industry's most significant advances. The company covers between 35 percent and 40 percent of the people insurance market in the country &nbsp
Interview with:
Rafael Venegas Vidaurre, CEO, Rimac Seguros
The Peruvian insurance industry has undergone a series of major changes of late, leaving local firms with a number of new challenges and opportunities to contend with before they capitalise on a much-changed marketplace. Despite the country being host to one of the most undeveloped insurance sectors in the region, it's growth potential is without compare.
World Finance spoke to Rafael Venegas Vidaurre, CEO of Rimac Seguros, about the company's position in the national insurance market, and the leading role it has played in some of the industry's most significant advances.
What is the local insurance industry currently like and what is Rimac Seguros' role in the market?
The insurance market in Peru has a huge growth potential, as insurance penetration in our country corresponds to only 1.67 percent of the national GDP, which is below neighbouring Chile, Brazil and Colombia. Even with this low penetration, the insurance market in Peru has posted sustained growth and by the end of July 2014 the total volume of premiums totalled $2.04bn, up five percent on the previous period.
We have recently achieved important objectives by insuring the principal investment projects in Peru. For example, we will be the insurance company for the expansion and remodelling of the Talara Refinery, Line 2 of the Lima Metro Transportation System and provide coverage for the Pampilla Refinery expansion project. Involvement in these areas shows that we are still the leading insurance company in the protection of the country's leading infrastructure projects.
[W]e have maintained a responsible and sustained growth line, focusing on innovation in customer service and operational efficiency
How has Rimac Seguros developed in the past year?
Throughout the course of the last year, the insurance market had to face several challenges, not least a complicated global economic-financial scenario and high local claims. However, we are pleased with our 2013 results, during which, despite a complex scenario, we reached our goals and thus consolidated our status as the undisputed market leader for a 10th consecutive year. During these years we have maintained a responsible and sustained growth line, focusing on innovation in customer service and operational efficiency but without changing our strict risk and cost controls. These guidelines are supported with timely and adequate investment for modernising the company and to always be up to date on changes in the market and industry.
Thanks to the diversification of our investment portfolio, soundness and profitability of the business and sustained leadership in the Peruvian market for 10 consecutive years, Moody's Investors Service, one of the most renowned risk rating agencies worldwide, raised Rimac Seguros' rating to Baa2 with a stable perspective.
How is this reflected in growth, financial results and customer numbers?
Rimac posted an 11 percent growth rate for last year, sales of $1.1bn and occupied a 33 percent share of the country's insurance market. With regards to efficiency, Rimac stood out as the insurance company with the best ratio in the market.
The company operates in all insurance branches and provides integral solutions for its customers. Thus, it is the company with the largest number of both personal as well as corporate customers, at over 1.5 million and 51,000 respectively.
In 2013, we paid compensation worth $594m in total and provided more than 420,000 medical care services and others through our Aló Rimac emergency call centre, which stands as a prime example of the company's soundness and response capacity.
How does this coincide with the Peruvian insurance market?
In 2013, the Peruvian insurance market faced several challenges, including greater competition and important regulatory changes, beginning with the adaptation of the new NIIF accounting framework, as well as an unusual increase in claims compared with the last five years.
In the regulatory scope, there were a series of important changes to take into account, including the new Law on Insurance Contracts, the Regulation on Information Transparency and Insurance Contracting, the Regulation on Management and Payment of Claims, and greater powers for the new National Health Superintendence.
1.67%
The insurance sector's share of Peru's GDP
$2.04bn
Total volumes of premiums in Peru, 2014
Are particular insurance products and services in increasing demand in Peru and how is your firm living up to this demand?
According to our estimates, we cover between 35 percent and 40 percent of the people insurance market (mainly life, health, vehicle insurance policies). As a result of stimulus in the economy, health, life and accident insurance policies as well as travel are growing at more than 20 percent per year.
Rimac is a brand that has been with Peruvians for more than 118 years and has consistently been able to reinvent itself to accommodate for changing consumer demands.
At Rimac, we are also aware that the insurance category is technically complicated and that Peruvians tend to block this category in their minds due to cultural issues. As a result, insurance penetration rates in Peru are the lowest in the region. Therefore, as leaders, we have assumed the responsibility of reaching all Peruvians as clearly and concisely as possible to create awareness about the importance of having insurance.
At the same time, we have set ourselves the goal of taking simple products and services to the market that correspond to consumers' needs and lifestyles through a wide variety of available channels.
How is the firm looking to develop in the coming years?
Rimac Seguros is a leading insurance company and we know how to adapt our strategy accordingly. In this respect, we introduced the Director's Plan three years ago, with the intention of giving the company a basic technological platform to focus on matters apart from branches and business lines and become a company focused on prospecting, selling, delivery services and measuring ourselves against our customers.
How does Rimac Seguros compare to other local firms?
Rimac Seguros is the company with the most experience in the Peruvian insurance market, with more than 118 years of experience in all insurance and reinsurance branches. We are part of the Breca Group, one of the soundest economic groups in Peru, and we have the support of the largest and most important reinsurance companies in the world.
Apart from our products, one of our principal advantages lies in our technological platform, which is essential for the future of insurance in Peru. We are aware that the management demands of the business are ever-changing and we are already selling insurance through our virtual channels, so having a virtual platform is vital for us to extend our coverage.
At present we sell SOAT (Obligatory Insurance Policy for Traffic Accidents), travel and vehicle insurance policies through Facebook and we also have applications for tablets and smartphones, through which our sales force can make quotations and even close deals for certain products.
One of our principal challenges is to develop an insurance culture in our country, taking into account the market's huge growth potential
We are extremely optimistic about our technological improvements and, in doing so, want to go beyond our local market and see what there is abroad. We want to first compete against the principal regional insurance companies and then against the best international companies.
One matter that we believe requires special attention is social responsibility, which can be seen in more detail in our second annual sustainability report. In this respect, we have disseminated our educational programme through the portal yomecuido.com.pe, which has enabled us to provide training in prevention matters to more than 48,000 teachers, students and parents nationwide.
What role has leadership played in your company's business developments?
One of our principal challenges is to develop an insurance culture in our country, taking into account the market's huge growth potential. For Rimac one of the most important changes in management is to go from having an approach focused on the product to focusing above all on the customer, requiring far greater knowledge of their demands and expectations.
In this sense, we have a project called Rimac Habla Claro, through which we have simplified the language of our products in order to make them more accessible and more easily understood by our customers.
Another major challenge for us is the speed at which technological change is occurring. As previously stated, the number of consumers willing to buy over the internet is growing, but it's about more than just a payment gateway and requires that we take our processes to the cloud.
What are your goals for the near future?
In 2011, the strategic plan, which ends this year, asked that we reached total sales -between Rimac Seguros and Rimac EPS – of $1.5bn. To reach this goal, we had to ensure we achieved sustained growth of between 12 percent and 13 percent. Right now we are defining the goals for the next period through 2015 to 2018, which will no doubt be similarly ambitious ones.
We assign our forecast with the same care we give to our technical results and, by disseminating our various efficiency plans, we hope this will favourably influence our results up to the end of 2014.