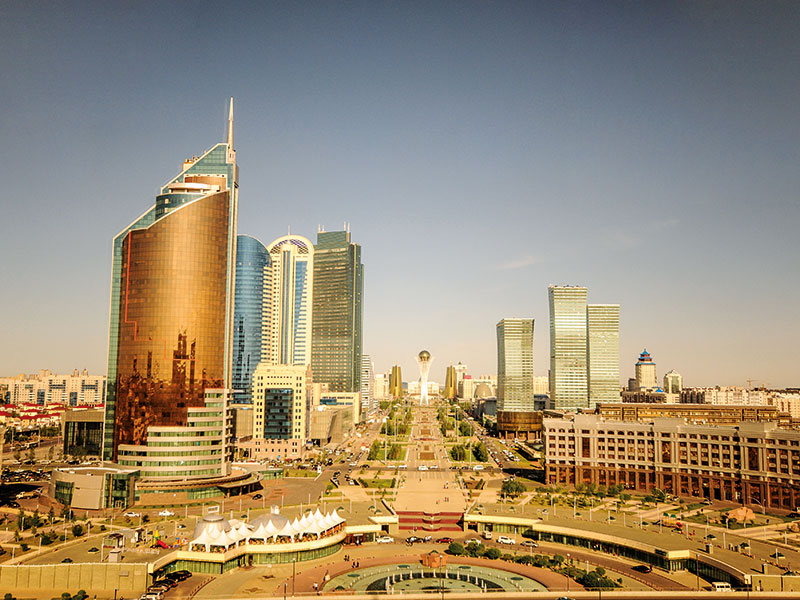 Skyline of the Kazakh capital, Astana&nbsp
Rich in natural resources, the vast, landlocked nation of Kazakhstan today boasts the largest economy in central Asia. From its enormous oil reserves to its abundance of minerals and metals, the former Soviet republic has incredible economic potential.
Over the past decade, the Kazakh economy has grown rapidly, bolstered by profitable trade with neighbouring Russia and China and heavy investment in the nation's oil sector. According to the World Bank, the rapid rise in Kazakhstan's oil production and exports has seen the nation's GDP per capita increase sixfold since 2002 (see Fig 1), enabling the country to transition from lower-middle income to upper-middle income status in less than two decades.
Despite recovering steadily from the 2008 global financial crisis, Kazakhstan has suffered from a slowdown in economic growth since 2014, as dwindling oil prices and the ongoing fallout from the Ukrainian crisis have negatively impacted the country's exports. With international sanctions in place against Russia, Kazakhstan's main trading partner, and the oil market facing an uncertain future, the National Bank of Kazakhstan responded to this economic pressure by devaluing the national currency: the Kazakh tenge was first devalued by 19 percent in February 2014, and was then allowed to float freely in August 2015, resulting in a further 22 percent devaluation.
Yet in the midst of this challenging economic climate, Kazakhstan's financial services industries have continued to evolve and grow. Over the past two years, the nation has been looking to adapt to a changing financial landscape, and in 2015 the Bloomberg Innovation Index listed Kazakhstan among the world's top 50 most innovative economies.
Leading the way for innovation in the financial services sector has been the nation's relatively modest life insurance industry, which has recorded significant growth over the last 10 years. According to the business information service Timetric, the value of Kazakhstan's life insurance market is expected to more than double from KZT 56.6bn ($169m) in 2013 to a predicted KZT 132.7bn ($396m) in 2018, fuelled by an increase in life expectancy and a growing urban population, among other factors. As the demand for life insurance products grows, the industry is fast becoming of one of Kazakhstan's most promising financial services.
A new market
Historically, Kazakhstan's life insurance industry has been modest, making up just a small portion of the nation's overall insurance market. At present, between eight and nine percent of the population is covered by insurance, marking a relatively low level of penetration.
"In Kazakhstan, the life insurance market is still very new, compared with the insurance industry in Europe, for example", Oxana Radchenko, Chairman of the Board at JSC Kazkommerts Life, told World Finance. "Only a very small fraction of the population considers private insurance to be a viable tool for financial protection on par with deposits and other investment instruments."
This trend may, however, be set to change. Demographically, the nation is experiencing something of a transformation, with a rapidly growing urban population. Between 2008 and 2013, migration to the cities saw Kazakhstan's urban population grow from 57.9 percent to 59.5 percent, with this figure only set to increase. Given urbanisation tends to have a positive effect on life insurance demand, this move towards city living may indeed fuel further growth in the life insurance market. Furthermore, life expectancy in Kazakhstan has been rising steadily in recent years, with the World Health Organisation predicting an updated average life expectancy of 66 years for men and 75 years for women as of 2015. With its people now living for longer, Kazakhstan may also see an increase in demand for life insurance products such as pensions and endowment policies.
As public awareness of life insurance services grows, insurance firms across the nation are looking to create products that are both easy to understand and financially affordable for new customers, in the hope of dispelling the belief life insurance is a non-essential investment. JSC Kazkommerts Life, a subsidiary of Kazakhstan's largest bank, Kazkommertsbank, has been leading the way for innovation in the life insurance market since it was founded in 2006.
In 2015, the life insurance provider solidified its leading position in the market, completing a merger with the life insurance arm of fellow Kazakh bank, BTA Bank. "This merger was a global event, and a significant moment for the life insurance market as a whole", Radchenko explained. In bringing together two of the biggest players in the Kazakh life insurance market, the merger has seen the combined company take first place in insurance reserves, and second place for assets, establishing a dominant position in the growing insurance industry.
Digital innovation
While the BTA merger successfully opened Kazkommerts Life up to a host of new customers, the insurance provider is now looking for new ways to engage with a wider client base. In recent years, technology has been transforming the financial services industry, with customers expecting a range of digital banking services and on-demand assistance from their banks as standard.
The value of Kazakhstan's life insurance market is expected to more than double by 2018
While mobile banking and instant-pay services have changed the face of personal banking as we know it, the life insurance industry has been somewhat slow to digitalise its services. However, Kazkommerts Life has recognised the importance of modernising the life insurance market, and has made the digitalisation of its services one of its key priorities in its future development plan.
According to Radchenko: "Over the coming years, we will be expanding all of the digital services on offer at Kazkommerts Life. As we increase our online potential, our customers will be able to remotely access information about their insurance policies, and will be able to make quick and easy payments from the comfort of their own homes or offices. Our specialists have observed that over the past year more than 50 percent of visitors to our website are using mobile devices and tablets, demonstrating a growing interest in accessing our services remotely."
Indeed, as potential customers shop around for the best available services, a broad range of digital products can prove to be a decisive factor when they are choosing an insurance company. The company believes its rapidly expanding portfolio of digital services will set Kazkommerts Life apart from its competitors in the market, offering a new style of life insurance that's compatible with the busy pace of modern life.
In 2016, the insurance provider launched its first online assistance service, allowing customers to receive real-time advice from an expert without having to make a trip to their local branch. In an ongoing effort to offer more time-effective services, the company also provides its customers with a wide range of convenient payment methods, allowing clients to efficiently pay their insurance premiums in a way that suits them.
Thanks to Kazkommerts Life's updated payment systems, insurance premiums can now be paid online via credit card, or through a network of instant payment terminals, which can be found in most large banks throughout the country.
Ahead of the competition
Although Kazkommerts Life's new digital strategy has certainly bolstered the company's position within the market, the insurance provider also benefits from Kazakhstan's strict regulatory supervision, which has kept competition low. As a result of the nation's uncompromising requirements, weaker players are simply unable to enter the market. At present, there are just seven companies offering life insurance services in Kazakhstan, giving Kazkommerts Life a significant share of the growing industry.
"Today, Kazkommerts Life is one of the largest life insurance companies in the market", said Radchenko. "We are the current market leader in cumulative life insurance, signing more than 29,000 insurance agreements in this area. Furthermore, one in every three pension annuity customers are insured with Kazkommerts Life, while the company also holds a leading position in terms of insurance reserves and assets among life insurance companies."
In addition to these successes, in 2016 the company reported its largest profit to date, and paid out more than KZT 900m ($2.69m) to its customers in the form of dividends from life insurance agreements. Through careful, strategic navigation of the financial landscape following the devaluation of the national currency, the company has managed to remain profitable despite testing economic conditions. In 2016, for the very first time in the history of the life insurance industry in Kazakhstan, Kazkommerts Life was able to pay dividends to its shareholders – an unparalleled success in the face of an adverse economic climate.
As Kazkommerts Life looks towards a promising future, the insurance provider hopes to build on its recent success, continuing to improve the quality of its products and customer service through innovation and digitalisation. As the company ramps up its ambitious development plans, it aims to challenge preconceived ideas about life insurance, showing it to be a practical investment for modern Kazakh citizens.