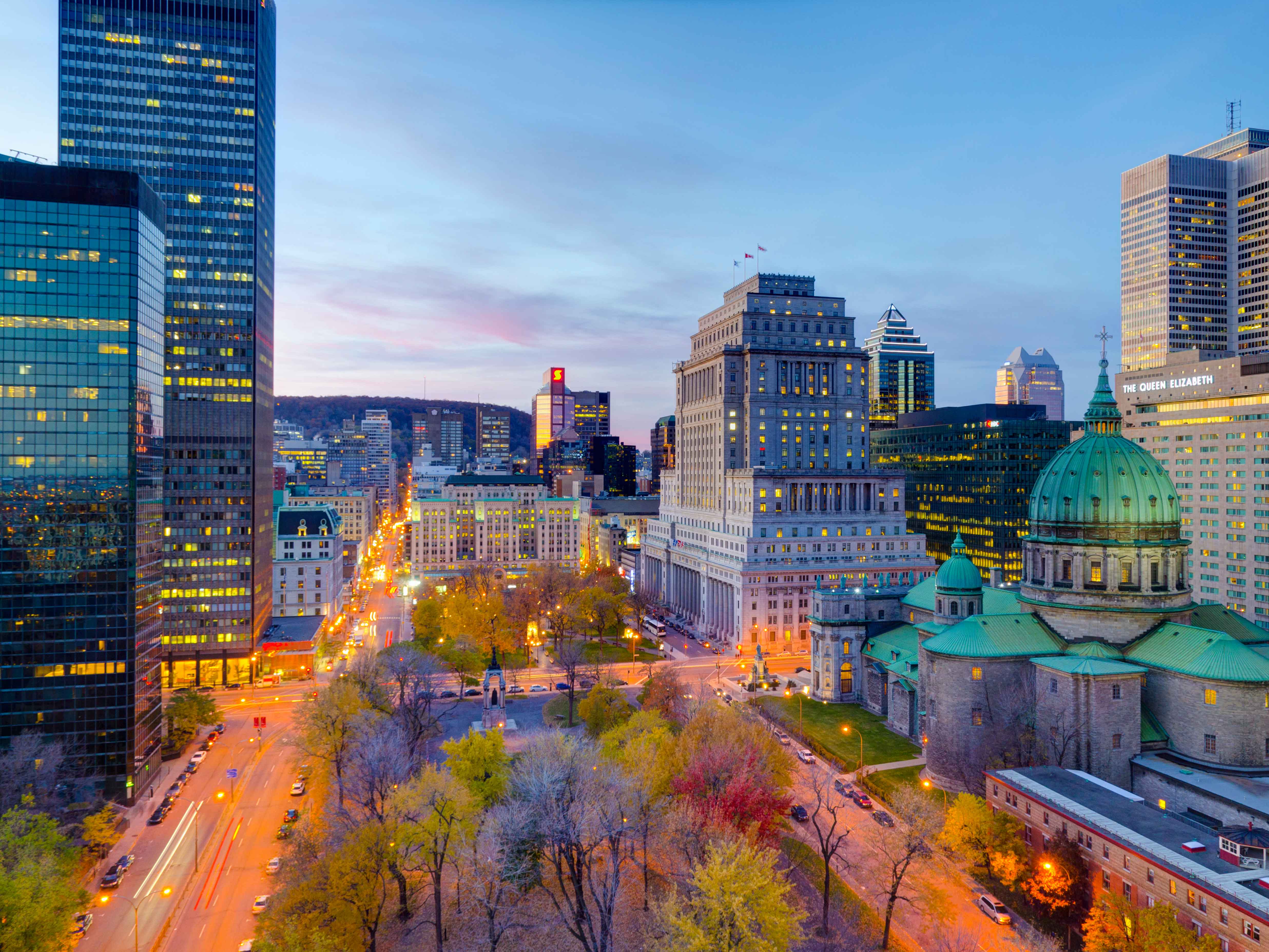 Montreal, Canada. Canadian banking clients are demanding increased convenience, customisation and control. These changes have evolved over time to vastly reshape the financial industry&nbsp
Interview with:
Dev Srinivasan, Head of Canadian Business Banking, BMO Bank of Montreal
Canada's banking sector is rapidly becoming more complex. Driven by advances in technology and increasingly knowledgeable and sophisticated consumers, clients are demanding convenience, customisation and control. In order to keep up, banks must continually enhance existing platforms. Simultaneously, they must build new capabilities that enable clients to bank quickly, efficiently and in their own time.
These changes have evolved over time to vastly reshape the financial industry. In fact, the most successful businesses in this fast-paced environment are the ones that challenge their preconceptions over what banking services will look like in the future.
In a bid to anticipate the changing needs of its customers, BMO Bank of Montreal is focused on harnessing the power of digital technologies and data. The bank's Head of Canadian Business Banking, Dev Srinivasan, spoke to World Finance about the company's priorities during this time of transformation.
While BMO works as a great partner in periods of success and stability, it is even better when challenging times arise
How is BMO's approach to business banking evolving?
As an organisation, we are driven by a clear sense of purpose. This elevates our focus so we can think beyond transactions, dollars and cents. We look for opportunities to make the biggest possible impact for our clients and the communities in which we operate. We challenge ourselves to bring bold solutions to help them grow in a competitive market.
As the banking environment changes, we remain focused on providing a great experience. That said, we are also pushing ourselves to look at our clients' businesses through a new lens and make decisions with new intentions. This is an approach that builds trust, confidence and loyalty with our clients.
Some examples of how we are doing this include small business loan approvals in under 30 minutes and mobile device capabilities, including wire transfers and automated risk monitoring, which allow for significantly more time serving our customers.
How do you differentiate yourself from your competitors?
While the technological advances discussed previously are market-leading, they are also just an outcome of our focus on being the market leader in client loyalty. We drive success in this area by first understanding what our clients' needs are and then bringing the full power of BMO to every interaction.
We aim to form thoughtful relationships with our clients and we regularly revisit plans and work with them to ensure we remain aligned with their strategic needs. While we work as a great partner in periods of success and stability, we are even better equipped when challenging times arise. I believe challenging times are really when you prove your value as a banker.
You have talked about the power of digital technologies and data. How is technology changing the way you serve clients?
It is important to recognise that all businesses – including our clients' – are facing the same challenges and opportunities as us when it comes to technology and transformation. At BMO, we view technology as an enabler of success, both for our clients and for our firm. Externally, technology is giving clients more choices. For example, online and mobile banking offer more choice with regards to when, where and how to bank for businesses that are located outside of urban areas or have multiple locations, or for businesses that operate outside of traditional working hours.
Technology makes our clients' lives easier and enables us to work more efficiently. We are looking to digitalisation to enhance personal service – not replace it – through mobile features such as quick bill pay and biometric authentication.
Internally, we are driving digital transformation at the bank and improving how we work. This means employees spend less time on administrative and processing tasks, and more time with clients. Moreover, with advanced analytics, we can more accurately assess and predict risk. This enables us to customise solutions to individual needs and ensure we are operating in line with our risk appetite.
BMO's approach to efficiency is holistic: generating value from data, simplifying processes and exploring the role of automation in helping teams deliver high performance. By finding new ways to work together, we are building client loyalty and accelerating growth.
In terms of focusing on key areas, how do small businesses fit into your overall strategy for business banking?
In Canada, small businesses employ just over 70 percent of the total private labour force, while small-to-medium-sized businesses contribute roughly 41 percent of Canada's GDP. You cannot have a business banking strategy without including small business.
We have made great progress over the past two years by ramping up our focus on this segment. We recognised, for instance, that for many small businesses, speed and simplicity are at a premium. In response to this, our strategy has evolved to serve businesses both small and large, and we have dramatically simplified processes and products where it makes sense.
Canada's SME sector
70%
of the labour force is employed by small businesses
41%
Contribution to Canada's GDP
For example, coupled with enabling small business loan approvals in under 30 minutes, we also launched a new suite of small-business banking Mastercard products that have been well received by our clients. The number of new clients we acquired has increased by over 30 percent from the year prior.
What about clients on the larger end of the spectrum?
While speed and efficiency are also important with larger clients, the ability to structure complex cash-flow-based transactions increases in importance with this segment. Additionally, the cash management solutions required to properly support these clients are equally complex.
To us, leadership in this space is driven through a high-touch, team-based, customised approach to client service. This approach has resonated with our clients, as we are able to complete deals that our competitors often struggle with. This helps our clients accelerate growth and strengthen their business.
What other industries are you focused on?
We serve clients in all industries and specialise in areas where our clients value deep expertise. For example, in healthcare, knowledge of the industry is invaluable when structuring credit and providing advice. We have specialists plucked straight from the industry who, when combined with BMO's suite of products and services, form a truly differentiated, value-added offering for our clients in this space.
Then there's the agricultural industry, for which we are an industry leader in terms of providing customised financial solutions for Canadian farmers. We have agriculture banking specialists in place who focus on understanding the challenges of this industry, including its cyclical nature and the need for financial banking solutions that are convenient, affordable and adaptable.
BMO is also making a particularly strong effort with regards to a key, growing segment: female entrepreneurs. This sector now represents more than half of all new small-business start-ups in Canada. We are the bank for women in business; we are one year into a commitment of $3bn to support female entrepreneurs. So far, we are ahead in this plan. By having more of the bank's balance sheet available to women, they are afforded more certainty in terms of credit, enabling them to invest in their businesses, expand their operations and create more jobs for Canadians.
While the industries that female entrepreneurs enter are varied, our approach focuses on understanding their unique needs from the point of view of the banking sector, which has traditionally been male-dominated. This message and our approach have definitely resonated in the market.
What are BMO's plans for the future?
The business banking sector in Canada is highly competitive; we're facing competition from traditional and non-traditional businesses alike. While traditional players continue to invest in innovative customer service technology, non-traditional competitors are gaining momentum and deepening connections with our clients. We plan to continue our leadership in client experience because that is an area where we have built our brand and our strength in the past. Clients expect BMO to continue to define what the banking customer experience should be.
Furthermore, we are committed to expanding our advisory sales force and targeting opportunities across geographic regions, market segments and industry sectors, especially in high-value sectors and businesses. We lead in many industries; where we do not, we aspire to achieve leadership. We believe we have the value proposition to achieve our aspirations.