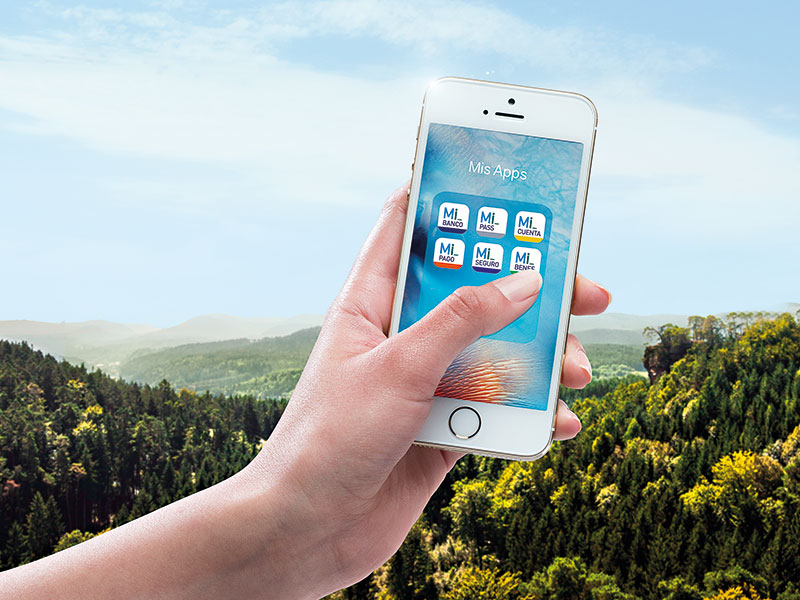 Banco de Chile offers a range of apps designed to make mobile banking easier for its customers&nbsp
Author:
Rodrigo Tonda, Marketing and Digital Banking Division Manager, Banco de Chile
January 6, 2017
From blockchain to Apple Pay, technology is rapidly transforming the banking sector. For many consumers, mobile banking has become the new norm, allowing them to quickly make payments with ease.
The convenience of such on-the-go banking is dramatically shaping consumer demands, with customers now expecting fast responses and 24/7 support as standard. This sudden rise of remote banking has in turn seen customers shift away from traditional bank branches, putting banks under significant pressure to adapt to their client's evolving tastes.
The sudden rise of remote banking has seen customers shift away from traditional bank branches
According to a 2014 survey by consulting firm Accenture, four in 10 people aged between 18 and 34 would even prefer to switch to a bank without a physical branch. In response to this new reality, banks around the world are focusing on refining their digital strategies and optimising their mobile services.
As the banking sector undergoes a technological transformation, Santiago-based Banco de Chile is fast establishing itself as a leader in online financial services. Besides offering traditional mobile banking options, the Chilean bank has also developed a range of innovative, multi-channel apps to help customers manage their different financial needs. "Our objective is clear", Rodrigo Tonda, Marketing and Digital Banking Division Manager at Banco de Chile, told World Finance. "We are looking to continuously innovate with different products, services and channels in order to respond to and meet our customers' new needs quickly and easily."
Everything online
As customers opt for mobile banking over taking a trip to their local branch, Banco de Chile is rapidly expanding its digital channels. With more than 93 percent of its customers making use of its online options, the bank provides a 24-hour service, 365 days a year. Recently, Banco de Chile launched its new online banking portal, which along with being easier to navigate, boasts a host of new features including the option to authorise bank transfers from a mobile device. However, this focus on mobile innovation won't see the bank compromise on safety. "All of our new transactions take place without neglecting security", said Tonda. "Banco de Chile has long been at the industry forefront in protecting customers from fraud, and continues to implement a variety of security protocols and software."
In addition to its revamped website, the bank also offers a wide rage of easy-to-use, fast and secure mobile apps to suit customers' different needs. With the main Mi Banco app, customers can manage all of their transactions and banking-related enquiries in one convenient place. Mi Pass is the sister app to Mi Banco, enabling users to authorise transfers and transactions from the main application. As the bank works to optimise Mi Pass, customers will also be able to complete online transactions through the app.
In order to speed up tedious bill payments, the bank has created the innovative Mi Cuenta app, which allows customers to easily pay their bills at the touch of a button. The application will even send customers automatic alerts when a bill is due, thus helping users avoid frustrating late payment charges. Furthermore, when it comes to micropayments between individuals – such as splitting a restaurant bill or buying a gift among several people – the bank has developed the Mi Pago app, which lets customers securely collect or make payments to other Banco de Chile customers.
A new generation
As part of its new digital strategy, the bank has also launched two one-of-a-kind apps in Chile. Mi Seguro focuses on making insurance assistance accessible for customers, allowing users to remotely submit insurance claims from the site of an accident or quickly purchase travel insurance through their mobile phones. The bank's second unique app, Mi Plata, enables customers to manage their children's allowances by creating debit accounts online.
"With this collection of apps, we want to make mobile banking as safe and convenient as possible", said Tonda. "We understand our customers have busy lives and limited free time, and we are constantly working to create a banking system that evolves with consumer needs."
With its impressive portfolio of apps, Banco de Chile is hoping to appeal to a new wave of younger, tech-savvy customers. Indeed, the bank is also looking to take on younger hires as part of its growing team, as it aims to position itself as the top choice for first-time banking customers.
"Digital services are especially important for younger generations", said Tonda. "Over the coming years, we will continue to work on our technological innovation, ensuring that our customers can meet their financial needs safely, comfortably and quickly."