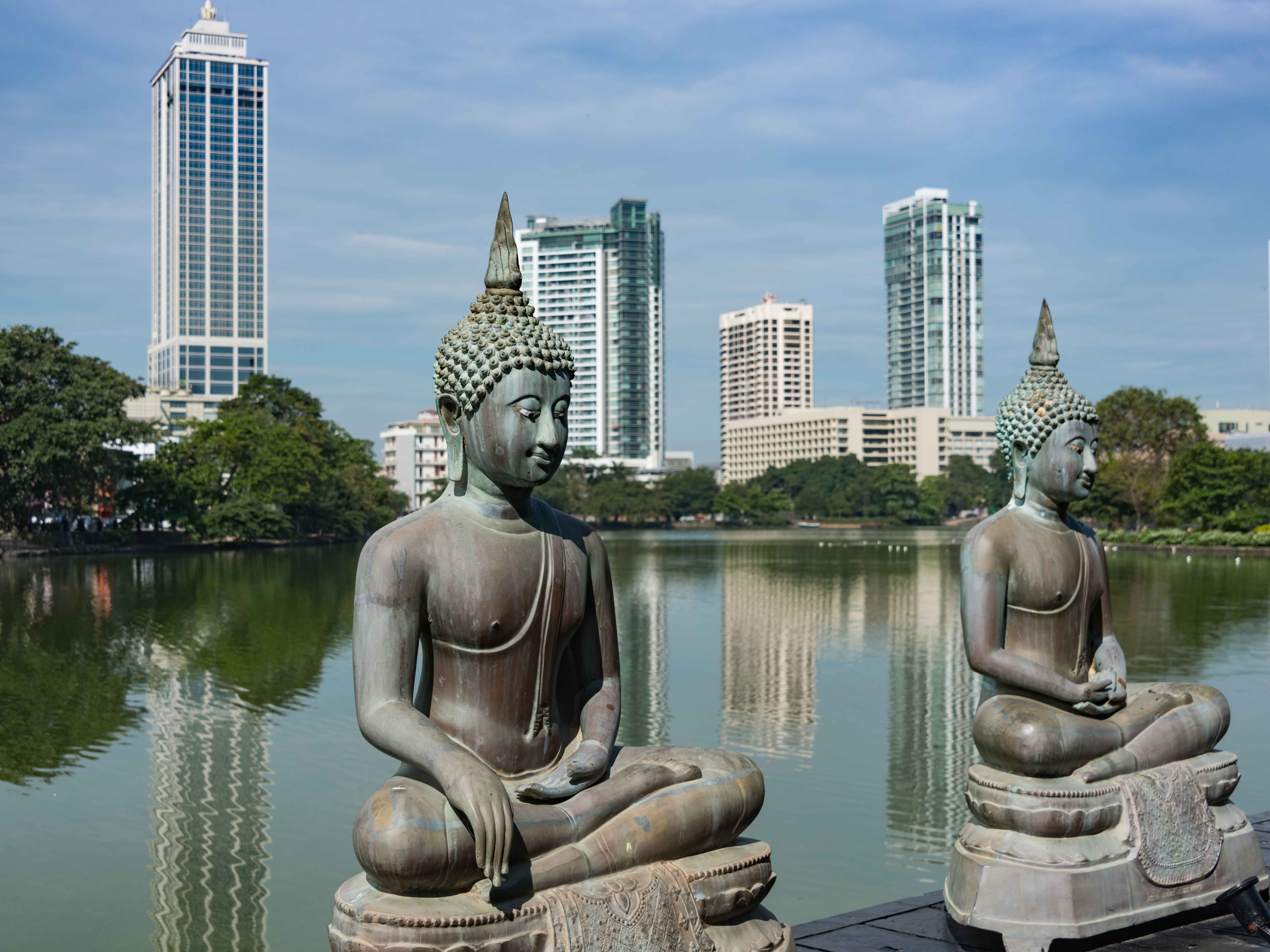 South Beira Lake, Colombo, Sri Lanka. The country's economic outlook is bleak for the coming year, but companies like Sampath Bank are committed to turning this around&nbsp
Author:
Ajantha De Vas Gunasekara, Group Chief Financial Officer, Sampath Bank
August 19, 2019
In terms of the national economy, 2018 was a year to forget for Sri Lanka. During this time, the country missed a prime opportunity to take advantage of favourable economic conditions in order to establish long-term gains. Alongside internal political challenges, the country also received scrutiny from international creditors. Subsequently, its banking sector was greeted with a grim economic outlook for 2019.
While there are several issues that still need to be addressed, Sampath Bank has identified some glimmers of hope. With these opportunities as our focus, the bank plans to push through the current challenges and focus on the immediate horizon and a brighter future. Our priority is still our customers, and our emphasis on sustainable growth has allowed us to make the best of a challenging situation.
Sampath Bank leverages disruptive technology to meet Sri Lanka's growing demand for faster, simpler and more responsive banking solutions
A tumultuous year
Two years ago, the situation for Sri Lanka looked far better. Despite the strong growth momentum that was apparent at the start of 2018, the country failed to capitalise on a positive economic environment in order to lock in permanent gains. Meanwhile, over the course of the past year, the global economy gradually ran out of steam. With unexpected shifts in trade and investment patterns triggering a general slowdown across both advanced and emerging economies, Sri Lanka missed the brief window of opportunity for economic recovery.
Against this backdrop, the expected recovery of Sri Lanka's agriculture sector did not materialise. Instead, the woes of the industry deepened amid a sizeable decline in output caused by bad weather for the second consecutive year (see Fig 1). What's more, contributions from the country's other key sectors either declined or remained flat. To add to these challenges, Sri Lanka's mounting debt burden, widening trade gap and currency pressure from the weakening rupee meant that only modest GDP growth of just above three percent was possible in 2018.
Inflationary pressures continued amid upward adjustments to domestic petroleum prices, alongside increased pressure on domestic food supplies. Meanwhile, following the deterioration of the internal political climate during mid-October 2018, the country's sovereign rating was downgraded by all three major agencies. Each one issued several concerns over external financing risks.
But despite these challenges, it is worth commending the government of Sri Lanka. The state remained firm in its commitment to maintaining macroeconomic stability under an IMF programme. What's more, several positives could be seen in the ongoing fiscal consolidation agenda, the most notable being the new Inland Revenue bill enacted earlier in the year. The bill aims to broaden the direct tax base and rationalise the existing income tax structure.
Firming up the foundations
In 2018, having witnessed an extended period of robust growth, the local banking sector hit the mid-point of the country's economic cycle. All across the sector, asset growth continued – albeit at a slower pace amid a gradual tapering-off of demand for credit. Meanwhile, macroeconomic pressure grew due to sector-wide impairment charges.
With non-performing loans rising sharply compared with the previous year, the industry-wide gross non-performing asset ratio increased to 3.4 percent as of December 2018, up from the 2.5 percent reported at the end of December 2017. This significant deterioration in asset quality led Moody's to renew its negative outlook for the Sri Lankan banking sector.
Nonetheless, the banking sector continued to operate with liquidity buffers that were either at or above the minimum level required. The statutory liquid assets ratio (SLAR) also remained above the required level, while all currency liquidity coverage ratios were maintained well above the minimum requirement of 90 percent. It is clear that we are now operating in a completely different environment to the one we experienced just a few short years ago, with 2018 undoubtedly being one of the most testing periods in recent history for the Sri Lankan banking industry.
Responding with a comprehensive set of tactical strategies, Sampath Bank not only adapted remarkably well, but also continued to thrive in this evolving macroeconomic landscape. The bank recorded a solid performance amid tough conditions, with all key indicators for 2018 showing growth that outpaced the industry average by a significant margin.
The bank's total asset base reached a historic landmark, crossing the LKR 900bn ($5.1bn) mark to end up at LKR 914.2bn ($5.2bn) by the year's end. This was thanks to a selective lending strategy aimed at deepening the bank's penetration into high-growth sectors of the economy. This growth reflects a 15 percent year-on-year increase, compared with the industry-wide average asset growth of 14.6 percent for the same period.
Fuelled by this above-average performance, the bank's market share in terms of total assets improved from 7.73 percent in 2017 to 7.75 percent by the year-end, while gross income for 2018 hit an all-time high of LKR 115bn ($650m). Despite an increase in impairment costs, the bank also tabled strong profit growth, as evinced by the impressive 10.5 percent increase in profit before tax, from LKR 16.6bn ($94m) in 2017 to LKR 18.3bn ($104m) in 2018. Bolstered by strong earnings, we also maintained our long-standing track record of returning capital to our shareholders by keeping the bank's dividend payout ratio above 36 percent for the ninth consecutive year.
The bank's capital position was maintained in line with Basel III requirements, with LKR 12.5bn ($71m) raised by way of a rights issue, and a further LKR 7.5bn ($42.6m) by way of a debenture issue to firm up Tier 1 and Tier 2 capital respectively. Moreover, the bank's SLAR remained well above the required level throughout the year.
Sampath Bank also achieved several other milestones, the most notable being its appointment to the MSCI Frontier Market 100 Index in November 2018 as part of its semi-annual review. What makes this event particularly significant is that Sampath Bank has now become the first local bank – and only the second Sri Lankan entity – to be appointed to the index.
Eyes on the prize
The bank's earnings growth and strong capital position have allowed us to maintain our momentum. In order to differentiate Sampath Bank in the market as being truly consumer-centric, we went beyond our conventional role and placed a special emphasis on supporting customers who were affected by the prevailing economic conditions. Our aim is to allow these customers to meet their commitments in a sustainable manner. What we have found most rewarding about these efforts is the increased trust our customers have shown in the Sampath brand, which in turn has enhanced their loyalty to the bank.
We have also made steady progress towards achieving our ambition to become Sri Lanka's number one digital bank. To do so, we continue to leverage disruptive technology in order to meet the country's growing demand for faster, simpler and more responsive banking solutions. True to our reputation as one of the early adopters of new technology, last year we increased our investment in new software, including blockchain technology, which will allow us to develop dynamic front-end applications and create a unified banking experience across all our channels.
The launch of the Slip-less Banking App, the iGift platform and the Virtual Teller Machine are all industry firsts and a testament to Sampath Bank's leading digital capabilities. These applications have also raised the profile of Sri Lanka's financial services sector and demonstrate that the country is on par with international standards.
As further affirmation of our digital prowess, Sampath Bank has won several awards. These include the coveted title of the most innovative bank of the year at the LankaPay Technnovation Awards 2018 and the best digitally enabled product/service in the financial sector at the SLT 01Awards.
The bank's digital platforms, together with its network of 229 branches and 421 ATMs, have enabled it to widen its reach across Sri Lanka. Our actions have always been motivated by the core belief that it is Sampath Bank's duty to assume a strategic role in satisfying the funding requirements of the Sri Lankan people, and to help them fulfil their financial goals. Today, the bank serves more than three million customers via our portfolio of financial products and services.
Going forward, we will intensify our focus on supporting the nation's journey towards becoming a middle-income economy by 2020. We will reinforce this commitment through a bold and proactive approach aimed at sharpening the alignment between our business model and the needs of our customers. Our client-centric focus and industry-leading innovation will continue to underpin our efforts to create an even more agile and responsive bank.
Furthermore, we will continue to be led by a multi-pronged business strategy in order to better target our strategic investments across a larger base while delivering an unparalleled customer experience in a timely, efficient and economical manner. Through all the ups and downs of the Sri Lankan economy, Sampath Bank is committed to supporting customers through every challenge they face, and will be ready to capitalise on the economic opportunities of the future when they emerge.