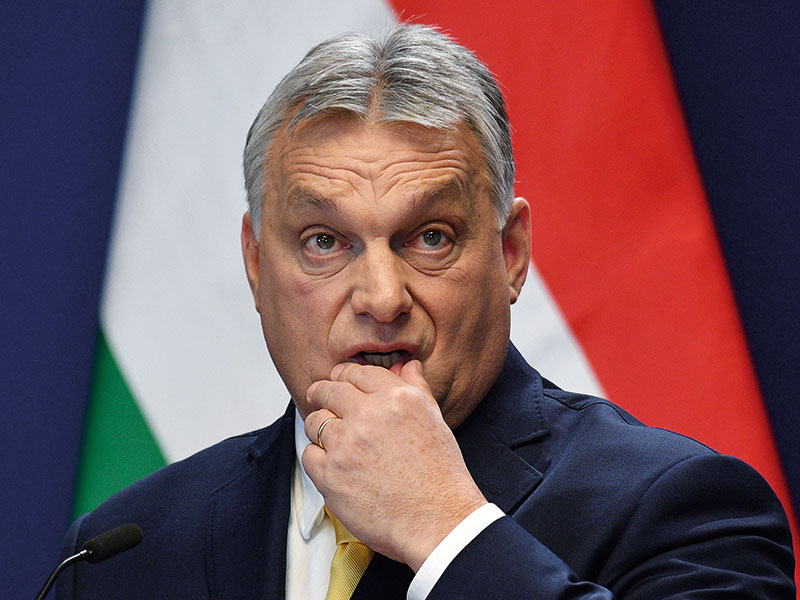 In 2010, shortly after Viktor Orbán became Hungary's prime minister for a second time, he set about restructuring the country's justice system&nbsp
You would think that a head of state who has become known for his authoritarian tendencies would take pride in having a well-run penal system. But in Hungary, Prime Minister Viktor Orbán has so far been unable or unwilling to improve conditions for his country's prisoners – institutions have been criticised for being overcrowded, unhygienic and inhumane.
Complicating matters further for Orbán is a legal challenge being made on behalf of prisoners taking issue with the conditions they are held in. Although Orbán has regularly been criticised for eroding the rule of law in Hungary, he appears to finally be relenting on the issue of prison reform as a result.
Nevertheless, the funds required to improve a prison environment that has long been in decline will not be easy to come by. For a leader who values the strongman approach, spending money on criminals doesn't exactly fit smoothly with his usual approach to politics.
Room for one more
Hungary's poor prison conditions have been a long time in the making. The Hungarian Helsinki Committee, a domestic human rights organisation, has monitored the country's penal system over several years and found it to be wanting. "The European Court of Human Rights – partly on the basis of complaints submitted by the Hungarian Helsinki Committee's clients – ruled on [March 10,] 2015 that overcrowding means a mass and structural problem with regard to the Hungarian penitentiary system," reads the committee's website.
Whether out of genuine care for prisoners' human rights or not, Orbán's ruling party has put plans in place to eradicate overcrowding
"Therefore, it obliged Hungary to produce a plan, within six months, to reduce overcrowding significantly and permanently. The deadline for that expired on [December 10,] 2015… The aim of the Hungarian Helsinki Committee's work is to contribute to the perceptible improvement of prison conditions, which, as of today, qualify as inhuman, degrading treatment, and many times even torture."
While Hungary only comes in seventh place out of all the EU nations in terms of its number of prisoners per 100,000 citizens (see Fig 1), by measures of overcrowding, it fares much worse. Curiously, Hungary declined to send data for use in the Council of Europe Annual Penal Statistics – SPACE I 2018 report, but previous disclosures and other information coming out of the country give some indication of conditions.
Estimates made by the European Data Journalism Network last year suggest that Hungary suffers from the worst levels of overcrowding in the EU, with 124 prisoners for every 100 spaces. While it is possible that overcrowding may have been reduced in Hungary since the last SPACE report, it would still likely rank among the EU's most severe. For comparison, eight countries in the most recent SPACE analysis exhibited "serious overcrowding", classified as those with more than 105 inmates per 100 places.
Overcrowding in prisons is associated with a number of problems that manifest both in and outside of the penal system. Among these is the deterioration of inmates' health, both mental and physical, which is likely to have knock-on effects for the outside world after offenders are released. "At any given time, over two million people are imprisoned in penal institutions in Europe," the World Health Organisation explains on its website. "While overcrowding is a health issue all over Europe, the situation is particularly serious in the countries of Central and Eastern Europe and Central Asia, where overcrowding goes hand in hand with massive health problems."
Although Hungary and other nations that suffer from prison overcrowding may feel it is a problem that is easily ignored, this is an outlook that could cause renewed problems for them further down the line.
Doing time
Such problems have already started to emerge for Orbán and the Hungarian Government. In 2015, the European Court of Human Rights (ECtHR) determined that the country's prisons violated Article 3 of the European Convention on Human Rights, which states that "no one shall be subjected to torture or to inhuman or degrading treatment or punishment".
The ruling came after several inmates brought a lawsuit against the Hungarian state condemning its detention system. One plaintiff, Lajos Varga, claims that he was placed in a cell that measured just 1.8sq m for eight months and contracted a skin disease as a result of the poor sanitary conditions. His story is not an isolated one: according to research undertaken by Dr Blanka Horvath while based at the University of Oslo Faculty of Law, the conditions in some of Hungary's penal institutions are so bad that inmates have to sit on the toilet in order to have enough space to eat and are subjected to unhygienic conditions where bed bugs and other insects are common.
The ECtHR ruling has proven to be a landmark one for Hungary's penal system. It has been followed by a wave of prison lawsuits – as many as 12,000 – that is set to cost the government HUF 10bn ($33.5m) in fines. Orbán has blamed the size of the penalty on business-savvy lawyers and suggested that philanthropists and non-governmental organisations are paid for helping inmates. However, a simpler explanation is available.
In 2010, shortly after Orbán became Hungary's prime minister for a second time, he set about restructuring the country's justice system. In fact, the manifesto of Orbán's right-wing Fidesz party during the 2010 elections had a section dedicated to restoring order in the country, committing to increasing the severity of the penal code and stating that "in many more cases, the sentence of life imprisonment without parole should be imposed". Later that year, Orbán made good on his promises, amending judicial policy by mandating longer sentences and introducing a 'three strikes' rule for violent offenders.
While Hungary's crime rate remains low – particularly with regard to violent crime – longer incarceration times obviously have a huge impact on prison numbers. Although these policies were clearly planned for in the government's manifesto, the logistical consequences appear to have taken Orbán by surprise.
Crime pays
Thus far, Orbán has reacted with indignation to the growing stack of lawsuits piling up on his desk. Since helping bring the Varga case to light, the Hungarian Helsinki Committee has been banned from all prisons in the country, and in October 2016 the government created a legal path for inmates to pursue compensation domestically in the hope that the ECtHR's involvement could be avoided. The Hungarian Government has also suspended the payout of compensation until June 15, with Orbán claiming that the "people's sense of justice is hurt" by the prospect of paying money to criminals. Perhaps he is also aware that complying with the ECtHR ruling could damage his appeal among an electorate that has come to expect an illiberal attitude to crime.
One approach that could placate both human rights lawyers and Hungarian voters – and is currently being explored by Orbán – is using money granted to inmates as a result of prison overcrowding to compensate victims of their crimes. More fundamental changes must be made to the country's prison system, however, if the government is to avoid an onslaught of lawsuits.
Fortunately, whether out of genuine care for prisoners' human rights or not, Orbán's ruling party has put plans in place to eradicate overcrowding by September 30, potentially by creating temporary facilities in which to house offenders. Another fruitful approach might look to improve the conditions in existing prisons, while also considering whether rehabilitated inmates could be released early. Orbán would do well to remember that while there is certainly a place for punishment within the justice system – and imprisonment plays an important role – there is also room for reform.
In Hungary, the average cost of keeping an individual in prison for one day is estimated at €38.41 ($43.38). This adds up to a substantial burden on government funds. As well as having a duty to its citizens, both within the prison system and without, Hungary is also answerable to the EU. This is particularly true given how much funding the country receives from the bloc compared with its contribution towards it. Currently, the government talks a good game when it comes to championing the importance of law and order, but it is surprisingly lax about abiding by the ECtHR's rules.