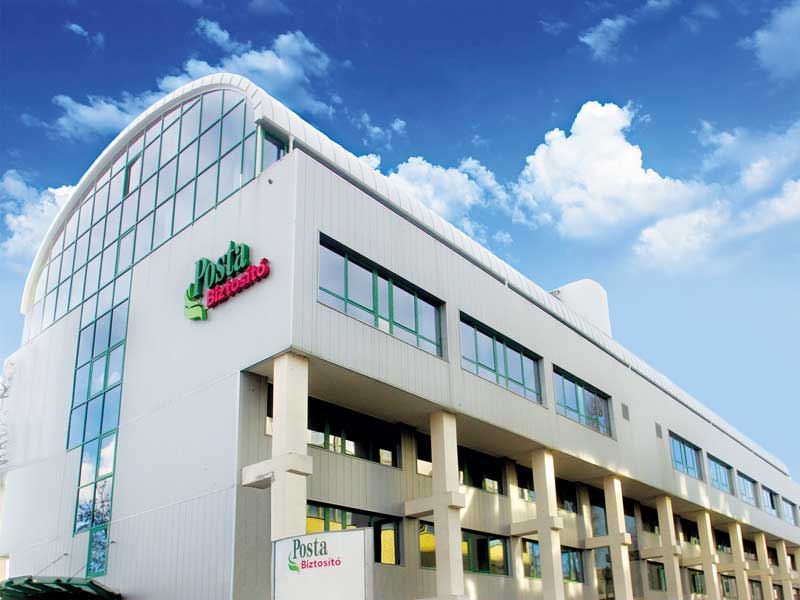 The Hungarian insurance market has been one of the main beneficiaries of the achievements and the opportunities created by digital innovation&nbsp
Author:
Anett Pandurics, CEO at Hungarian Post Life insurance Company
For decades now, the insurance market has been one of the most significant utilisers of both the accomplishments and the possibilities of digitalisation. Digitalisation has almost a decade-long history in the industry, in providing premium discounts for electronic payments and administration, managing claim files by electronic means, and its impact on the whole process of damage inspections. At Hungarian Post Life Insurance Company, we didn't even advertise these processes at the time of introducing them, because we were just doing our jobs.
Our basic philosophy hasn't changed, but our product range has grown exponentially. We offer a suitable insurance product for every life situation, from birth to death
During this evolution, we have witnessed large-scale changes in the life insurance market. As a result of our own reorganisation, and also the fact that we are pioneers at an international level too, we were the first to introduce the total cost indicator in 2010. On this basis, the Hungarian National Bank, which also acts as the supervisory authority, regulated the cost system in the field of life insurance. It formulated the framework conditions of ethical life insurance for a wider product range and, as a result, the market has been cleaned up significantly.
Hungarian trends
The Hungarian market is starting to find itself in a cautious space, as the insurance sector's growth rate for gross written premiums remained below the level of GDP growth until 2016. At a recent conference, experts at the Hungarian National Bank expressed their opinion that it would be ideal if life insurance revenues represented a more significant part of the sector's written gross premiums. The main driver of growth in recent years was unequivocally pension insurance, which clearly shows that an increasing number of people realise the benefits of schemes that complement the state pension system.
However, according to recent research, around half the population has no money for saving purposes. Indeed, an even bigger problem is the fact that around two thirds of the population expects the state to come up with a solution to the pension issue. Therefore, it is clear that tax incentives help a lot: through pension insurance, the profession has proved it can reach out to a broader range of people with long-term products. This is a message that the government should heed, as tax benefits on savings for old age and unexpected situations generally offer greater social benefits and lower subsequent state expenditure.
We are in a competitive market; it is clear that the goal is continuous reformation. Everybody is speaking about the digital revolution and the emergence of 'insuretech' players in the space. However, for Hungarian insurance companies, digitalisation did not just start. For instance, we have been keeping e-files for years, our claim adjusters work by electronic means, and we also offer significant discounts for electronic administration. We introduced these innovations to improve our workflow and also to meet evolving client demands.
As these examples show, we are ready to engage in continuous innovation. Furthermore, with regards to new challenges, although the financial technology sector is booming, the insuretech revolution is evolving more quietly. The reason for this may be the fact that insurance is a trust issue. According to Deloitte, less than one third of insurance customers would not consent to transferring their data to third parties, even for discounts.
A major part of our sales efforts is performed through a network of post offices. Naturally, digital developments have to be brought in line with the infrastructure of Magyar Posta, the Hungarian post office. Thanks to the commitment of the owners and our excellent relationship, we can structure our development strategy around the demands of the client. For instance, we have made it possible to report household insurance claims through a mobile application. We were also among the first in the country to introduce digital claims assessments, in which the camera of a client's mobile phone is used to help with damage inspection. In terms of meeting the needs of Generations X, Y and Z, we introduced a new mobile application called Hello Bringás (Hello Cyclist), which, besides the function of taking out an insurance policy, provides further conveniences that help the life of cyclists. The development of Hungarian Post Life Insurance Company is also vital, in terms of both products and services, which is facilitated by our innovation lab: Hello Lab.
New opportunities
Undoubtedly, pension insurance is one of the greatest opportunities in the Hungarian insurance market at present. The other area could be health insurance; after the national elections in 2018, it would be worthwhile for the government to start reforming this sector. There are several hidden elements in this healthcare space that result in duplications, such as clients paying for services privately, which is also accounted for in the public sector.
Healthcare expenditure represents 7.4 percent of Hungary's GDP, of which 2.4 percent accounts for those patients who visit private service providers. According to official statistics, Hungarians spent HUF 904bn ($3.4bn) last year on private healthcare, and in 2021 they are forecast to spend HUF 1.1trn ($4.1bn) on private medical practitioners. The involvement of insurance companies would bring more clarity to the situation: it would improve the level of service, reduce parasolvency (gratitude payments to medical doctors) and ease waiting lists.
The implementation of new legislation, namely the Solvency II regulation, went smoother than expected. In the case of Hungarian Post Life Insurance Company, I can report on more positive experiences regarding the introduction of ethical life insurance to the market. This is no coincidence, as our products were ethical even before the new supervisory requirements were published, so only minor technical changes had to be introduced. That said, it is true that some insurance companies had to withdraw several products, although changing client needs made this necessary in any case.
Furthermore, in November 2017, the Hungarian Parliament adapoted the Insurance Distribution Directive (IDD) into the Hungarian Insurance Act, something we have been readying ourselves for more than a year. New Packaged Retail and Insurance-based Investment Products (PRIIPS) regualtions will take effect on January 2018. Other legislative changes in the pipeline include those related to packaged retail and insurance-based investment products, the EU General Data Protection Regulation, and the International Financial Reporting Standards.
Overcoming challenges
In Hungary, there are several challenges we have had to face in the insurance sector. The lack of skilled personnel increasingly represents the biggest problem. Even though the financial sector is the highest paid industry in Hungary, international mobility is draining the country's skilled labour force; we have to do a lot to make the insurance profession more attractive to young employees.
In our own sales network, we reward our colleagues for their work through different contests, promotions and awards. This way we also motivate them, so they really feel that they are important to us and they regard our shared success as their own. When we burst into the market 15 years ago, we offered products to our clients that we would heartily recommended to our families and friends. This basic philosophy has not changed, but our product range has grown exponentially with us. Today, we offer a suitable life insurance product for every life situation, from birth to death.
At the end of August 2016, we introduced a whole life insurance product for funeral expenses. The product was so well received among our customers and our own sales personnel that it exceeded all of our expectations. Considering our positive experience with this product, we find it important to take on more risk in life insurances across our product range, so that we can offer a suitable solution for any life situation. From an insurance perspective, the development of our PostaGyógyír insurance product for cancer patients, which was introduced towards the end of summer 2017, and our PostaNyugdíj Prémium pension insurance product, announced in November 2017 were important initiatives this year. Furthermore, we strive to stay youthful and dynamic by opening up to Generations Y and Z with additional services and tools.
In August 2017, we introduced another whole life insurance product for cancer patients. This was also important, because as the needs for self-care and for insuring owned goods grow steadily in an improving economic environment, people are also prepared to take more responsibility for the protection of their health.
Pension insurance with a savings element plays a key role in our product line, and it is also supported by the state through tax credits. Our newest pension insurance is a premium pension insurance product. It features annual premium payment and adapts to customer demands with full flexibility. It can be suspended for an indefinite period, but if our client gains extra income, they can choose to pay an additional premium as an extraordinary payment. This insurance is a flexible type of saving and can be adapted to any life situation.
Hungarian Post Life Insurance Company is committed to postal sales. As the classic postal services are becoming increasingly overshadowed and, besides CPE, financial services represent the main revenue-generating area at post offices around the world, we expect the role of modern financial services, including insurance, will gain more significance. The products of Hungarian Post Life Insurance Company have already been reflecting the needs of the post office's clientele, and the fact that we know our clients so well will always be our most significant advantage in the market. Accordingly, we would like to develop in the fields of both life and property insurance. Indeed, pension and health insurance are certainly ahead of huge developments within the life branch, both in the short and medium term. We would also like to reach younger clients who rarely visit post offices and offer them relevant insurance solutions in the burgeoning digital space. The world is changing, but we will continue to change with it.