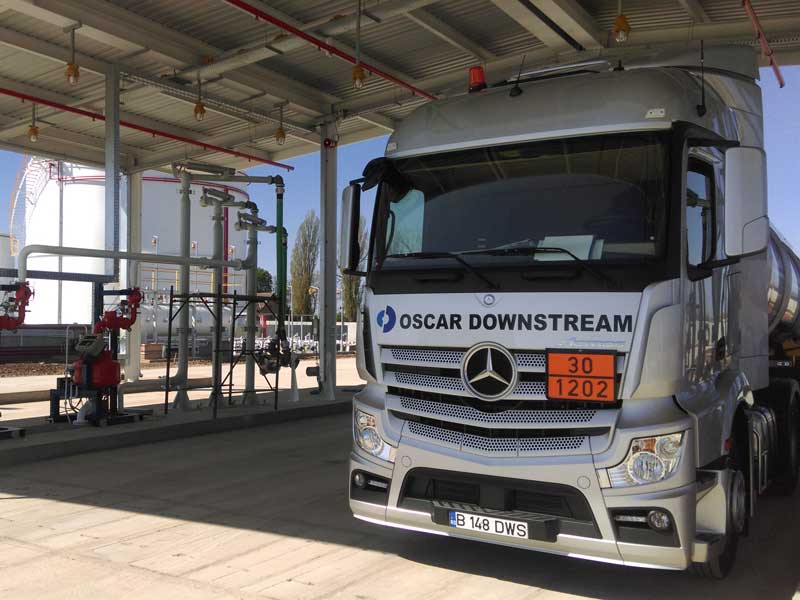 Oscar Downstream has built a plan that will ensure its future success. With ambition that is informed by past experience, it is well placed to capitalise on its true potential&nbsp
A common misconception made by many businesses is the belief that the business-to-business (B2B) market is very much the same as the business-to-consumer (B2C) market. Rather than simply supplanting a business model from one group of customers to another, making the jump between the two requires a deft touch, as well as considerable expertise of both products and clientele. However, with the right plan in place, such a move can be tremendously lucrative.
The company seeks to utilise its expertise to expand into the B2C market. Many of the lessons it has learnt from the past will formulate its forward-looking strategy
Aware of this reality, Romania's Oscar Downstream is making a careful and conscious decision to broaden its reach to include the consumer market. Speaking to World Finance, the company's representatives, said the company has grown steadily over the past 15 years to become one of the top five players in the Romanian B2B downstream industry. They explained: "The company has national sales coverage, strategic partnerships for product supply, a very modern and flexible logistic structure, a loyal customer base, and can offer innovative services."
The company's initial growth was driven by innovation; in 2004 it became the first firm in Romania to introduce a home-based fuelling station, as a service, under the DIESELpoint concept. It quickly spread its network to cover the entire country. They observed: "Romania's European Union accession in 2007, and the free circulation of goods and services attached to this, created new opportunities, allowing the company to import oil products with better quality and pricing terms." They added: "This put an end to the dependence on local refineries for product supply."
Innovative services have continued to drive the company. In 2010, it launched a service concept called DIESELpoint Access, which consists of automated transit filling stations dedicated to the B2B market. Now, Oscar Downstream is a respected independent national player, with 411 employees, several fuel storage facilities onwed and operated across the country and its own transportation and logistics network. Now the company seeks to utilise its expertise to expand into the B2C market. Many of the lessons it has learned from the past will formulate its forward-looking strategy.
Growth story
The journey Oscar Downstream took to become a leader in the downstream industry started humbly, but the business has now grown to become completely independent. They said the company has been well respected in Romania for its great care regarding environmental quality, safety and security standards. They said: "All industry-specific standards were certified from the very beginning, and the company chose to develop and implement a consistent business strategy for both daily activities and long-term growth. This strategy has meant the business model we operate is sustainable, while delivering the same high-quality level of service over the years."
This attention to detail is evident in the company's most recent major investment drive, which began in 2013. "Following the need to sustain the fast development and expansion of the company with extended infrastructure, we carefully selected warehouse and storage facility locations; extending and modernising our logistics network," They explained. "All of this was implemented to meet an ambitious objective: the development of an integrated distribution chain that will ensure complete control of our products and services, while maintaining high attention to both natural and working environments," they added.
The company's portfolio boasts a broad number of products and services, with diesel distribution as a star. DIESELpoint is a home-based system designed for customers that need a fuelling point within their business perimeter. DIESELpoint Access provides a network of refuelling points that is designed for transportation fleets, and covers the entire country. As well as fuel services, B2B customers also have access to a suite of online management tools to monitor their fleet's consumption. Oscar Downstream also offers gasoline, lubricants and other petrochemical products wholesale.
"Starting at the end of 2017, together with the continuous modernisation of its own storage facilities and transportation fleet, Oscar Downstream will include new product brands in its portfolio," the company's representatives explained. Amid a market filled with continual change, the development of new products and services is a must.
There are currently significant opportunities for the company, they said. "Romania is experiencing strong growth in both demand and consumption of fuel among both commercial and residential customers. This is a result of GDP growth, and advances in the industrial, agriculture and transportation sectors."
Overcoming obstacles
While this is an excellent opportunity, any significant expansion plan has its challenges. Thanks to Oscar Downstream's long history of expertise in the Romanian market, many challenges in the sector have been identified. "The economic environment is a challenging one due to frequent changes in regulations and difficult infrastructure investments combined with political fluctuations," they said.
The slow investment in infrastructure, in terms of new commercial roads and modernisations, creates many operational inefficiencies. The situation affects Romania at a national level, impacting fuel transportation. They said the company's past experience in logistics has helped it overcome these problems, ensuring that the right product and the right quality of product are available in the right place, at the right time.
Regional uncertainties have also affected supply. "The latest economic measures, such as the increase of fuel excise tax, encouraged Romanian transport companies to migrate a part of the fuel consumption to other European countries," they said. "This translates into a huge challenge for the companies operating on Romanian territory, and requires them to be commercially creative to keep increasing in terms of volume sold."
Considering these challenges, Oscar Downstream has put into place a number of plans to ensure its growth continues into the future. "The company's development is related to the development of a very competitive Romanian market, consumers' needs and the vast potential of the Romanian oil and gas market," they said. "We will focus on capturing the demand for growth, entering into new business segments such as B2C, consolidating our presence in key business fields such as agriculture and transportation, and increasing operational efficiency across sales, supply and logistics."
Moving tomorrow
With all its experience and insight, Oscar Downstream is confident the expansion plans it has laid out will prove to be a success, especially its consumer-facing efforts. The company's representative said: "Entering into B2C on the retail fuel market is a natural step in the development of the company. The success in B2B encouraged us to take on this challenge, and we have a strong team committed to creating a success story. The business set-up is quite straightforward: going deeper on the value chain to the retail customer and achieve the highest utilisation of its own assets. As a parallel development plan, we also have in mind the expansion of the fuel station network, complete with regional and international partnerships."
Amid this opportunity for growth, the company is also working to address the many changes that may threaten the market in the longer term. Another looming threat for the downstream industry is the gradual reduction, and possible ban, of certain vehicles. In 2017, the UK announced a bold scheme to ban the sale of new diesel and petrol cars by 2040. They observed that while this will become an issue eventually, in the medium term there is still a tremendous need for vast fuel networks: "We believe the demand for diesel fuel will remain strong and will not decrease in mid-term. The transportation and construction industries will continue to rely heavily on diesel. On the other hand, we need to recognise that in B2C, it is an increasingly visible tendency to encourage hybrid and electrical vehicles.
"We also have to pay attention to the customer behaviour, which is changing for the younger generation. The desire to own a vehicle will decrease, combined with the efficient use of personal time and resources and the attractiveness of smart transportation solutions."
But the future presents opportunities for further growth as well, as the compnay's representative explained: "Regarding some general lines of the market, we do foresee an increase of compressed natural gas and liquefied natural gas use as alternative fuels in rail, ship and even road freight transportation."
Additionally, automation technology is also providing plenty of opportunity to achieve greater benefits in terms of logistics and operational efficiencies, they said: "It is a technology that we are willing to embrace, though without drifting too far away from the warmth of human interaction that is needed for high-quality customer experience." Automation also has the potential to respond quickly to customer behaviours, thus enhancing efficiency in logistics chains.
While the future certainly contains a significant number of challenges, Oscar Downstream has built a plan that will ensure its success for many years to come. With an ambition to break into a new market segment that is carefully informed by past experience, the company is expecting to fully capitalise on its true potential.
"Our mission is to constantly improve the quality of people's lives, protect the environment and constantly promote novelty and innovation in the field," the company's representative said. "Our motto, 'the sense of value', embodies the values that guide the company in its ongoing progress. Through our daily actions, we promote and highlight these values in all that we do to ensure the sustained development of both the company and society."