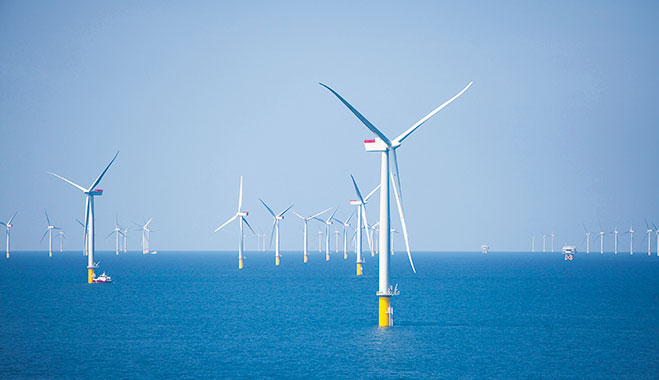 The West of Duddon Sands offshore wind farm off Barrow-in-Furness, UK. Iberdrola has commented on the contribution of the electricity industry in the fight against climate change&nbsp
The discussion in Paris last year was centred on which policies might be best to fight climate change and facilitate the adaptation to a low carbon economy. With an international agreement on the table, representatives of the 195 nations in attendance debated late into the night before agreeing on the goal of keeping the increase in the global average temperature to "well below 2°C and pursuing efforts to limit the temperature increase to 1.5°C above pre-industrial levels".
In all, 187 countries presented pledges to reduce greenhouse-gas emissions covering actions that range from ending deforestation to fostering investment in renewable energy sources and reducing dependency on fossil fuels. A timeline for the review and upgrading of national pledges was established and the agreement called on all countries to prepare long-term low greenhouse gas development strategies, a demonstration that the risks of global warming are being taken seriously and of the need for international cooperation to manage them. Country pledges with climate goals and policies to attain them will contribute to increase predictability when analysing future policy scenarios and their impact on investments.
However, while the resulting text was stronger than had been expected, nowhere in it was the word 'decarbonisation' mentioned. In this sense we consider the energy sector to be of primary importance in the quest to reduce emissions and promote sustainable development. Establishing a carbon-neutral supply as well as through the electrification of more sectors of the economy is undoubtedly a substantial part of the solution.
So that decarbonisation can succeed, the right CO2 price signal needs to be applied to all sectors of the economy, and not only to electricity consumers on the basis of the "polluter pays" principle. In this sense measures on the transport and building sectors are inevitable if we want to mitigate the effects of climate change.
"Energy efficiency and technological innovation in the electricity sector are essential to both reduce emissions and improve the quality of life of citizens around the world", according to a recent report penned by the Global Sustainable Electricity Partnership (GSEP), titled Powering Innovation for a Sustainable Future. Comprising many of the world's leading electricity utilities, the organisation's membership plays an important part in discussions on global electricity issues, and has taken great strides to promote sustainable development.
World Finance spoke to Ignacio Galán, Chairman and CEO of Iberdrola, to discuss the contribution of the electricity industry in the fight against climate change. "Together, we are leading the way in the global effort to avoid and reduce carbon dioxide emissions by optimising technologies in the right mix, amount, time and place", said Galán. "By systematically optimising and applying the full portfolio of advanced technologies as they become commercially available, we believe that sustainable progress can be made over time to help meet global climate challenges."
Leading a low-carbon economy
Iberdrola, as a global energy company and an important part of the GSEP's plans, offers an insight into how utilities can spearhead sustainable development and foster new and innovative ideas in the energy market.
According to Galán, we need technology-neutral incentives for decarbonisation in order to encourage the development of the most efficient energy sources and drive technological change, including tools such as domestic policies and carbon pricing, as recognised by the Paris agreement.
With a market capitalisation of €42bn and assets in the order of €92bn, Iberdrola is well placed to lead the adaptation to a low carbon economy, and has done a great deal towards this end. "The company is a model of industrial success, engaged in a process of continuous growth that has prioritised green energy, and has surpassed its peers over the last few years in all of the economic, financial, and industrial variables that we can examine", pointed out Galán. Already, Iberdrola's emissions per kWh are 30 percent lower than the European average, and an impressive 62 percent of capacity is emissions-free.
Climate change puts pressure on the very foundations of development, impacting particularly heavily on the most vulnerable people worldwide
"A market-driven approach to decarbonisation would reduce emissions, create jobs and drive sustainable growth, and the electricity sector has the potential to account for 40 percent of the accumulated reduction by 2050. The 1.5oC scenario requires a major technological and infrastructure rollout at every stage of the electricity sector value creation chain and significant technological and managerial capacity", said Galán.
The market is the best way to accelerate a low-carbon economy and the key to unlocking the rapid advance of clean energy. Governments need to understand that clean energy can be progressively produced on a commercially viable, subsidy-free basis. Abolishing subsidies to fossil fuels will be essential for this purpose.
The decarbonisation of the energy system should lead to a higher degree of electrification of the economy and a bigger share of non-emitting energies in the electricity mix. The high penetration rate of renewable energies, whose output is intermittent and not easily foreseeable in the medium and long-term, will require stronger and smarter grids, energy storage, back-up energy and new services offered by the system in order to guarantee the quality and continuity of supply, so that it is possible to integrate these energies on a more cost-effective basis.
Utilities have both the technical know-how and investment capacity to face up to these challenges, and the modernisation of the energy sector will likely attract further investment. Iberdrola's own plans are to reduce the intensity of its emissions by 50 percent by 2030, compared to 2007 levels, and the goal is to deliver carbon-neutral, reliable and competitively priced electricity by the midpoint of the century. This focus means that Iberdrola is firmly committed to meeting the UN's Sustainable Development Goals seven and 13 (affordable and clean energy and climate action).
Among the measures Iberdrola will take to halve the carbon intensity of its emissions by 2030, it is planning to bring down coal-fired generation; increase installed capacity of emissions-free generation facilities via renewable energies; increase investment to create stronger and smarter grids, back-up energy (pumped storage) and new services to guarantee the quality and continuity of supply; continue investing in R&D and innovation; and provide support for the electrification of transport.
Climate change puts pressure on the very foundations of development, impacting particularly heavily on the most vulnerable people worldwide. The Paris agreement represents a massive economic opportunity to change the course of history and set us on a path towards sustainable growth, boosting economic growth and prosperity across developed and emerging economies alike. Investing in research and innovation will create new jobs and sectors of the economy, promote new values and lifestyles that are more respectful of others and prioritise development for all in a sustainable way.
Providing over 1.1 billion people with universal access to electricity will require investing in the right sources of energy, avoiding the same consumption and production model that is already implemented in the first world, in order not to additionally press on the environmental situation of the planet. Countries should get ready for a just and rapid adaptation to a low-carbon and climate resilient economy, and have the right measures in place to ensure financial stability in the context of climate change.
Iberdrola is widely recognised as a leader in energy innovation. "We invest more than $200m annually in research and development, and our company's venture capital fund invests directly » in technology start-ups working to ensure a sustainable energy future. The company has led the way in system automation and the use of smart grids, a technology we believe is fundamental to reforming our industry and engaging consumers to better manage their energy usage. We have installed more than six million smart meters across the globe", noted Galán.
Sustainable culture
As Europe's first electricity company and one of the largest worldwide by market capitalisation, as well as the first renewable energy producer globally, Iberdrola is demonstrating that there need be no conflict between providing the power economies require with cutting emissions and creating shareholder value.
While the company's sustainability policy places an especial emphasis on emissions reductions, equally important is the sustainable creation of value. Essentially the group aims to meet the needs of the present without compromising on the ability of future generations to meet their own.
According to Iberdrola's General Corporate Social Responsibility Policy: "The company and all affiliated companies of the group carry out their business enterprise and their own business model with the objective of sustainably creating value for society, citizens, customers, shareholders, and for the communities in which they do business, providing a high-quality service through the use of environmentally friendly energy sources, innovating and maintaining awareness of the opportunities offered by the knowledge economy."
These objectives, while common, do not come easily, and the importance of corporate governance and company culture surely cannot be underestimated. The company's Compliance Unit, for example, is a collective, permanent and internal body linked to the Corporate Social responsibility Committee of the Board of Directors, tasked with abiding by the company's stated code of ethics and keeping to regulatory requirements.
"Iberdrola has a three-pronged approach to the challenge of corporate governance", said Galán. "Continuous improvement in internal rules and practices, direct engagement with shareholders and maximum transparency in information communicated to the market." To offer an example of this three-pronged approach in action, the group will be presenting its third integrated report to the General Shareholders' meeting, offering reliable, relevant and concise information on the main strategic lines of the company, and on how it creates value on a sustainable basis.
"The integrated report systemises information on conditions in the markets where the group operates, its business model and the corporate governance structure, the regulatory environment, risks and opportunities of the different businesses, management of its assets to secure long-term value creation, its objectives and actions in community affairs, environment and the economy."
Following ethical business first
This commitment to ethical behaviour has gone quite some way towards building trust between the company and those both within and outside the organisation. By acknowledging that utilities have a responsibility to act, Iberdrola is part of a growing community of businesses for which profitability is no longer the single most important measure of success. Companies no longer enjoy the privilege of days past when trust was a given; rather, businesses today must earn it.
What's more, if a company claims to have ethical values, it's no longer enough to simply claim it, where consumers are convinced only by a tangible demonstration of this commitment. In the case of Iberdrola, the energy company has put in place a system of governance that supports ethical values and has fostered a culture that makes sustainability a key consideration in every decision. Essentially, ethical values are at the heart of Iberdrola's business, and a willingness from the energy sector to do much the same will be crucial in driving decarbonisation.
For proof of Iberdrola's commitments to CSR, observers need only look at the company's social actions. For one, the group is committed to supplying vulnerable groups with safe and reliable energy supply, and has established protection procedures for vulnerable communities so that financially disadvantaged consumers can gain access to electricity. In Spain, for instance, Iberdrola is signing agreements with various public bodies to protect those who might otherwise be at a loss when it comes to paying gas and electricity bills.
These initiatives "are part of the Group's General Corporate Social Responsibility Policy, whereby Iberdrola pays attention to customers in a situation of vulnerability and collaborate, according to the policies established by the competent public authorities in each case, to facilitate on-going access to electricity and gas supply."
The Electricity for All programme is Iberdrola's response to the call of the international community to provide universal access to modern forms of energy, with models that are environmentally sustainable, economically viable and socially inclusive. The goal is to ensure access to electricity for four million beneficiaries in regions where a significant proportion of the population does not have access to it.
This ambitious initiative focuses on harnessing the company's technical, logistical, organisational and financial resources to carry out sustainable electrification programmes. In the past two years alone, the electrification schemes backed by the company have helped almost a million people to gain access to electricity, thanks to sustainable initiatives carried out in Latin American and African countries.
Iberdrola also runs a corporate volunteering programme, in which employees are encouraged to partake in charity initiatives and put the company's mission, vision and values into practice: "Enhancing people's quality of life, protecting the environment, promoting sustainable development and providing access to energy to those that are not connected to the grid."
Taken together, Iberdrola's contributions to both the energy market and the communities in which it operates are critically important in fighting the issue of climate change. However, more than that, they're crucial in leading the charge to decarbonisation and as a demonstration of how companies can promote sustainable development.