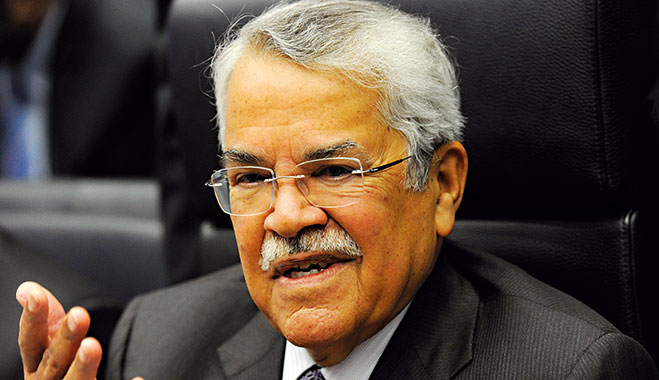 Ali al-Naimi was Saudi Arabia's Oil Minister for nearly 21 years. After rising through the ranks at Saudi Aramco, he became the kingdom's Minister of Petroleum and Mineral Resources in 1995&nbsp
In May, the time finally came for Ali al-Naimi – described by many as both the most influential non-royal in Saudi Arabia and the most powerful man in the oil industry – to step down from his position as the Saudi Arabian Minister of Petroleum and Mineral Resources, a role he had held since 1995.
Not one to make a scene, the former oil minister made way for his successor Khalid al-Falih – Chairman of state-owned firm Saudi Aramco and close advisor to Deputy Crown Prince Mohammed bin Salman Al Saud – without ceremony. Speaking to the Financial Times, Yasser Elguindi, Oil Market Analyst at Medley Global Advisors, said: "These are big shoes to fill." He added, however, "Khalid al-Falih will be up to the task".
The Saudi Government shake-up, which affected not just the oil minister but a string of other senior figures also, brought a swift and decisive end to Naimi's more-than-20-year tenure as taskmaster of the kingdom's oil policy. His replacement, a graduate of Texas A&M University and long-time Aramco veteran, is known for his part in relieving the public sector's grip on the oil industry and inviting foreign participation into the country.
Yet despite all of this, Naimi's departure has been received with a tinge of sadness, and many in the industry will remember his time in office with considerable fondness.
"It's a brave new world", Elguindi said of the change. "Ali al-Naimi has been the main steward not just of Saudi oil policy, but of the global oil market in general for the last quarter century. Everyone looked to him for guidance."
Humble beginnings
In contrast to his high standing in later life, Naimi was by no means born into a rich family and has always enjoyed a reputation as a relatively humble and measured man. Born in 1935 to a poor Shiite Muslim family in Saudi Arabia's eastern province, Ali bin Ibrahim al-Naimi spent his formative years tending to his father's flock of sheep. At the age of 12 he worked as an errand boy at Aramco, the company he would later go on to lead.
As much as Naimi was known the world over as one of the most influential figures in oil, his downfall was his inability to part ways with it
It was an American company executive who recommended that Naimi be sponsored for proper schooling, and after graduating from Lehigh University in Bethlehem, Pennsylvania, Naimi went on to study at Stanford University. Following that, he swiftly made his way through the ranks after rejoining Aramco.
His appointment as Minister of Petroleum and Mineral Resources in 1995 signalled something of a sea change in Saudi Arabian politics, with his rather muted style of leadership contrasting sharply with the exuberance of his predecessor, Sheikh Zaki Yamani. Naimi's appointment was testament to the country's newfound professionalism and desire to be seen as a leading and stabilising force in the oil business.
Bob McNally, a former White House energy advisor, told the Financial Times: "Minister Naimi has been regarded as a professional, seasoned policymaker and calming influence on his often fractious and frazzled OPEC brethren." Writing in a publication for the Oxford Energy Forum last year, Pedro Haas was equally affectionate: "Naimi is deeply knowledgeable about the oil industry, from the nuts and bolts of exploration and production to the subtleties of oil policy. He is a thoughtful and polite man, unassuming to a fault, the perfect Sherpa to his king."
Haas went on to say that – by and large – the degree of professionalism within the Saudi oil industry has deepened with each successive ministerial appointment, and in this regard Naimi has most certainly done a great deal to enhance the legitimacy of the nation's oil policy. Haas noted: "A very steady pair of hands will be needed to steer the main player in the global oil market."
Changing of the guard
Now Naimi's time is done, it appears the kingdom's oil policy is shifting once again, and the appointment of Falih heralds the beginning of yet another chapter for Saudi Arabian oil.
However, this latest change applies not only to the minister but to the department itself, which has since been renamed the Ministry of Energy, Industry and Mineral Wealth. "The leadership is betting on diversification that previous Saudi leaders have failed to deliver", Bill Farren-Price, Head of Petroleum Policy Intelligence, said in an interview with the Financial Times. "With Riyadh no longer seeing oil as a growth business, they have decided now is the time to change the focus – the change in ministry name is telling."
The changing of the guard has less to do with any of Naimi's policy missteps – which have largely succeeded in keeping the country's finances stable in times of volatility – and more to do with the scale of the challenges that lie ahead.
Naimi took to the headlines recently for his decision not to lower Saudi production in the prevailing low oil price environment. Furthermore, the decision to maintain output and pile pressure on US shale producers sparked a global contest for market share. This also represented a change of tack from what had come before: OPEC, which produces a third of the world's oil, has historically kept supply on a short lease to maintain high prices. The latest change, aside from heaping pressure on rival oil nations, did a great deal to boost Naimi's renown and underline his influence on global oil markets.
Ali al-Naimi in numbers
53rd
On Forbes' list of the world's most powerful people 2015
21
The number of years Naimi was Saudi Arabia's Oil Minister
$1trn
OPEC's oil revenue in 2014 under Naimi's governance
$460bn
Saudi Arabia's oil reserves are projected to dip to this level by 2019
This was far from the first time one of his decisions has dictated the trajectory of oil prices: in 1997, the then-oil-minister went to great lengths to fend off a slump in the wake of the Asian financial crisis; and again, in 2008, when the global financial crisis took hold. In each case, Naimi succeeded in reversing oil's demise and reminded investors around the globe of its enduring allure. The appointment of a new Saudi oil minister, however, marks the latest in a series of reforms instigated by a government set on diversification and disturbed by the economic fallout low oil prices could bring.
"The changes, especially at the Ministry of Petroleum, were much awaited", said John Sfakianakis, Director of Economics Research at the Gulf Research Centre, speaking to The National. "The decision to merge ministries and appoint Khalid al-Falih is definitely a plus and a sign of efficiency and technocratic continuity." Speaking about the reforms, he added: "There is a definite change in the dialectic… There is a different air of reform: more of an emphasis on delivery and greater accountability."
All this being said, as much as Naimi's departure hails a change of face, this isn't to say Saudi Arabia's OPEC policy direction will change in any significant way. Rather, Naimi's departure has more to do with a failure over his tenure to free Saudi Arabia from its dependence on oil. As much as Naimi was known the world over as one of the most influential figures in oil, his downfall was his inability to part ways with it.
This optimism for all things oil was on show earlier this year when, in January, he appeared positive about the future of oil prices, despite prices settling below $30 a barrel for the first time in 12 years. "As you know, the oil market has witnessed over its long history periods of instability, severe price fluctuations and petro-economic cycles. This is one of them", he told the audience at an energy gathering in Riyadh. "Market forces, as well as the cooperation among the producing nations, always lead to the restoration of stability. This, however, takes some time."
A month later, not long after the price of oil bounced back to around $50 a barrel, Naimi again emphasised that demand for oil was on the up and suggested a measure of stability had returned to the market: "Markets are calm now… demand is growing." However, the then-minister appeared all too aware of his effect on the oil market when he responded to reporters intent on hearing his comments concerning oil prices: "I don't like to talk about oil, because we want calmness. Why do you want to bring up the prices issue? Leave the prices alone."
Oil reform
No matter, the issue of having reporters hang on one's every word is not one Naimi need contend with, and observers will look to his successor for an indication of where oil markets might be headed. As much as the former minister was influential in dictating the kingdom's oil policy and averting crisis, his was a position that was always sure to change as Saudi Arabia looked to implement its new reform programme, Vision 2030.
In April, Saudi Arabia's Deputy Crown Prince, Mohammed bin Salman Al Saud, announced a raft of economic and social reforms aimed at freeing the kingdom from its dependence on oil. According to the Vision 2030 announcement, the vision "is built around three themes: a vibrant society, a thriving economy and an ambitious nation". It is worth noting that this is the same Prince Mohammed who recently curbed Naimi's influence and replaced not just him, but the nation's energy, oil, water, transport, commerce, social affairs and health ministers as well.
"Saudi Arabia is in a unique position in its history, in which it has the economic incentive, the financial resources, and the political will to enact true reform", said Oliver Cornock, Managing Editor of the Oxford Business Group, in an interview with Business Destinations. "Now Saudis increasingly recognise the need to right the fiscal ship, precisely because the oil price is where it is, and many I've spoken to are eager for a reinvigorated, dynamic economy which will offer jobs, and better quality ones at that."
A recent slump in global oil prices also means business confidence in Saudi Arabia has taken a notable hit, while government spending has suffered a major setback, according to Olivier Najar, Country Risk Analyst – MENA at BMI Research. As a result, Saudi Arabia is due to enter a protracted period of subdued growth from this year onwards, racking up annual real GDP growth of 2.3 percent on average between 2016 and 2020, compared to five percent in the period spanning 2011 to 2015.
According to Cornock: "Even with an eventual recovery in oil prices, population growth, internal oil consumption and rising government expenditures, particularly in the form of long-term liabilities such as healthcare and pensions, the kingdom's economic future is contingent on the development of a non-oil economy and especially an autonomous private sector growth."
The country, if it so chooses, can mitigate the gathering storm should it follow through with its reform measures. Gone are the days when Saudi Arabia could rely on oil revenue and public spending for prosperity, and the nature of the challenge demands that policymakers do away with the old guard and embrace new blood. Najar told Business Destinations: "The reforms have the potential to stabilise the country's growth outlook, and budget balance, over the longer term."
New beginnings
Now Naimi's time is at an end, there has been no shortage of tributes paid to the oil veteran, each commemorating his contribution not just to the industry but also to Saudi Arabia's rise on the world stage. In May it was announced the former oil minister would receive this year's Honorary Lifetime Achievement Award for the Advancement of International Energy Policy and Diplomacy, to be presented by the Abdullah Bin Hamad Al-Attiyah International Foundation for Energy and Sustainable Development.
"There will never be another Ali al-Naimi", said the former deputy prime minister and minister of energy and industry, Abdullah Bin Hamad al-Attiyah in the announcement. "He oversaw the policies and astonishing growth of the world's biggest oil company and oil exporter on the planet. No matter if he was working in a small group in a boardroom or facing cameras from all over the world, al-Naimi was always gracious and knowledgeable. His 70-year career saw him literally rise from the desert shop floor to become the world's most powerful oil executive for almost three decades."
Now Saudi Arabia is moving into what some are calling a new, post-oil era, the full impact of Naimi's influence on the oil market will become ever clearer. Only in the coming months will we witness the way in which Saudi Arabia is set to benefit – or suffer, perhaps – as a result of his departure.
Ali al-Naimi – curriculum vitae
Born: 1935, Dhahran, Saudi Arabia
Education: American University of Beirut, Lehigh University, Stanford University
1935
Naimi was born to a relatively poor Shiite Muslim family in Saudi Arabia's eastern province, where he spent his formative years tending to his father's flock of sheep and eventually worked as an errand boy at Saudi Aramco.
1957
After graduating from the American University of Beirut, Naimi rejoined Aramco, where he quickly worked his way through the ranks and established a well-earned reputation as possessing a shrewd business mind.
1983
Naimi was named President of Aramco in 1983, becoming the first Saudi to hold the position. Having combined the presidency and chief executive positions, he
went on to fill both of them separately.
1995
His appointment as Saudi Oil Minister signalled a sea change in Saudi Arabian politics. While some commentators were sceptical of his abilities, his actions strengthened the kingdom's hold on the global oil market.
1997
Arguably Naimi's biggest challenge came first in 1997, when he had to fend off a slump in the wake of the Asian financial crisis. Further turmoil would come when the global financial crisis hit in 2008.
2016
Naimi was dismissed as part of a wider government shuffle, to make way for Aramco's Chief Executive. The departure marked the end of Naimi's reign as perhaps the most powerful figure in the oil business.