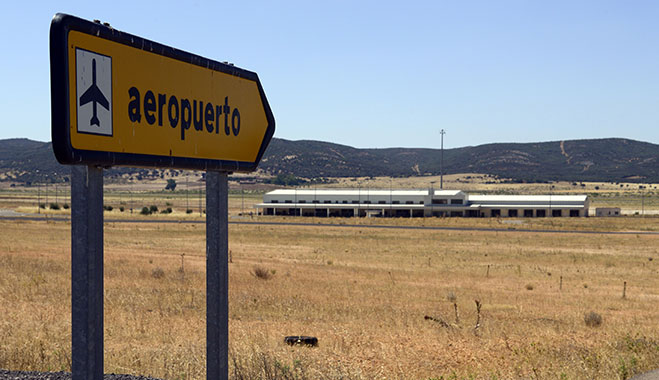 The airport of Ciudad Real, 220km south of Madrid. The airport opened in 2008 following a €474m investment, but by 2012, it has closed and filed for bankruptcy &nbsp
Author:
Gonzalo Cantabrana Fernandez, Infrastructure Analyst, Standard & Poor's
March 9, 2016
Poor planning has plagued Spanish infrastructure in recent years. The sector has suffered from a lack of prioritisation for the most socially beneficial projects, considerable overspending of public resources on construction, and little long-term vision from the government.
Political fragmentation in the wake of the recent elections has only added further uncertainty to Spain's infrastructure sector – something that threatens to constrain the outlook for new projects in the coming decades. To better meet its future infrastructure needs, Spain would do well to form a concrete strategy for infrastructure investment in the long term.
To this end, the country can build on some encouraging developments: Spain's economy made a promising recovery last year, as investor appetite for project finance grew, while the establishment of the new National Evaluation Office (NEO) – set up to analyse the feasibility of large-scale infrastructure projects – will help the country to improve its infrastructure planning.
A poor track record
These are certainly welcome developments for a country where local and national governments have often not prioritised the most viable projects, a decision that has resulted in negative economic and social consequences. What's more, significant public resources have been invested in unfinished or unused projects during this process.
In the years preceding the financial crisis, all provincial capitals in Spain – of which there are around 50 – argued that they were entitled to an international airport. Such enthusiasm led to the expensive construction or upgrade of numerous barely used and remote airports. 200 kilometres south of Madrid, for instance, the airport of Ciudad Real was opened in December 2008 following an estimated investment of €474m. By 2012, the airport had closed and filed for bankruptcy. The airport will have to be auctioned this year, following a failed auction process in 2015.
This unfortunate pattern was repeated across Spain: Castellón's airport in the east of the country opened in 2011, but only saw its first flight in March 2015. Similar airports, such as Huesca (in Aragon), Lleida (in Catalonia) and Cordoba (in Andalusia), only attracted a trickle of flights after the recession hit in 2008.
The Spanish rail sector also suffered from poor attention to project profitability: with the majority of public investments in Spanish infrastructure going towards expanding its high-speed railways in recent years, Spain has the world's third largest high-speed rail network after China and Japan. However, oversupply and inadequate demand has affected some lines. In fact, the high-speed line through the Pyrenees, from Perpignan in the south of France to Figueras in northeast Spain, filed for bankruptcy proceedings in July 2015. The project's sponsors are now claiming compensation from both the French and Spanish Governments due to early termination.
Nor have Spanish highways fared much better: notably, eight concessionaires for toll roads (the 'radiales') radiating outwards from the Spanish capital are currently undergoing bankruptcy proceedings. Negotiations between the government and these lenders have lasted three years to date, and have no end in sight.
Political fragmentation
Such a poor track record stems, in large part, from a lack of long-term planning for infrastructure development on a governmental level. Not only is responsibility for infrastructure investment fragmented among various divisions of local and national government, but infrastructure investment is also influenced by the course of elections – and with different parties come conflicting infrastructure polices.
While the plan for investment in transportation is the sole responsibility of the Ministry of Public Works, it only remains in force for as long as the government responsible for the action is in power – and governments can last as little as four years. As a consequence, Spanish infrastructure investment is rarely guided by a long-term vision or strategy beyond the mandate of its elected government.
It is for this reason that this year's political fragmentation threatens yet more uncertainty for Spain's infrastructure sector. In December's general election, no single party gained even one-third of the popular vote, and an absence of government has meant a lack of clear infrastructure policy – and plans for investment – in the future.
Breaking the political deadlock requires the formation of either a coalition or a minority government. However, either option will have significant ramifications for the infrastructure sector: on the one hand, in a coalition, national infrastructure priorities would require consensus among the political parties – a difficult task, given their differences in policy. While the centre-right Partido Popular (PP) party favours continued development of national high-speed, conventional and freight railways, the left-wing Podemos party has voiced its support for the cessation of all large infrastructure projects that have not yet been approved.
On the other hand, should a minority government form, the party in charge would have a limited ability to introduce any infrastructure reforms, due to its lack of a legislative majority in parliament.
Long-term doubts
This political fragmentation and the consequent hiatus in policymaking have increased uncertainty over Spain's plan to meet its infrastructure requirements over coming decades. Above all, there is a worrying lack of a clear pipeline of future projects.
The Infrastructure, Transportation and Housing Plan (PITVI) – the current strategy guiding Spain's investment in much of its national infrastructure – is set to expire in eight years. Without political direction to guide planning, significant investment in greenfield projects – that is, new developments – could suffer further down the line.
Meanwhile, the market for public-private partnerships (PPPs) may struggle to develop in this environment, given the time that is required for the tendering process: a local authority needs to plan its infrastructure projects, award contracts to companies and deal with the legal side of issuing tenders. All of these actions take time – something that may be eaten up by political stagnation over the next year.
Furthermore, the project to develop Aragon's Alcañiz Hospital in Spain's northeast was also cancelled in the wake of fresh elections. Like the City of Justice, this was despite the fact that the preliminary preferred bidder for the concession was already in place.

What's more, the lack of political cohesion on infrastructure policy could also have an impact on the future upkeep of brownfield projects (infrastructure already built and functioning). Although political uncertainty is unlikely to hurt existing infrastructure in the short term, doubts remain for the long term. For instance, although some infrastructure sectors, such as roads, are currently in good shape and should not require improvements any time soon, this may not be the case 10 years from now in the absence of any maintenance.
A cohesive strategy
Spain urgently needs to adopt a concrete infrastructure strategy that can provide strong guidance for public investments by different administrations and across the political spectrum over the next 30 years. Encouragingly, the foundations for such a strategy have already been laid.
First, 2015 saw the country's infrastructure finance market signal a crucial recovery. Spurred on by an improvement in the economy, as GDP growth picked up to 3.2 percent from a mere 1.4 percent the previous year, investor appetite for project finance grew, and the secondary market picked up steam after several years of relative inactivity.
In fact, while Spain has traditionally financed projects through the bank loan market, recently there has been a growing interest for the refinancing of existing transactions through the debt capital markets. The increasing involvement of pension funds in projects was particularly notable.
Second, the recently approved NEO was set up to analyse the financial feasibility of new public works or public services concessions prior to the tendering process. The NEO will offer vital advice and scrutiny to large-scale projects (investments of more than €1m) and is open to regional and local governments, which could benefit local and regional authorities less familiar with the process of offering concessions. If correctly implemented and staffed with skilled technicians – allowing projects to be analysed with respect to profitability and cost-effectiveness – the NEO could improve the prospects of Spain's infrastructure sector and solidify its future.
Certainly, there is room for improvement. But having learned the lessons of the past, and with a strategy for the long term, Spanish infrastructure could weather the current storm of political uncertainty.