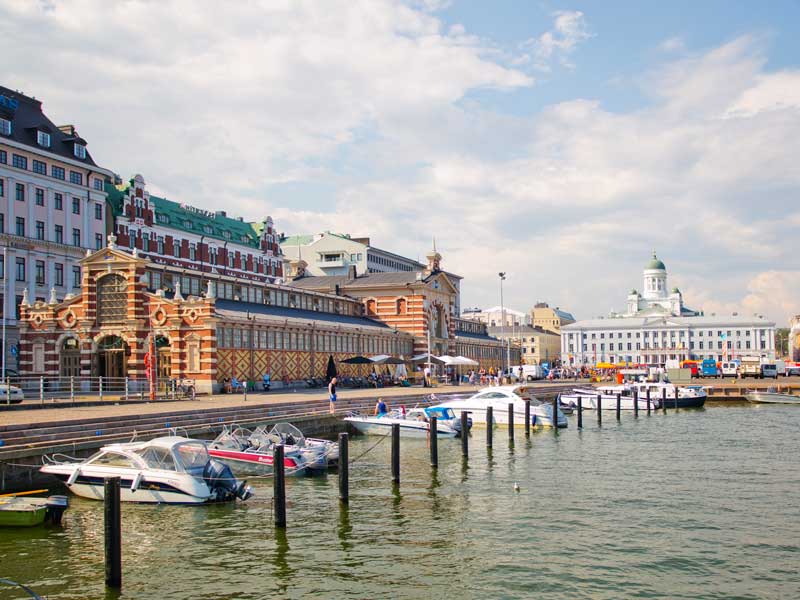 The success of Nordea Life Assurance is built on a clear and far-sighted strategy that has been underway for years. A simple and agile operating model are key competitive advantages &nbsp
Interview with:
Pekka Luukkanen, CEO at Nordea Life Assurance Finland
March 28, 2018
In the once quiet and stable life insurance sector, the transformation of business practices and customer expectations is now well underway. In a marketplace where customers expect detailed insight and a highly personalised service, the models and procedures of the past are now severely lacking. By modernising, particularly through digital services, insurers currently have an opportunity to differentiate themselves in a crowded market. According to Deloitte's 2017 Insurance Outlook report, operators in the life insurance and annuity sector have a significant growth opportunity by making products that are more straightforward and relevant to individuals' needs. For a product like life insurance, which is not often at the front of people's minds, the opportunity to engage customers is a thrilling possibility.
The stakes are high with every customer interaction. Through social media, customers can and will let their opinion of a brand be heard loud and clear
However, the difficulty is meeting the steep expectation customers now have for service. This greater demand is evident in customers' increasing interest in add-on services for insurance, as Pekka Luukkanen, CEO of Nordea Life Assurance Finland, explained in an interview with World Finance: "Customers are no longer satisfied with just having an insurance product – customer-specific needs arise after the product has been bought, and customers will increasingly emphasise the personal benefits they gain from their insurance solution."
In order to have the flexibility to offer these services to customers, Nordea Life Assurance has undergone significant changes over the last few years in order to propel the company to new heights. On its journey of continual improvement, Nordea Life Assurance is now looking to what the future holds and how this can benefit customers.
Faster and nimbler
The success of Nordea Life Assurance is built on a clear and far-sighted strategy that has been underway for years. "Last year's successful implementation of the key target in Nordea Life Assurance's previous strategy period, namely the migration to a single core insurance system, gave us a unique competitive edge in the market,"
Luukkanen said.
This change in process will do more than just make Nordea Life Assurance faster and more nimble than its competitors. Luukkanen explained: "A single insurance system will simplify the company's operations, as every change needs to be implemented only once, unlike in a situation where we have multiple systems. The existence of a single, modern system also makes digitalisation development easier as it would be extremely difficult and expensive to build new service concepts into the old systems."
To get the most out of this model, Nordea Life Assurance has implemented industry-leading processes. The process-driven operating model and quality system the company developed was awarded a quality certificate by Lloyd's Register Quality Assurance in 2015. The certificate, based on the ISO 9001 standard, was most recently renewed in June 2017. "This means that Nordea Life Assurance Finland continues to be the only life assurance company certified in this manner in the Nordic and European markets," Luukkanen explained.
The process-driven operating model has been integral to the continued improvement of quality at Nordea Life Assurance. Luukkanen said: "It has enabled extremely predictable and effective risk management because it is very clear to the personnel how responsibilities are divided and how various things are measured. Moreover, process-driven operations enable all of our processes, including the targets set for personnel and how these targets are measured, to be communicated effectively to everyone working at the company."
For Nordea, efficiency has also been key. Nordea Bank, the business' distribution channel, has given it tremendous reach with maximum efficiency. The company has also been able to adjust its operations to meet recent challenges of the business environment, including the implementations of Solvency II regulations. Utilising robotic automation has also helped speed up business, with the company now automating 20 process phases. Luukkanen explained: "These phases enable high quality, shorter delivery times and the automation of routine work phases, which improves the meaningfulness of work. This perfectly supports our goal of automating the company's processes in order to foster growth and improve customer and employee satisfaction."
The employee experience is another significant achievement of Nordea Life Assurance. In February 2017, the company received the Great Place to Work Finland accolade, and a survey reported 89 percent of employees consider Nordea Life Assurance an excellent place to work. This is tremendously important for Luukkanen, as employee retention is integral to the company achieving its goals. He declared: "We believe that the great employee experiences will ultimately benefit the customers and, consequently, lead to good owner experiences, enabling long-term development in the future."
The customer of tomorrow
For the next stage of Nordea Life Assurance's quest for quality, the focus will be on improving the customer experience. This will be the primary goal of the company through to 2020. Today, customers in any field expect greater ease of use as well as outstanding personalised experiences. The stakes are high with every customer interaction; through social media, customers can and will let their opinion of a brand be heard loud and clear.
Luukkanen recognises that customer service is a differentiating factor across brands in the entire life insurance industry, and defines what products are offered. He said: "[Customers] want a full-service package that is available at any time, in any place. There will no longer be any demand for traditional service concepts in insurance solutions that are not deemed absolutely necessary. In this type of a competition, the winner will be the service provider that not only exceeds customer expectations, but demonstrates clearly to the customers the benefits available to them."
Understanding the changing needs of customers and making sure every interaction with a company is positive is both difficult and rewarding. Luukkanen explained that a brand is no longer something you project through advertisement, but something you co-create as an experience in interactions with the customer. He said: "At Nordea Life, just as at Nordea, this primarily means using each and every interaction to support our strategic intent of being easy to deal with. Studies indicate that simplicity is a factor that customers value in their service providers – for instance, the customer effort score has been proven to be a better indicator of customer satisfaction than the net promoter score."
Ironically, being easy to deal with has never been so hard, as Luukkanen observed: "We are living in the era of the customer, and companies are continuously making their services better and better. Therefore, from the customer's perspective, something that was considered easy yesterday is considered outdated and difficult today." He added: "At Nordea Life, we want to be the best in supporting our customers' day-to-day lives, which means we need to understand our customers' true needs and create products, services and ways of operating that cater to those needs."
One way this can be achieved is through digitalisation, allowing customers to perform insurance tasks anytime, anywhere. This requires a careful simplification of services to ensure that they are easy to use. Successfully doing so can allow for personalised services, the likes of which were not possible before. "Digitalisation creates the expectation of the possibility for customers to personalise the service experience, which means we are no longer able to serve customers with exactly the same concept, as many companies have done with traditional service models in the past," Luukkanen said. Nordea's digital development allows the company to achieve its mission of fostering outstanding, lifelong relationships with customers.
Doing so will ensure Nordea Life Assurance can face the challenges that are not directly within its control. Luukkanen explained that, in general, it can be said that the prolonged period of low interest rates is making it harder to gain returns in the investment markets with high capital efficiency, forcing many insurance companies to develop their operations and expand their business into new areas. He said: "Challenges to our operations are posed by stricter regulation which, despite its commendable aims, does not always improve the protection and service experience of the customer but instead makes operations more complex, increasing costs for insurance companies."
Demographic factors, such as an ageing population and longer life expectancies, also have an effect on operations. "This, coupled with the sustainability gap in public finances, will increase demand for risk life assurance policies and the indemnity costs for certain types of cover," Luukkanen explained.
But in terms of the factors that are within Nordea Life Assurance's control, keeping customers pleased with simple yet dynamic products, and maintaining a satisfied workforce, will let the company keep its competitive edge. Its digital transformation is at the core of this. Luukkanen observed: "Life business is IT business. Players that really understand the meaning of that phrase will win. The implementation of increasingly complex regulatory requirements is a huge challenge for all players in this sector. But in this race, the size of the company together with a simple and agile operating model are key competitive advantages for Nordea Life."