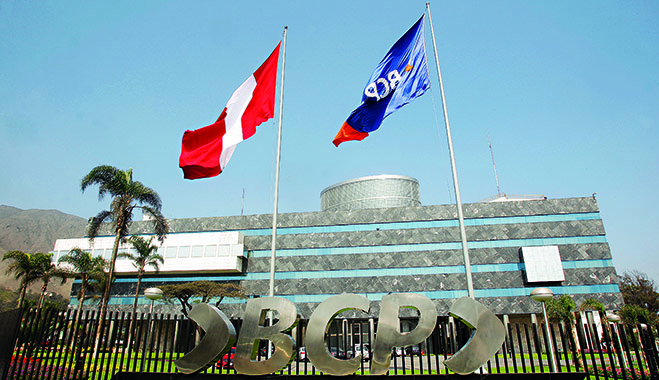 BCP headquarters in Lima, Peru. The bank is working tirelessly to boost the country's wealth management sector, something that is especially key during the political and economic rough patch that the country is currently enduring&nbsp
Interview with:
Patricia Dibos, Head of Private Banking, Banco de Crédito del Peru
In recent years, Peru has been making a concerted effort to align itself with global standards, with a particular focus on achieving fiscal transparency. In the last two years in particular there have been important changes to the country's fiscal framework, relating to both local and global investments. These changes seek to not only foster greater transparency, but also to improve tax collection through simplified processes.
One additional outcome that has come from these new fiscal regulations is a reduction in taxes on foreign income, shrinking from up to 30 percent to only five percent, so long as the investment is made through the local stock exchange or through a local investment vehicle, such as an onshore mutual fund or structured product. This arrangement has created a significant opportunity for firms to develop and market global investment products in the local platform – something that financial services companies have previously tried to exploit to the benefit of their customers.
During the past two years, Banco de Crédito del Peru (BCP) has worked tirelessly to establish a series of international investment products in onshore markets, and has successfully launched eight global mutual funds and over 50 structured products on international underlying assets. World Finance spoke to Patricia Dibos, Head of Private Banking at BCP, to learn more about how this lucrative market has developed.
What is driving the need for a holistic approach to wealth management?
The needs of high-net-worth individuals and families typically extend beyond the boundaries of investment and financial advice. Holistic wealth management embodies much more than just these aspects: it also embraces all other relevant aspects, such as succession and estate planning, lending and insurance solutions, and multiple-jurisdiction tax advice. More importantly, by taking into account the peculiarities of family dynamics, holistic wealth management also works towards ensuring the emotional satisfaction of the whole family.
With this in mind, in 2011 we expanded our advisory process to look beyond investment products and more into the long-term objectives of our clients. This initiative led us to set up a financial planning area with experienced advisors in mature markets. Through this service, we place strong emphasis on the adaptation for the local market, as well as on the construction of integrated wealth plans that include succession planning, goals-based portfolios, family cash-flow analysis and multi-generation assets transfers. In recent years, we have expanded this service to include estate planning and insurance solutions. This new service offering has led us to form alliances with world-class fiduciaries and insurance companies that provide multijurisdictional solutions to meet the varying needs of our clients.
1889
Year BCP was founded
$202.9bn
GDP of Peru, 2014
10.7%
Peru's bank capital to assets ratio, 2014
This holistic service provides our clients with better chances to achieve the asset growth and wealth protection they require, and gives them access to a broader range of professional services to satisfy their particular lifestyles. In doing so, this holistic approach can set our clients up for a more satisfying future.
Peru is going through a political rough period. Has this had any ramifications for your industry?
Peru will hold presidential elections in April 2016, and, as might be expected in the context of political uncertainty, the country's economy has slowed down in the past months. This scenario is really not new to Peruvians: we seem to go through the same situation every five years, whenever we hold [an election]. As a result, consumer and business confidence, which had boosted domestic consumption and investment during the past few years, are both hovering at five-year lows. This time, however, the situation is somewhat graver because lower global commodity prices, which affect the country's main exports, have also decelerated economic growth.
As a result of this, the Lima Stock Exchange endured strong losses and Peru's credit risk premium rose over 100 bps in 2015. These events, coupled with the relative illiquidity of our market, have underlined the need for Peruvian investors to diversify their investment portfolios in global assets. Luckily, this time around current tax regulations have allowed us to complement and round out our local product offering with a wide range of dual-currency international assets, and we're putting a great deal of emphasis on educating our clients on the benefits of global diversification.
How do you ensure that your clients remain at the heart of your business in both the long- and short-term?
We think that BCP is a bank that does things differently. We believe that private banking is mostly a science in human relations – of course we need a solid investment advisory process and a strong team of investment professionals, and we most certainly need a competitive product and service offering, but we're convinced that what has really made us successful is the client trust and loyalty we've been able to achieve through long-term personal relationships based on a deep understanding of the individuals and families we serve.
We deal with people's wealth, and we understand that wealth is a very emotional issue for most. It has usually been passed on through generations, or been earned through a great deal of work and sacrifice. Because of this, we believe that clients look for more than just an investment proposal: they value an advisor that makes them feel comfortable, that creates empathy, that takes the time to comprehend their goals and motivations; an advisor that listens, understands, asks and, most importantly, knows how to challenge their opinions for the sake of their best interest. Above all, we believe that clients treasure having a long-term relationship with their advisors.
Naturally, in order to be consistent with this client-centric view, all our compensation schemes point in this direction, seeking to balance income and assets under management growth, as well as quality of advice and performance, with overall client alignment and satisfaction. We have also worked hard in creating a long career path for our private bankers and investment advisors, and in giving them the best all-around training we possibly can.
We have more than 25 years [experience] in the business of private banking, and this is the culture we have always stood by and the one that we convey to our team. [This mentality] has worked very well for us through all these years, and we don't plan on changing it.
What developments have you noticed within the industry and what actions are you taking to stay up to date with them?
We believe that the drive to increase fiscal transparency will persist, and that the changing and intricate regulatory environment will continue to affect the industry significantly. Major global players have had to rethink their international business strategies, driven by increased compliance costs and regulatory issues, seeking to improve their efficiencies and focus on profitable markets. We have observed that a number of them have closed down rep offices in our region or significantly rotated their staff. We have been prime benefactors of the region coming out of favour for the larger global banks, since we remain fully focused on our market. And naturally, due to the nature of our high net worth clients, who are globally focused in terms of their lifestyle and wealth distribution, we've also had to align ourselves with international regulatory and compliance standards, and will continue to do so.
We have also observed a significant shift in focus towards the client and less towards the product – [a shift] towards advisory and less towards brokerage. Wealth management firms are today, more than ever, concentrating on goals-based asset allocation and integrating investment management with broader client objectives. What we find most significant about this trend is that it entails a stronger alignment with clients' interests, which we believe will be very positive for our industry. As I mentioned earlier, we have always been a very client-focused private bank and we have reaffirmed our commitment to always better serve our clients by offering them a holistic approach in our advisory process, which is competitive in today's marketplace.
Another major trend we have observed in the industry is the surge in technological platforms that enhance the advisory relationship with clients and make it possible for them to be more involved throughout the investment advisory and execution process. Technological tools have also become much friendlier, and are more accessible through different devices and links. We recognise the need to have the latest technology in order to remain competitive in this industry, and so in 2016 we are engaging in a major investment to revamp our core and investment management systems, as well as to develop a new state-of-the-art online platform that allow us to communicate, manage, execute and report in a manner that keeps us competitive in this new world standard.
What does the future hold for BCP?
BCP posted record earnings in 2015 and, despite Peru's economic slowdown, we remain optimistic for the future. We believe that the country's medium- and long-term macroeconomic fundamentals are solid, and that the economic growth rate will accelerate once political uncertainty is resolved.
We also commemorated our 125th anniversary recently: as one of the country's most longstanding names and most trusted banks, we celebrated this occasion with a rene wed commitment to our clients: to keep serving them with excellence and superb leadership for the next 125 years. As part of this commitment, and looking towards the future, we are also embarking on a number of initiatives to enhance our relationships with our clients' children. [For example], in 2015 we hosted a family education workshop in Urubamba, Cusco that was directed towards our second generation, or even third generation, clients. We believe that by engaging with these generations many years before transitions happen, we can better serve our clients' families while getting an early start in developing the close personal relationships that have given us one of our most important competitive edges.