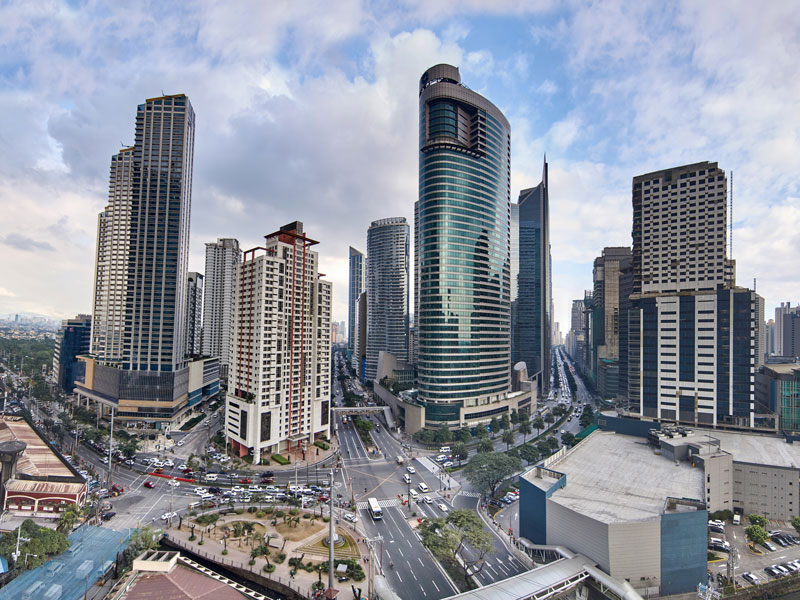 Manilla, capital of the Philippines. The insurance sector has continued to grow and prosper despite the various natural risks that threaten the country&nbsp
Author:
Leticia C Tendero, Director of Investor Relations, Standard Insurance
Located within the Pacific Ocean's tectonic Ring of Fire, the Philippines is prone to major earthquakes and catastrophic volcanic eruptions, experiencing approximately 12 minor earthquakes on a daily basis. What's more, its position within the region's typhoon belt exposes it to persistent tropical storms, with around 20 typhoons of varying severity registered every year. To make matters worse, its geographical location and unique topography also renders the nation susceptible to tsunamis, flash flooding and landslides, placing considerable strain on the Philippines' underdeveloped infrastructure.
The Philippine insurance industry continues to thrive despite the challenge of natural risks
These seemingly overwhelming risks, which threaten the insurance industry year in and year out, hang over the nation's head like the proverbial sword of Damocles. Nonetheless, these tribulations have pushed the industry to continually enhance its capabilities and overall insurance structure, and to be better protected and prepared for any eventualities that may arise. Meanwhile, enhanced technology and digitalisation in recent years combined with heightened competition among industry players has driven the quality and affordability of products, as well as the manner of distribution and claims handling. Equally important, the Filipino heart and mind, as well the Filipino culture and traditions, are the factors that spell resilience amid all these calamities.
70
Philippine non-life insurance companies operating in 2013
54
Philippine non-life insurance companies operating in 2018
As such, the Philippine insurance industry continues to thrive despite the challenge of natural risks, posting steady growth in the past few years. The country's robust economy, with GDP at 6.7 percent, has allowed the industry's key drivers to prosper, and 2017 was an exceptionally good year for the Philippine insurance industry as a whole. Insurance net premiums rose 12.1 percent to PHP 259.8bn ($4.95bn), and are expected to continue growing in years to come. The non-life insurance sector has experienced particularly strong growth, bolstered by a rapid uptake in motor insurance policies and expanding fire and allied perils coverage.
The non-life insurance industry posted an impressive growth rate of 10.1 percent for 2017, with insurers bringing in approximately PHP 83.2bn ($1.58bn) in gross premiums and PHP 48.6bn ($927m) in net premiums. But despite this exceptional market performance, changes to the Filipino tax landscape are now proving challenging to both established and fledgling non-life insurers. With significant tax reforms coming into effect this year, insurers must implement innovative business strategies if they wish to remain profitable in this challenging climate.
Challenges ahead
The Philippine automotive industry has posted particularly impressive results in recent years, becoming one of the nation's key drivers of economic growth. Domestic car production has ramped up, fuelled by increased demand for vehicles among the Filipino population. The flourishing industry grew by 18.4 percent in 2017, with a record number of sales totalling 425,673. This remarkable uptake in car sales is good news for the non-life insurance industry, as motor insurance accounts for over 50 percent of the non-life market. This upward spiral of motor sales coupled with aggressive car sales promotions and the proliferation of transactions with built-in insurance packages has, in turn, driven significant growth in motor car insurance policies.
However, this flurry in activity can be largely attributed to the looming implementation of new excise tax laws, which came into effect in the Philippines in January of last year. The government's substantial reform package, Tax Reform for Acceleration and Inclusion (TRAIN), has established new taxes on both vehicles and fuel, leading to an increase in car prices. While the newly imposed TRAIN law lowered tax rates on SUVs and luxury vehicles, it increased taxes on low-to-mid-priced vehicles, driving up the cost of motorcar purchases among the general public.
Many Filipinos sought to avoid these hefty excise taxes by fast-tracking their motor purchases in the last quarter of 2017 (see Fig 1), which accounts for the sudden increase in car sales in the latter half of the year. It is too early to say now whether these new excise taxes will affect the long-term car buying habits of Filipinos, but mid-year reports suggest that the automotive industry can expect to experience a significant slowdown in annual sales.
After eight consecutive years of growth, this decline is certainly disappointing for both the automotive industry and the non-life insurance market. These developments, exacerbated by economic headwinds such as the weakening Philippine peso and increasing inflation, are projected to result in slower car sales for 2018 overall. Carmakers and insurers are anticipating a drastic change in consumers' spending priorities, as buyers will be forced to reconsider their budgets when looking to purchase a vehicle, whether it is their first or second investment.
Despite this expected drop in car sales, vehicle manufacturers and insurers are hoping the declining sales trend will eventually plateau and post some positive growth by the end of 2018. In order to combat this sales slump, leading brands and carmakers have launched a number of compelling promotional schemes: these initiatives include flexible financing packages such as 'buy now, pay later' schemes, in addition to a host of other unique customer incentives. If these ambitious initiatives prove successful, insurers can expect to see an uptake in motor insurance policies.
Overcoming hurdles
As one of the largest non-life insurance providers currently operating in the Philippines, Standard Insurance understands how to handle industry challenges. With close to 2,000 associates, we have insured one in five of the nation's four million four-wheeled motor vehicles at some point in our history. Over the course of our 60 years spent serving the Filipino population, we have seen the non-life insurance industry become increasingly competitive, with bancassurance capturing a growing segment of the insurance market.
Furthermore, the mandated capital increase has led to a flurry of mergers in the insurance industry, with the number of non-life insurance players dropping from 70 in 2013 to just 54 in 2018. Although the number of non-life insurers has declined, competition has heightened as traditional insurance players are forced to compete with powerful banks and financial conglomerates.
Amid this fierce competition, it is increasingly important that non-life insurers adopt innovative solutions in order to stand out from the crowd. At Standard Insurance, we aim to deliver strong, customer-focused services that meet the needs of the public, while adhering to our mission of providing stakeholders with a platform to achieve their respective life goals.
We continue to focus on proper underwriting and intelligent pricing across all lines, in addition to ensuring fast and accurate claims turn-around for our loyal customers. As we look to the future, we are committed to expanding our current partnerships and building new relationships with intermediaries, including car dealers, banks and insurance brokers across the nation.
In order to adapt to our customers' evolving needs, we have created a range of innovative products and solutions. Our cutting-edge IT system, iNSURE, is designed to meet the existing and future requirements of our policyholders, advancing our ambition to become an all-digital business. An agile in-house service, iNSURE has improved efficiency at every level of our operations, enabling Standard Insurance to cater to the shifting demands of the Filipino public.
People first
Along with offering our clients innovative digital solutions and a range of flexible products, at Standard Insurance we are also committed to providing quality customer service. Our loyal customers are at the heart of everything we do, and we are dedicated to treating each and every client with the care and attention they deserve. At all of our 42 branches, our attentive associates are always on hand to offer crucial advice and match customers with a policy that suits them. With a comprehensive understanding of non-life insurance products, Standard Insurance advisors are well positioned to explain complex concepts and highlight the importance of policies to existing and potential clients.
Furthermore, customers are able to quickly and efficiently file claims at any of our nationwide branches, regardless of where the policy was issued, saving our clients valuable time in what could be an emergency. In addition to assisting existing customers, our knowledgeable in-branch associates are more than happy to speak with potential customers, advising them on what kind of policy might suit their current and future requirements.
What's more, our internally developed web-based claims system iCATS enables associates to remotely access policy records, register claims, upload claim documents, request vehicle inspections and approve claims from any of our branches, making the claims process as efficient and hassle-free as possible. Our commitment to providing fast and convenient service led us to develop our 'responsive appraiser of photo identification data' solution – a tablet-based, point-and-click program that generates near-instant repair estimates.
Since implementing this innovative technology, we have been able to process claims in as little as two hours, rendering the process far more time-efficient for both customers and associates. As a result, complaints have fallen and customer satisfaction is at an all-time high, reflecting the effort we have put into our customer care. From customer service to insurance products, at Standard Insurance we are dedicated to finding innovative solutions at every level of our business. Moving forward, we will continue to invest in diversity with regards to skills, perspectives and approaches. We are confident that this will allow Standard Insurance to remain profitable and relevant for many years to come.