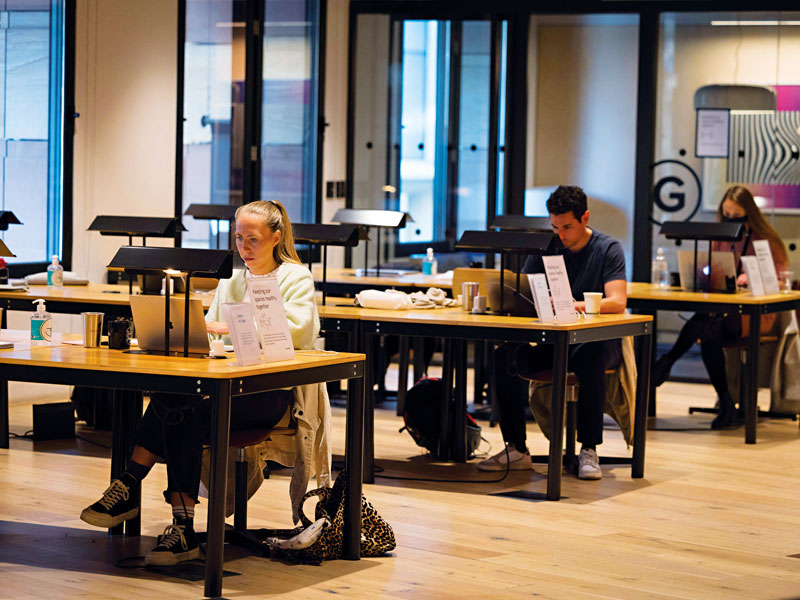 &nbsp
Author:
Jo Caird, Features Writer
September 14, 2021
The coronavirus pandemic has had implications for practically every aspect of our lives. Its impact on the world of work has been particularly acute, with the equivalent of 255 million full-time jobs lost in 2020 due to COVID-19, according to the UN's labour body. This is four times the toll exacted by the 2008 global financial crisis. Those of us fortunate enough to keep our jobs had to deal with an almost overnight shift in the way we work. In June 2020 a survey of 12,000 professionals in the US, Germany and India by the Boston Consulting Group (BCG) found that around 40 percent of respondents had started working remotely since the start of the pandemic.
As vaccine rollouts progress across the globe, bringing the pandemic under control (albeit at dramatically different rates from nation to nation and region to region), offices are tentatively reopening. The proportion of employees returning to the office once it is safe to do so, however, is still very much up for debate.
Not going back
According to Anna Osipycheva, Head of Commercial Real Estate at VTB Capital, the working from home trend is here to stay. "The real life situation of lockdown helped business to experience, assess and make conclusions about the pros and cons of a remote work environment," she says.
This is backed up by data from multiple reliable surveys that suggest that a significant proportion of employees (from 20 to 70 percent depending on sector, region and scale of firm) would like to continue working outside the office at least one day a week after the pandemic. Even more telling is that employers surveyed by BCG expect around 40 percent of their employees to work remotely in the future.
Not everyone is convinced. Nick Riesel, MD of UK-based commercial property agency FreeOfficeFinder, has his doubts about the longevity of the working from home and hybrid working models.
"Everybody believes it is here to stay," he says. "When companies are reminded of how much easier it is to manage, train, brainstorm with employees inside an office, we will see working from home fall away and things will start to return to normal." He gives these models 12 to 24 months before they "fizzle out." Even taking the data from those surveys – all conducted in the midst of the pandemic – with a pinch of salt, however, it seems reasonable to predict that this 18-month global experiment in remote working will have some sort of long-term impact.
Malcolm Frodsham, director of consulting firm Real Estate Strategies, identifies remote and flexible working as a long-term trend that's been turbo-charged by the pandemic.
"It needed a shake-up because, yes, it's been a long-run trend but it's been a bit slow and I think everyone would benefit from more flexibility," he says. Flexible working was established in the UK before the pandemic, with 22 percent of employees occasionally working from home. The European average is half that, however, according to data from Eurostat. In Latin America, pre-pandemic rates varied hugely, from 45 percent of employees polled in Colombia to 21 percent in Peru.
So while the push towards remote and flexible working will have an impact on rents, the fact that this has been the direction of travel for a number of years mitigates that impact. Another offsetting factor is that the trend towards higher density of occupation in office will now go into reverse.
"It's likely now that the density of occupation is going to go down because of the way people are changing how they're working and also because there's likely to be a sort of residual fear of packing too many people into an office," says Frodsham.
The serviced office boom
The increase in remote and flexible working has further implications for the office property market, accelerating the trend towards serviced offices, says Osipycheva.
"The need for large, dense, centralised offices is dramatically decreasing as more people are working from home or at decentralised co-working offices. This means that serviced offices providers will prevail long-term, as those spaces offer flexible leases and allow users to take full advantage of the hybrid work model."
Though more expensive than more traditional leasing arrangements over the long term, serviced offices offer greater flexibility, as tenants are able to scale up and down to fit their requirements without worrying about aspects such as furniture storage and third-party utilities, explains Riesel. FreeOfficeFinder has seen a year-on-year increase of 8.5 percent in requests for serviced offices, as of March 2021.
Investors have been taking notice of this trend, says Osipycheva, citing an increasing interest in co-working companies like WeWork and ImpactHub among large real estate-focused asset managers such as Brookfield, Prologis, Boston Properties, Gecina SA, L E Lundbergforetagen AB and Capital One. "Whoever is able to capitalise on the post-pandemic co-working boom will end up ahead in the long term," she says.
Whoever is able to capitalise on the post-pandemic co-working boom will end up ahead in the long term
This sector may be exciting investors but there are downsides to the model, warns Frodsham, who is currently researching the investment implications of a rise in the flexible service market for the Investment Property Forum. This market is vulnerable in the event of an economic downswing. WeWork, which takes leases on buildings to run as co-working spaces, operating in 118 cities worldwide, lost $3.2bn last year when the pandemic forced much of its portfolio to close. Occupancy rates at WeWork's co-working spaces were at 71 percent before the pandemic hit; by the end of 2020 they had fallen to 47 percent.
For Frodsham, the success of WeWork (notwithstanding the embarrassment of having to delay its IPO back in 2017 owing to a lack of investor confidence), is proof that the "demand is there" for serviced offices globally. Investors hoping to take advantage of this highly profitable business model – serviced offices generate nearly double the revenue of an equivalent traditional office lease – can protect themselves, Frodsham suggests, by looking to those companies running a hybrid model: operating serviced offices in buildings they own. "Doing it yourself is probably going to emerge as the dominant force," he says.
Are central locations now redundant?
Smaller serviced offices and co-working spaces that open up in advanced economies as the threat of COVID-19 recedes will increasingly be found in smaller towns and cities. Frodsham believes the pandemic could prompt the office property market to swing back towards decentralisation as part of what he calls a "classic centralisation-decentralisation cycle."
"We'll go into a period of time where there will actually be more hub offices opened up, fewer companies moving to places like Central London," he says. Other major cities that might suffer from such a move include Dublin and Amsterdam, though the analyst isn't concerned about a big impact on rents as supply will be able to adjust. None of this is to say, however, that we'll be seeing the end of traditional leased offices in large urban centres any time soon. "There will always be larger corporations with headquarter buildings but these will need to accommodate for the working from home sentiment," says Dicky Lewis, a director at White Red Architects, a global practice based in Mumbai and London working in the commercial and office sector.
A central location is always going to make sense, both financially and logistically, for some firms, including state-owned enterprises. It's just that, in order to support employees who wish to work remotely, at least some of the time, satellite offices will become part of the mix. The office property market is actually well prepared to adapt to any longer-term impacts ushered in by the pandemic because it's a sector that has to embrace change by its very nature. Technological innovations from air conditioning to networked computers, design trends and demographic change all contribute to the process of obsolescence of office buildings.
"Offices have always changed. What we've gone through with a pandemic is lots and lots of different trends being accelerated," says Frodsham. That's why the sector should be able to bounce back with relatively little drama – existing office buildings that suddenly feel unfit for purpose would have become obsolete in a few years anyway. A new generation of buildings to replace them is already being planned and built.
A cyclical nature
The biggest threat to the office property market associated with the pandemic therefore is not the rise of remote working, the shift to satellite offices or a boom in serviced offices. It's the possibility of recession kick starting a demand shock that knocks up to 50 percent off rents in the largest and fastest-growing centres.
"If it happens, it will be a shock, but it will be what everybody is trying to avoid," believes Frodsham. "That's obviously what all the central banks around the world are trying to stop."
Even were this to occur, however, because of the cyclical nature of the sector, "you get a couple of bad years and then things slowly recover and in four or five years' time everything's up and running again," he says.
As with everything COVID-19 related you would need a crystal ball to be able to predict how the office property market will respond to such an unprecedented set of circumstances. Ultimately, only time will tell.