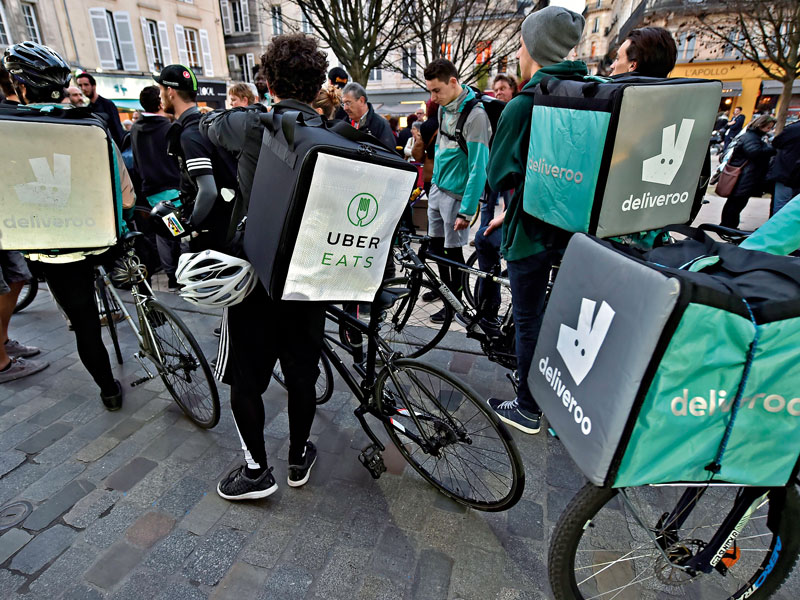 Delivery workers take part in a demonstration in Bordeaux, France&nbsp
When the UK-based food delivery platform Deliveroo announced its intention to float on the London Stock Exchange in March this year, it did so in anticipation of raising £8.8bn. Just days later the company lowered the price range of its IPO from £3.90–£4.60 to £3.90–£4.10, giving a new expected market value of £7.59bn. When trading began, however, Deliveroo's situation went from bad to worse: its share price dropped as low as £2.73, cutting the value of the company to around £5.6bn.
How did it all go so wrong, and what does this disappointing start mean for other tech companies working in the food delivery space? Central is the fact that some of Britain's biggest institutional investors declined to participate in the offering.
Legal & General Investment Management expressed concerns over unequal voting rights: Deliveroo has issued preference shares to its founder and chief executive, Will Shu, that give him over a 50 percent say. Fund managers at Aberdeen Standard Investments, Aviva Investors and M&G, meanwhile, all flagged issues around Deliveroo's employment practices, citing a recent UK Supreme Court decision that went against ride sharing app Uber.
Deliveroo, like many gig economy firms operating in the UK, classes its drivers as self-employed, meaning that the firm is not required to provide employment rights such as minimum wage, sick pay and holiday pay. That was the situation with Uber too, until February, when the Supreme Court ruled that Uber drivers are workers, and therefore entitled to employment rights, regardless of their contracts. "The Uber case says that you don't look at the contract, you look at the reality, and you ignore any contractual provision that has been put there specifically to get around employment status," says employment lawyer Darren Newman.
The ruling has implications for other gig economy employers, whose profit margins would be threatened if they were required to class their drivers as workers and therefore be liable for higher rates of pay. Deliveroo is safe for the moment because of a clause in its contracts that allows drivers to subcontract their work, but Newman believes the company may encounter legal challenges down the road.
"There's a place that the case law seems to be going, which is extending employment rights. Is it really sustainable to build your entire model on the assumption that these people don't get the minimum wage? After Uber, that looks like a more dodgy proposition," he explains. The Uber case only has implications for companies operating in the UK, of course, but there are similar regulatory conversations going on in other jurisdictions too. In the Netherlands, the Amsterdam Court of Appeal recently ruled that Deliveroo riders are employees, rather than self-employed.
In Spain, the Supreme Court ruled in 2020 that the Spanish delivery app Glovo should treat its riders as employees too, following on from a similar ruling against Deliveroo in 2018. Glovo's co-founder Sacha Michaud commented at the time that the ruling would probably mean having to scale back on the company's plans to roll out in 400 smaller Spanish towns and cities. All that said, the company appears to be doing fine – it has just raised €450m in Spain's largest ever startup funding round.
Some gig economy firms have opted to get ahead of the situation. Just Eat Takeaway.com, an Amsterdam-based company formed from the merger of UK meal delivery app Just Eat and Dutch rival Takeaway.com last year, announced that it would be switching to an employee-based model. The firm's chief executive, Jitse Groen, pledged earlier this year to "go all out" against rival Deliveroo in London, Europe's largest market for ecommerce services.
Jason Chen is co-founder and CEO of Taiwan-based food startup JustKitchen, which floated on the Toronto Stock Exchange earlier this year and hopes to expand into Hong Kong, Singapore, the Philippines and the US. Chen, whose business works with third-party firms to deliver food to customers from its 'ghost kitchens,' is positive about how tighter regulation – in developed nations at least – appears to be moving towards better rights for workers.
"As a ghost kitchen operator, we want a healthy delivery ecosystem. This means having a well-established labour force, an abundance of drivers/riders, and that they are taken care of to want to stay within this ecosystem," he says.
Food for thought
Sarah Simon, investment analyst at Berenberg, is not worried about Deliveroo's disappointing IPO. "I don't think this reflects wider concerns. There were some well-publicised issues that some traditional UK investors had. And the broader market has been somewhat choppy. Food delivery names (except Deliveroo) have actually been quite strong since the IPO," she says. In a note to clients issued in April, Simon called Deliveroo "a great service, with good structural growth," initiating coverage with a Hold rating and a price target of £3.10.
Clearly, there are question marks over how regulation will impact the big players in this market. This uncertainty notwithstanding, Deliveroo's IPO was one of the largest LSE debuts in recent years and Britain's largest-ever tech listing by value. The global online food delivery market is expected to grow 11.5 percent to reach $154.34bn by 2023, according to market data provider Statista.
Not all investors are hungry for the sort of risk inherent in these food delivery platforms but those that are – and have the patience to wait for these firms to turn a profit in a competitive marketplace – could well find themselves with an investment that bears delicious fruit.