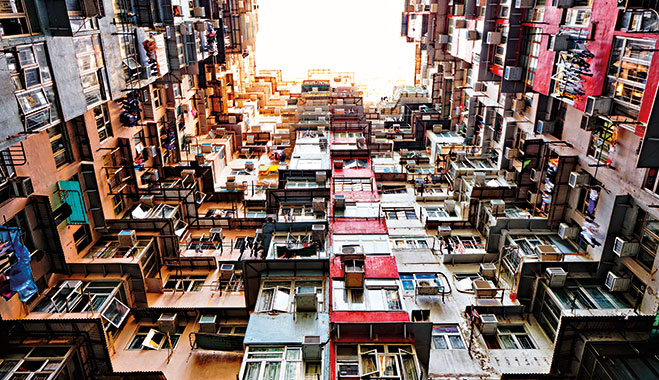 High-rise apartments in Hong Kong. Property sales in the city have fallen recently, but there is an argument that the housing market is far from crashing&nbsp
Author:
Elizabeth Matsangou
July 21, 2016
Hong Kong is a vibrant city that is home to numerous leading industries in Asia, as well as multiple multinational companies. It is also rated as one of the best places globally to start a business, according to HSBC's 2015 Expat Explorer study, which surveyed 21,950 expatriates from around the world. As such, there is a vast array of opportunities available in Hong Kong, making investment in residential property there all the more attractive.
Nonetheless, concerns about China's property market are ample – and this is certainly the case for Hong Kong as well, given its recent plunge in house sales. Moreover, and perhaps more importantly, the city itself has a worldwide reputation for its property booms and busts. This is causing speculation from all corners of the globe that property prices could again nosedive by 70 percent, as they did during the Asian financial crash of the late 1990s.
Cyclical nature
According to the Centaline Property Agency, house prices in Hong Kong have fallen by approximately 13 percent since last September, while sales in the market have been heading towards a 25-year low. Much of the market's present performance can be attributed to the wider economic landscape that it currently finds itself in.
"The Hong Kong economy has lost momentum in Q1 2016, and there is a risk of that momentum slowing further", said Joanne Lee, Associate Director of the Research and Advisory Unit for Hong Kong at international property firm Colliers International. "Investment sentiment and domestic demand are [being] overshadowed by a weak global market, the slowing Chinese economy and a volatile stock market. We believe [that] China is likely to undergo a soft economic landing."
The number of property transactions that took place in April has returned to the levels achieved in August and September of last year, showing that a rebound is already in play
Although there has been much talk about an upcoming crash in the market, there are several arguments against such a forecast, as indicators of a recovery have already begun to appear. As indicated by Hong Kong-based property firm Midland Realty, the number of property transactions that took place in April has returned to the levels achieved in August and September of last year, showing that a rebound is already in play.
"A crash is unlikely as, in our opinion, speculators have largely been squeezed out by the government's tightening measures", Lee told World Finance. "In [the] absence of overleverage and any oversupply, the likelihood of tumbling prices is unlikely. Only if China were to experience a political crisis or a dramatic reversal of reforms would prices enter a free fall, which we believe is unlikely to happen."
Furthermore, with sale volumes slowing down, a drop in house prices is being witnessed, which in turn is enticing more buyers back into the market.
Backing up
In November 2010, the Chinese Government began enforcing a series of property curbs in Hong Kong in a bid to drive out speculators from the market and stabilise house prices. Such measures include a special stamp duty for buyers who sell a property within 36 months of purchase and a duty for non-residents who seek to purchase property in the city. The government also enforced an increase in the deposit required for a mortgage, as well as a stress test to assess the repayment ability of those taking out mortgage loans. While these policies have been successful in discouraging private activity in Hong Kong's property market, they are now slowing the rate of recovery needed.
What these measures do mean, however, is that, should property prices fall too low, the government can pull back the property curbs it currently has in place, which would ultimately give house sales a boost and reinstate some stability. While this offers a safety net for the market, it may not actually be necessary, as Lee argues that, even with Hong Kong's property curbs in tact, stabilisation should ensue. "Home prices should deflate gradually over the next three years as interest rates gradually normalise and as supply increases to around 23,000 units per annum in the next three-to-four years."
Although speculation about Hong Kong's property market is likely to continue, and could perhaps grow in the coming months if house sales begin to slide once more, there is still much reason for optimism. With an increase already taking place in the transaction volumes of both the primary and secondary residential markets and government easing increasingly likely, market sentiment is certainly warming. This is evidenced more so by a growing interest in the market from Chinese developers from the mainland, together with the rallying of shares in the city's biggest real estate firms.
As Lee said: "Prices could fall up to 30 percent over the next three years or so – this negative scenario cannot yet be ruled out." Things are by no means certain for Hong Kong's property market, yet there is still ample cause for both investors and expats to set their sights on the dazzling spectacle that is Hong Kong.
Top tips for buying in Hong Kong
Every property market has its own features and nuances that must be navigated if buyers want to avoid any disastrous pitfalls. With this in mind, here are some tips to help buyers get started with the process.
1. Know your agents
When employing the services of an estate agent in Hong Kong, it is crucial they are licensed – as this is not always the case. Following this vital first step, when the right property has been found, prospective owners should then ascertain whether the agent acts for the homeowner solely, or if they are operating as a dual agency that also acts on behalf of the vendor. If the latter is the case, this must be declared to all parties, together with the commissions that have been agreed on either side.
2. Stamp duties
When reviewing property and prices, it is essential to remember that, in Hong Kong, foreign investors and expats must pay a buyer's stamp duty (BSD) equal to 15 percent of the property's market value. The BSD is due in addition to the ad valorem stamp duty, which is a fee of 1.5 percent for properties valued up to $2m and is applicable to all permanent Hong Kong residents. Moreover, a special stamp duty is also applicable if the property is resold within a 36-month period. Finally, it is worth noting the BSD is exempt for those purchasing properties alongside relatives who have permanent residency in Hong Kong.
3. Access to finance
Hong Kong's mortgage insurance programme, which is available to both nationals and expats, requires a deposit of just 10 percent in order to purchase a property. Having said that, only expats whose principle income comes from Hong Kong are eligible for the scheme.
4. Vendor rights
As with the estate agent, is it important to ascertain if the vendor has any rights, interests or legal liabilities regarding the property in question. As well as knowing the vendor's encumbrances, it is also worthwhile to find out in what capacity they are selling the property.
5. The dotted line
When the right property has been found, it is wise to not rush into a contract, as establishing various details can save a lot of trouble in the long term. For flats under Hong Kong's home ownership scheme, for example, a payment must be made to the Hong Kong Housing Authority before a sale can be completed. As well as ascertaining if there are any existing charges, government orders, mortgages or outstanding litigation cases on the property, a warranty can also be granted from the vendor that guarantees there are no illegal structures or alterations to the property. Obtaining all of these crucial details before signing can help ensure no unexpected payments or fees arise during or after the process has been completed.