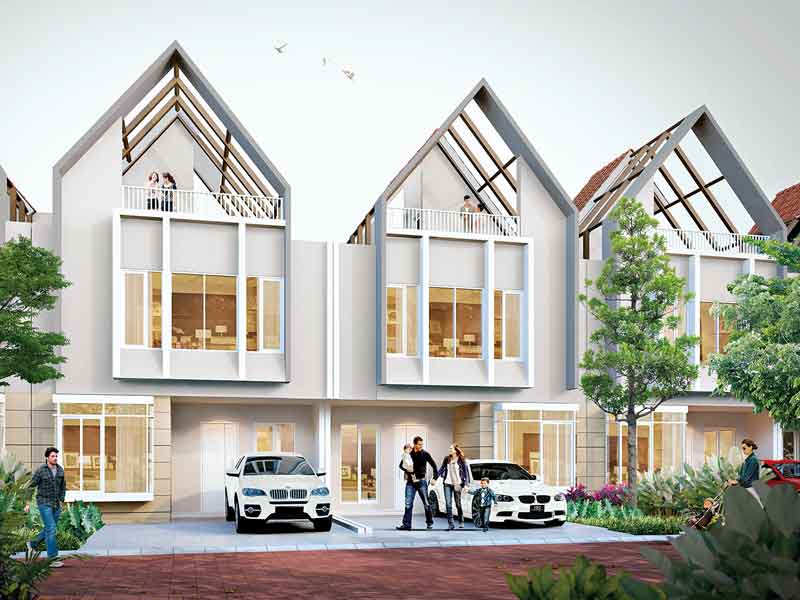 An artist's impression of Havana Village, Paramount Land's flagship township development &nbsp
Author:
Ervan Adi Nugroho, President of Paramount Land
As the world's fourth most populous nation, Indonesia has a predominantly young population. Indonesia is currently in a demographic sweet spot, where more than two million people will join the working-age group each year over the next decade. While this will bring significant benefits to the Indonesian economy, its housing market will need to accommodate the growing demands of Millennials.
Millennials are the most important generation for Indonesian developers at the current time, as approximately half of this demographic is at the prime age to buy their first home. However, increasing property prices in many cities have outpaced income growth over the past five years, making housing unaffordable for many.
According to research by Morgan Stanley: "To stay competitive, Indonesian property developers need to adapt to address the needs of the Millennial generation, which has to deal with increasing home prices and affordability issues. Prices have somewhat stabilised in the past two to three years, but wage growth has yet to catch up."
The report went on to say: "At more than five times annual household income, and with average mortgage rates around 10-11 percent, housing is out of reach for many buyers."
There are several characteristics of the Millennial segment that make for interesting discussion. First, the Millennial generation (those between 23 and 37 years old) is one that will sustain Indonesia's future. According to the Indonesian Central Bureau of Statistics, Millennials currently make up more than 50 percent of the productive age population (those aged 16-64).
Indonesia is predicted to reach peak productive age population between 2020 and 2030, with the portion reaching around 70 percent of the total population (see Fig 1).
Second, the Millennial segment is an attractive target market in the property industry. While their purchasing power is not yet strong, they effectively influence their parents in the purchase of property. Third, they are potential buyers as well as future markets; many Millennials are already working and may have formed a household. Success in conquering the Millennial segment is a door to a larger property market.
Despite the increasing impact of Millennials on the property market, some developers continue to pay little attention to this burgeoning segment. This is understandable due to the high capital requirements and small profit margins of the Millennial market. However, Millennials offer an opportunity for success that shouldn't be disregarded.
As developers seek to penetrate the Millennial sector, they should not merely rely on features, facilities and access to sell property. Millennials are an active and experiential generation, and so creating an experience is tantamount to increasing their interest.
Developers need to consider not just how to build a residential area, but how to make the area come alive. This generation is smart and sociable; providing elements of education, aesthetics and entertainment are important to gaining their custom.
The Millennial generation prefers products that are appealing, practical and affordable. Therefore, property developers need to be innovative in creating properties with attractive designs and lifestyle support facilities – crucially, at affordable prices.
Millennial decision-making
When choosing where to live, Millennials place value on different factors than previous generations did. Maintaining an established lifestyle is important for this age group: they expect their place of residence to be near proper facilities, neighbourhood attractions and entertainment, green space, sports facilities, schools and hospitals.
Living close to work is important to this generation, as they want to minimise travel time to and from work to allow for more time with their families and friends and enjoying hobbies. Not only do Millennials value different things to older generations, but they also use different methods when searching for a new place to live.
Millennials are up-to-date with the latest technology, and so they choose to access information about homes on the market via gadgets such as smartphones. This increases the exposure of the products being offered by property developers.
Milliennials are also very information-literate. They are aggressively looking for property information, such as location, price comparison, developer credibility, building details, payment processing and developer track records. These factors combine to mean that, when choosing somewhere to live, this generation uses technology to access information about the area.
They can gather references from surrounding communities about basic needs, places of interest, restaurant ratings, healthcare and so on. For them, information found through the media is much more convincing than having to find out directly, and therefore plays a significant role in shaping Millennials' decisions.
The Millennial generation is particularly critical, and is usually aware of a product's advantages and disadvantages. Property is not cheap, so it needs to be presented in an objective and interesting way to be worth investment. Furthermore, Millennials value a high return on investment: they are careful to choose property that will have a positive outlook for the future.
The right timing and momentum is very important for this age group. They will not purchase a home or property during holiday season. Usually, they will buy a house when they want to get married, or after they are married with children.
Houses in Jakarta are too expensive for most Millennials, and so they have begun to look at the possibility of having their first home in a satellite city. Close and easy access to mass public transport and the absence of flooding issues are among factors leading Millennials to select a place of residence outside the capital city.
Catering to first-time buyers
The difficulties that the Millennial generation faces when purchasing property have been largely ignored by Indonesian property developers. As mentioned previously, few developers are focusing on Millennials as potential future buyers, and many developers are reluctant to invest in building products for the Millennial generation due to less promising returns in terms of profit and prestige.
Companies prefer to focus on expensive and luxurious housing developments with state-of-the-art facilities that will add to the their long-standing portfolio.
However, one Indonesian property developer that has turned its focus to meeting the residential needs of the Millennial generation is Paramount Land. Ervan Adi Nugroho, President of Paramount Land, explained that the company is committed to providing affordable residential housing and property for businesses, particularly start-up companies, and for Millennials.
"Unfortunately, this generation tends to assume that property is not a basic need in their lives. Yet they make up the largest share of the workforce in Indonesia today, which is estimated to be more than 22.5 million people," Nugroho said.
Given the contribution that Millennials are making to the Indonesian economy, Paramount Land is committed to helping them join the property ladder by educating them on the importance of owning property early on. Hence, Paramount Land offers several residential clusters in Gading Serpong, the flagship township development of Paramount Land, which are suitable for first-time buyers. These areas include the likes of Milano Village, Napoli Village, Havana Village and Bermuda Village.
The Millennial generation prefers products that are appealing, practical and affordable. Property developers need to be innovative in creating such properties
In these residential clusters, which consist of 100-150 units per cluster, Paramount Land offers compact homes with homegrown concepts that are perfect for first-time buyers and Millennials.
Another advantageous feature of Paramount Land is the ease of payment: buyers can pay through incremental instalments or bank mortgages. With prices starting from IDR 700m ($52,435) per unit, first-time buyers can have a comfortable, affordable home in a premium area. "We deliver products that are in tune with Millennials' earnings, therefore these products are well received by the market," Nugroho said.
Paramount Land is known for developing communities where private residences and places of business co-exist in centralised areas. This allows Millennials to start their own businesses in close proximity to their homes.
"We will not only provide homes, but also provide opportunities for residents to open their own businesses near their homes," said Nugroho. "We believe this development will boost entrepreneurial spirit as well as help to oil the wheels of the regional economy. Developers are expected to be creative and innovative in helping the government make breakthroughs among the critical Millennial market."