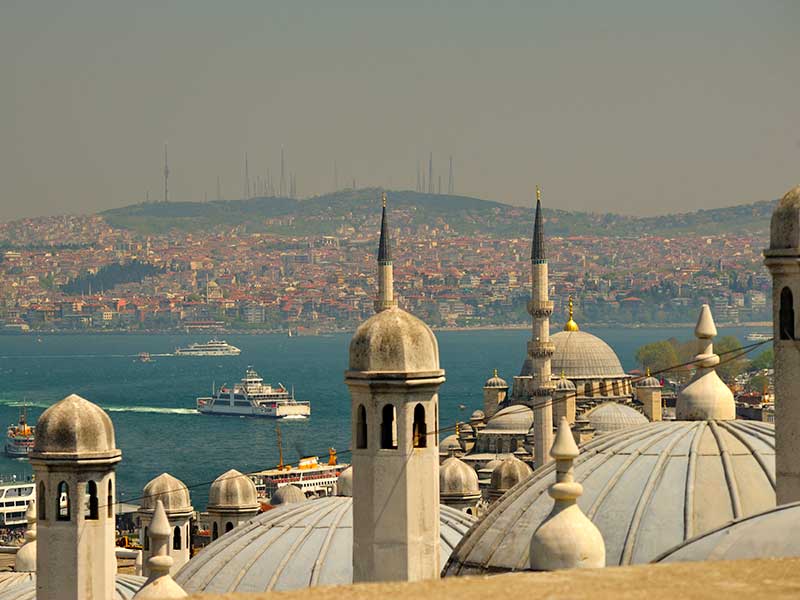 Istanbul, Turkey&nbsp
Positioned as the geographic, economic and political bridge between Asia and Europe, Turkey is one of the world's fastest growing and most diverse economies. With a population of 79 million and a labour force of 31 million, the country has posted an average growth rate of 5.2 percent since 2010. Turkey's average GDP growth rate is one of the fastest among OECD countries.
The country's economy has also continued its strong performance despite political and geopolitical problems in the last year. It grew by 4.7 percent in the first quarter of 2016 and 3.1 percent in the second, which is high compared to a number of EU and OECD countries. Turkey has also attracted more than $120bn of foreign direct investment in the past decade, making it one of the world's most attractive investment destinations.
A number of attributes are behind the trust that growth investors have in the country. First, Turkey's favourable demographics and good education system, with 50 percent of its population aged under 30, have created strong momentum for the economy. Second, the government has implemented crucial structural economic reforms in recent years.
The main objectives of these efforts were to enhance the efficiency and resiliency of the financial sector, to increase the role of the private sector in the economy, and to place the social security system on a more solid foundation.
Such reforms have contributed to creating a strong banking sector and have had a major impact on Turkey's resistance to economic shocks. Turkey now has Europe's lowest debt-to-GDP ratio at around 30 percent, a budget deficit of around one percent and a low level of household debt.
Third, the country is currently undergoing several important infrastructure transformations to be completed by 2023, with more investment on the way. Projects include a new Istanbul Airport, a high-speed railway system and a third bridge across the Bosphorus, which recently opened. With all of these attributes on hand, Turkey is one of the most promising economies in the world and remains an exciting market for investors.
Insurance focus
The Turkish insurance market, which is currently worth around $30bn, consists of three main segments: life, private pensions and non-life. Growth performance in the life segment is generally linked with personal loan growth, as most of the premium production comes from credit-linked life insurance products. The private pension market looks promising going forward, with the number of customers already exceeding six million. Further potential growth in this segment is also expected, thanks to increasing government support and measures designed to boost the participation of white-collar employees in the private pension system.
Zurich Turkey's mission is to be the insurer with the most innovative insurance offerings in the Turkish market
On the other hand, the performance of the non-life insurance segment is directly linked to the overall economic activity in Turkey. The non-life insurance market has grown by 15 percent per annum in the past decade; in 2016, it grew at a rate of 32 percent. The sector is worth approximately $10bn, and if you look at the fact the ratio of insurance premiums to GDP is around 1.3 percent, it should grow almost seven times to reach a level comparable to the EU. Hence, there is huge potential for further growth in the non-life segment.
As a clear reflection of this, most of the insurers operating in the non-life segment are either foreign-owned or partnered, showing that it is a popular area of investment for foreign companies.
Zurich Turkey operates in the high-potential, non-life segment of the Turkish insurance market. Zurich Group entered Turkey in 2008 through an acquisition and has since invested $500m into the sector. At the end of 2012, we launched a restructuring programme to reposition our profitable and sustainable growth, which has been extremely successful. As a result, Zurich Turkey was recognised by World Finance as Best Non-Life Insurance Company, Turkey in 2016 for the fourth year running.
Since the end of 2012, we have focused our restructuring programme on bancassurance through our two distinguished, exclusive banking partners. In that time, we managed to increase our bancassurance market share to eight percent. As a result of our efforts, we are now among the top three firms in the market in terms of premium production per bank branch. As the only company to hold exclusive bancassurance agreements with two separate Turkish banks, Zurich Turkey is now ranked in the top two companies in the market in terms of profitability.
The firm's success since 2012 is not limited to financial performance. Customer satisfaction peaked with the launch of the Transactional Net Promoter Score and our effective complaint management efforts. Zurich Turkey is currently ranked in the top two on sikayetvar.com, Turkey's most popular online complaint communication platform. Our employee engagement score has gone up by approximately 45 percent since 2013. It is also one of the highest in the Turkish market, as well as within the Zurich Group's countries, thanks to a number of measures taken to boost employee engagement.
Innovating to meet trends
With a young population increasingly demanding innovative products and an omnichannel customer experience, Turkey has transformed itself into a digital hotspot over the past decade. Currently, almost half of all Turkish citizens own at least one laptop or desktop computer. Furthermore, mobile phone usage is at around 97 percent, which is quite high compared to some other developed countries, while around 70 percent of individuals and more than 90 percent of companies have access to the internet.
The number of people who use internet banking has grown to almost 45 million, a 400 percent increase from 2007. More than 15 million of these citizens are 'active internet banking customers', meaning they use internet banking at least once every three months.
97%
Mobile phone usage in Turkey
45m
Turks use internet banking
1,400%
The growth in Turkish mobile banking users since 2007
From a mobile banking perspective, the picture is even more striking: the number of people who use mobile banking has grown by 1,400 percent since 2007 to almost 20 million, 12 million of whom are 'active'.
Turkish companies are also adapting well to this change: the number of commercial and corporate internet banking customers has reached three million, 1.3 million of whom are 'active'. In 2015, transaction amounts were even more impressive: more than 250 million money transfers, 200 million payments and around 50 million credit card-related transactions were made via internet banking. The total monetary amount of these transactions was around $800bn.
Moreover, the value of the Turkish e-commerce market exceeded the $6bn level, with more than 12 million e-commerce customers in the country. All these figures clearly indicate how fast Turkey is proceeding on its digitalisation journey.
The threat of cybercrime
The digitalisation of Turkey's economy has had a profound impact on the insurance industry. First, customers' swift adoption of digital services has brought the technology and finance sectors closer together. Companies in the Turkish financial services industry increasingly utilise financial technologies not only to improve their back-office business, but also to serve innovative products and services to their customers. The Turkish banking industry has been the first adopter of financial technologies, and the insurance industry will be the next.
Second, and more importantly, digitalisation brings new types of risks; namely, cybercrimes. The insurance industry will need to play a vital mitigation role in these risks. Today, between 10 and 15 million people per annum are affected by cybercrimes in Turkey. Recent surveys indicate that 86 percent of people in Turkey are concerned about ID theft and cybersecurity.
The case is similar for Turkish enterprises as well: on average, Turkish companies spend more than €40,000 per year on efforts against data leakage. Zurich Group's 2016 Global Small and Medium Enterprises Survey also revealed that Turkish SMEs, which constitute around two thirds of the Turkish economy in terms of revenues generated, have increasing concerns over stolen customer data and money theft from cyber-attacks. As these risks are new to our country, the Turkish insurance sector is now at the beginning of its journey to provide appropriate coverage.
What's next?
As a crucial outcome of its new strategy and restructuring programme, which was adopted at the end of 2012, Zurich Turkey's mission is to be the most innovative insurance company in the country. We see innovation as the engine of further sustainable profitable growth, and we closely follow trends and look for customer-centric solutions. Currently, Turkish citizens' main concerns are about identity theft, which has been a hot topic since a number of Turkish citizens' data was leaked during the first half of 2016. In light of this, Zurich Turkey started to provide a new cybersecurity product to its customers, named ID-Safe. ID-Safe is a new generation product that helps customers protect their crucial information, such as passwords and credit card numbers, from cyber-threats.
Zurich Turkey's customers who use ID-Safe can benefit from various security coverage options, like identity fraud and password coverage
Customers who use ID-Safe can benefit from various security coverage options, like identity fraud and password coverage. But the most interesting feature of this product is that its services are not limited to the coverage provided for cyber-threats; the product also actively helps customers protect their information. This is primarily achieved through a Web Radar service provided to policyholders.
Policyholders enter all their information into a secure database, and the service regularly scans the web in order to detect any misuse of this information, warning the policyholder if something is wrong. Furthermore, antivirus software is also provided to policyholders for free, which helps them protect their computers.
Cybersecurity is becoming a bigger risk, not only for individuals, but also for enterprises. In light of this, and combined with our mission to be the most innovative insurer in the Turkish market, we are currently working on a similar cybersecurity product for SMEs. We seek to continue to serve our customers with the most innovative insurance offerings.