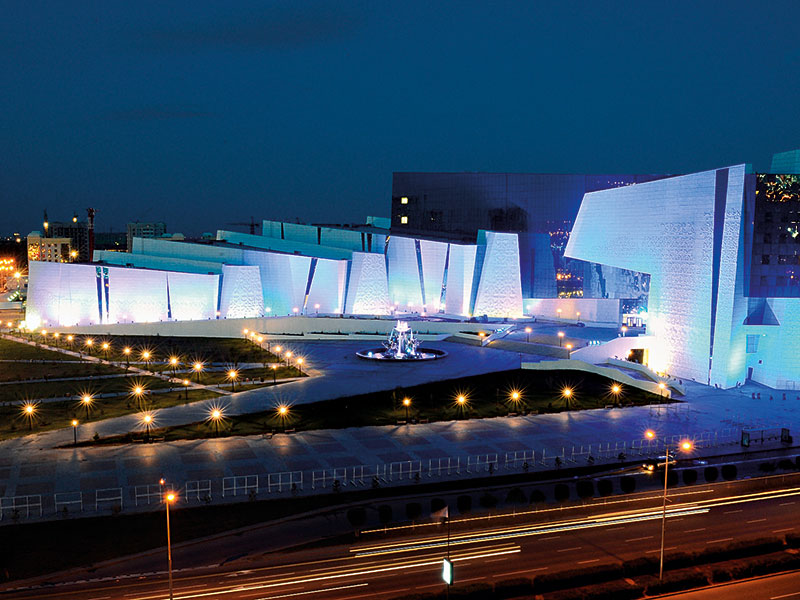 Erdem&Erdem client YDA Group constructed the National Museum of Kazakhstan &nbsp
Author:
Professor Ercüment Erdem, Founder and Senior Partner, Erdem&Erdem
Turkey is a key market for global investors, and continues to offer growth and investment opportunities. Erdem&Erdem is a full service independent law firm with offices in both Istanbul and Îzmir, Turkey. The company's project finance team regularly advises clients on developing innovative financial structures that support infrastructure investment, and can address the specialised needs of lenders and developers in financing both public and private infrastructure projects, including acquisition finance, project finance and debt capital markets.
The highly skilled cross-disciplinary team of lawyers at Erdem&Erdem is one of the company's major strengths. Each member provides integrated legal advice required for the development and financing of successful infrastructure projects. These include the negotiation and preparation of concession agreements, leases, direct agreements, construction contracts, operation and maintenance agreements, joint bidding agreements, joint venture arrangements, letters of intent, term sheets and other financing documentation.
Over the last 20 years, Erdem&Erdem has been involved in a large number of transactions that represent developers, sponsors, investors and financial institutions seeking to develop, acquire, bid on or sell infrastructure assets privately, under government privatisation, or as part of public-private partnership (PPP) programmes.
The team has developed a significant presence across many sectors with a strong insight into how to structure these transactions, as well as how to conduct efficient, in-depth and useful due diligence on the underlying assets and relevant documents. This is done by offering services across a full breadth of financial infrastructure techniques, and the financial engineering that improves asset value from structured finance within the infrastructure, energy, construction and engineering industries. This should also occur within the corporate, securities and real estate sectors, transportation, ports, airports, hospitals and power plants.
Recognised practice
A number of Erdem&Erdem projects have been recognised as landmark transactions. In Turkey, the company represented YDA Group on the construction and financing of Dalaman Airport's domestic terminal, and assisted on the Kayseri Integrated Health Campus. Dalaman Airport received the first prize in Bonds & Loans' Transportation Finance Agreement of the Year category, and second price in the Syndicated Loan of the Year category. The financing of the Kayseri Integrated Health Campus received third prize in Project Finance of the Year, Syndicated Loan of the Year and Structured Finance of the Year categories by Bonds & Loans in 2015.
In Kazakhstan, Erdem&Erdem advised the Yıldırım Group on financing Voskhod Chromium, with $245m of the term loan facility raised through UniCredit and the European Bank of Research and Development (EBRD), as the first chromium mining project financing in the history of EBRD. Voskhod Chromium financing won the Best Project Finance Deal award and the Best Natural Resources Deal award from the EMEA Finance Institution in 2016.
Legal enforcement, compliance and sustainability all play key roles in achieving reliable outcomes for infrastructure financing
In Ecuador last year, Erdem&Erdem represented Yılport Holding for the operating rights transfer of Port Bolívar in Machala for a period of 50 years, conditional for a return investment of $750m by Yılport Holding, sealed in an agreement with Ecuador's government.
Dalaman Airport's investment comprised EBRD financing from a senior A/B-loan to YDA Havalimanı Yatırım ve Îs˛letme, a special purpose vehicle company of YDA Construction, part of the YDA Group of Turkey. The financing by EBRD consisted of an A-loan portion of up to €87.5m ($92.3m) and a B-loan portion of up to €87.7m ($92.5m), syndicated to UniCredit Bank Austria. The funds were provided to support the construction of a new domestic terminal at Dalaman Airport, together with auxiliary structures.
Due to its proximity to major tourist resorts in the southern Turkish Riviera, Dalaman Airport is one of the key airports in Turkey. The deal is a benchmark one in the private sector and of airport infrastructure across Turkey. Dalaman Airport's financing is historic, as it is the first regional airport financed by EBRD, one of the most respected players of infrastructure financing projects.
Erdem&Erdem's approach has always focused on minimising the subjectivity across financing agreements and planning a development strategy through to procurement. The firm aims to create contracts and the management and operational phases permitted for future investments under the main contractual framework, tailored specifically for airport construction financing.
Prior to the negotiation of financing agreements, Erdem&Erdem's focus was first and foremost on identifying unique issues facing the public authority, and the sensitivities of commercial considerations of private institutions as developers and operators, which may be particularly complex across different levels (with respect to individual infrastructure projects implemented for the first time), as in the case of Dalaman Airport.
A healthcare focus
PPP projects are officially introduced by an explicit reference to the term itself under the Building and Renewal of Facilities and Procurement of Services law through the PPP model. Historically, Turkey's first and foremost implementation of PPP projects was targeted at the construction and rehabilitation of hospitals in a structured legal framework introduced by the PPP law in healthcare. However, it opened up the path to future PPP growth in infrastructure investments – particularly transportation – with toll roads, railroads, toll bridges and educational facilities.
Erdem&Erdem advised the YDA Group on project financing that was worth €330m ($347m), which included design, construction and management of the Kayseri Integrated Health Campus project – the first PPP project in Turkey implemented under the requirements of PPP law. The company adopted a coordinated and multidisciplinary approach, with sensitivity to the special issues related to critical infrastructure assets.
One of the main challenges in attracting private sector investment is the difficulty the public institutions encounter arranging a sustainable delivery framework to prepare PPPs effectively. Setting benchmarks for socio-economic and environmental impact, affordability, risk identification, bankability and similar comparative assessments requires project-specific methodologies.
Clearly a greater number of PPPs are structured to be bankable for different levels of investment with comprehensive technical, financial, business and legal assistance. Therefore experts such as Erdem&Erdem are able to advise and present well-structured projects that are indispensable for the effectiveness of projects such as the Kayseri Integrated Health Campus.
Voskhod Chromium, a major chromium mining facility in Aktobe Oblast, north-western Kazakhstan, is an example of a landmark cross-border transaction that includes six different jurisdictions involving both A and B-loans, each making two separate tranches that equal $260m in aggregate. EBRD's financing as the lender in Voskhod is significant as the company's first transaction in chromium mining.
Yıldırım Group's financing provided Turkey with an industrial conglomerate of mining and port operations, which will be used to restructure and rehabilitate the operation of Voskhod Chromium and improve its efficiency and competitiveness, while reinforcing its overall environmental and operational health and safety standards. Voskhod Chromium is expected to have a transformational effect on the mine operations by introducing new technologies into Kazakhstan for the first time.
In contrast to a typical project finance contract based on the assumption that the lenders will have step-in rights, granting security in Voskhod Chromium's financing was challenging due to a restriction of securities given over minerals in Kazakhstan. From an early stage, Erdem&Erdem's advisory planning on the securities has been instrumental to the success of Voskhod Chromium's financing.
PPP opportunities in Turkey
The most significant obstacle to financing infrastructure projects is the difficulty in delivering financial demands through tax revenues. Taking into account Turkey's past, which is similar to other high-growth markets, the country has strong potential to generate landmark PPP projects with high-level support from its government with an extensive PPP agenda.
Legal enforcement, compliance and sustainability all play key roles in achieving reliable outcomes for infrastructure financing
With a successful track record across other industries, PPP will certainly generate exciting opportunities for both Turkish and foreign investors and lenders – particularly across mega-infrastructure projects where there are great incentives from the Turkish Government. Roads and railways have not yet been revitalised, but there are a number of projects currently underway.
So far, healthcare is the most recent and successful industry where the PPP model has been implemented. The Turkish Government has planned to develop 18 integrated healthcare facilities using the PPP model, with the purpose of promoting a diversified network of medical services and raising standards in healthcare in line with the technological innovations and new trends in medicine.
Regardless of the financing model selected, there are basic considerations required for successful infrastructure investment with project financing. The project finance team's ability to prepare the project cycle – including preparation, concessions, procurement, contract management and an efficient dispute resolution mechanism – is instrumental in providing strong development, leading to a positive economic return.
Legal enforcement, compliance and sustainability all play key roles in achieving reliable outcomes for infrastructure financing, either from private institutions as lenders or through public sector support. This will also ensure the credibility of public institutions by selecting sustainable PPPs. Another key issue is the concern over handling renegotiations and disputes over the financing agreements. The determination to prevent disputes needs to be coupled with appropriate dispute and renegotiation mechanisms. If credible and effective dispute settlement mechanisms such as arbitration and mediation are introduced with clarity, this will serve to safeguard potential ramifications and deter opportunists targeting project – regardless of PPPs or traditional project financing.