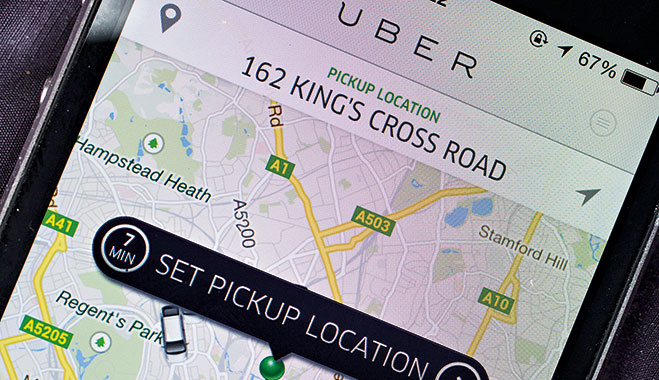 Rideshare companies like Uber have come under fire for not offering their drivers appropriate insurance&nbsp
For drivers who use ridesharing apps, time on the road is a gamble. Most US operators drive using only their private insurance, meaning that their finances could be at stake should an accident happen at the wrong time. Insurers who are quick to fill in the gaps for these drivers could attract a new wave of long-term customers.
Harry Campbell, founder of The Rideshare Guy blog and podcast, told World Finance that insurance is a huge concern for many drivers. "I have no idea why more insurance companies haven't jumped at this opportunity – it is a huge business opportunity. There are 400,000 [rideshare] drivers in the US alone and, according to my poll of over 3,000 drivers, 90 percent of them do not have rideshare insurance", he said.
Insufficient cover
A lack of suitable insurance is one of the stronger criticisms levelled at rideshare companies like Uber and Lyft. When drivers don't pay expensive commercial insurance, they can offer lower fares, but by not having full and appropriate coverage, these drivers put passengers and other road users at risk.
The reality for drivers is more complicated: Lyft and Uber both require drivers to hold private insurance for their vehicles. Drivers are then covered from the time that they select a fare and leave to pick up a passenger up to the very end of the passenger's journey. What isn't covered is the time that a driver spends waiting around.
This waiting time, during which a driver has their app activated and is waiting for a passenger to request a ride, is known as 'period one'. Uber and Lyft offer liability coverage if a driver isn't sufficiently covered during this time, but still require their drivers to go through their personal insurance first should they need to make a claim. This is where the gaps appear, as drivers are unlikely to be covered while operating commercially under their private insurance. Regular commercial insurance would provide coverage here, but is too expensive for anyone who isn't ridesharing full-time.
According to Campbell, this makes a little dishonesty regarding ridesharing work very tempting. "There's no real way [insurers] could find out, but obviously it is still a crime", he said. "Unfortunately, many Uber drivers don't have a choice in the matter. If they don't make a claim and get into an accident during period one, they will not get covered for collision by anyone, but if they do make a claim with their personal insurer and say they were just out driving around, they will be covered. You can see why it'd be tempting to lie."
A lack of suitable insurance is one of the stronger criticisms levelled at rideshare companies like Uber and Lyft
Dodging potholes
The upside for insurers is that many drivers are now looking for policies that will cover them during this gap. On his website, Campbell has compiled a list of insurers who either won't revoke policies if a driver is ridesharing, or offer a policy that covers the gap. However, many US states don't have either of these options available to them. Campbell believes that state regulations and slow-moving insurance companies have left holes that drivers must try and avoid.
"There are many drivers seeking a flexible, commercial insurance-style product that would allow them to give rides off the app, based on usage as opposed to flat fee, regardless of how much/little you drive, but still be covered", he said.
Campbell also said that many drivers would be happy to change to another provider if the new insurer allowed for ridesharing, with policies within 10-15 percent of a normal premium being a reasonable charge for most.
Outside of the US, regulations vary drastically from country to country, but more examples of rideshare insurance products are appearing across a variety of markets. Aviva Canada, for example, recently announced that specific policies will soon be available for rideshare drivers in Toronto.
"We're excited to offer a simple and affordable solution within a driver's existing personal auto policy, thereby providing drivers and passengers with absolute peace of mind that they have insurance coverage while ridesharing", said Greg Somerville, President and CEO of Aviva Canada, in an online statement.
The new policy will cover drivers for the full extent of their journey, provided that they meet other requirements including passenger limits, clocking in less than 20 hours per week as a ridesharing driver, and not engaging in any other commercial work. Campbell said that the 20-hour limit would be enough for most drivers: according to figures released by Uber in 2015, 51 percent of its drivers work less than 15 hours per week. The cost of the policy is calculated by looking at how often the individual works, as well as their location and driving record.
For insurance companies, opportunities still exist. With most drivers working part-time and not able to obtain expensive commercial insurance, this is where – if regulations allow – insurers should step in. The sharing economy isn't going away anytime soon, and insurers will have to adapt – it's that, or risk being left behind.