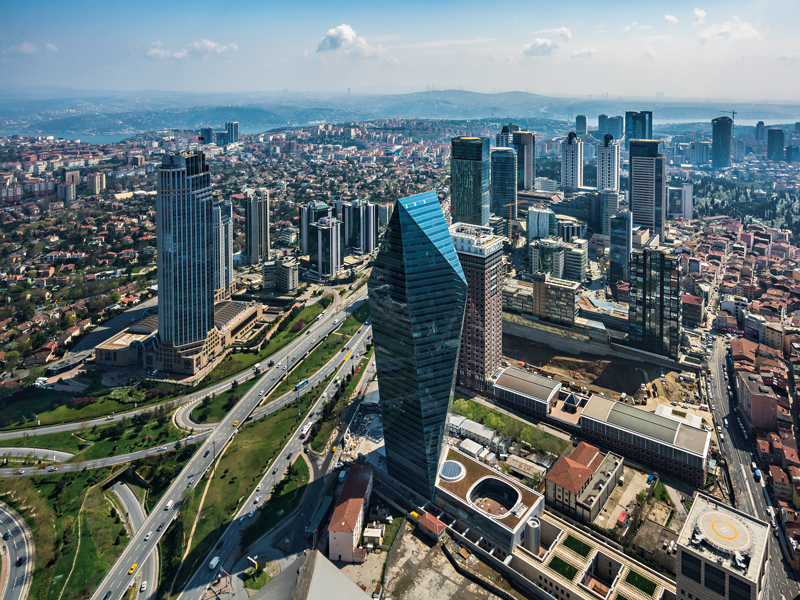 Turkey boasts an extremely favourable demography: its 80-million-strong population, which includes a young, educated and tech-savvy workforce of 32 million, creates momentum for the economy&nbsp
Author:
Yılmaz Yıldız, CEO of Zurich Insurance Turkey
Last year was challenging for all emerging markets, including Turkey. A strong dollar, high interest rates in the US, trade wars and political uncertainties in developed markets all led to deterioration in risk perception. In response, emerging market currencies were negatively impacted due to massive capital outflows by the third quarter of 2018. Fortunately, however, thanks to its economic attributes and resiliency, Turkey recovered quickly and returned to its growth path.
Turkey boasts an extremely favourable demography: its 80-million-strong population, which includes a young, educated and tech-savvy workforce of 32 million, creates momentum for the economy. The government has also implemented crucial structural economic reforms in recent years, which have contributed to a strong banking sector and have had a major impact on Turkey's resistance to economic shocks. Turkey now has Europe's lowest debt-to-GDP ratio at around 35 percent, a budget deficit of around 1.8 percent, and low household debt of 17 percent. Overall, the Turkish economy is well diversified, with no dependence on any single industry, commodity or country.
Performance of the non-life insurance segment is directly linked to overall economic activity in Turkey
The Turkish insurance market, which is currently worth around $25bn, consists of three main segments: non-life, life and private pensions. The non-life segment is valued at $10m, making up around 40 percent of the Turkish insurance market. Performance of the non-life insurance segment is directly linked to overall economic activity in Turkey, which has experienced 15 percent annual growth in the past decade, as the economy itself has grown at an impressive rate.
There is potential for further growth, as non-life insurance penetration currently stands at only 1.3 percent of GDP – much lower than the average for OECD countries. Most insurers operating in the segment are foreign-owned or partnered, showing it is a popular area of investment for foreign companies.
The success story
As the result of an acquisition, we entered into this high-potential non-life segment as Zurich Insurance Group in 2008. Since then, we have invested over $500m in the sector. Through a very effective restructuring programme that launched in 2013, our performance has become a huge success story. Based on the latest market results, today we are the most profitable company among international players in Turkey's non-life market.
Our strategy of focusing on bancassurance and partnerships plays a key role in this best-in-class performance. Zurich's mission is to be the most successful insurer in terms of initiating and managing partnerships. As the only company with two exclusive bancassurance partners in the market, we reach almost six million customers across 2,000 points of distribution. We are also second in Turkey's insurance market in terms of branch productivity, and have almost a 10 percent market share in bancassurance in the lines of business in which we are strategically active.
35%
Turkey's debt-to-GDP ratio
1.8%
Turkey's budget deficit
17%
Turkey's household debt level
Our success is not limited to financial performance either. Over the past five years, our Net Promoter Scores have improved by almost 60 percent, as we actively listen to our customers and take action accordingly. This high-quality performance has been recognised externally as well: Turkey's most popular online customer request communication platform, Sikayetvar, recognised us as the top insurer in their Achievement in Customer Excellence Awards in both 2017 and 2018.
At Zurich Turkey, we have a broader view of our customers: 'external customers' are our end customers and distribution partners, whereas 'internal customers' are our employees. As a result, we give equal weight to ensuring our internal customers are happy, and we aim to help them achieve their very best – something that is crucial to our success.
The numbers speak for themselves: since 2013, our employee engagement scores have improved by almost 65 percent, which made us the best rated in terms of employee engagement among all Zurich Group markets and a case study for global best practice. Furthermore, our voluntary turnover ratio has decreased from 25 percent in 2013 to around 10 percent in 2018.
A crucial aspect of this success story is sustainability, which is only possible with a strong governance environment. Our risk and internal control teams work very closely with the business, actively managing risks and proactively taking necessary measures. This environment ensures best performance in a sustainable manner.
An innovation pioneer
Actively listening to customers is not the only reason behind Zurich Turkey's excellence in customer satisfaction. Our goal is to always offer the most innovative products and services to our customers. For instance, with digitalisation becoming increasingly common in the Turkish market and cybersecurity becoming a big concern as a result, we have acted swiftly to become a pioneer in cyber insurance.
We are the first company in the market to have developed and launched a cybersecurity insurance product for individuals and small-business owners. This is a new-generation product, which not only provides coverage for cyber risks, but also helps customers protect their critical information, such as credit card numbers and passwords, from cyberthreats through a web radar service.
As another example, we have developed Turkey's first all-risk-type product for small-business owners, therefore providing a one-stop shop for their insurance needs. We have also developed a new health insurance product that is unique in the market thanks to its focus on inpatient treatments.
Over the past five years, we have taken a number of actions to foster innovative and customer-orientated service processes. Through the use of artificial intelligence and cutting-edge redesign technologies, we are now able to make claim payments in as little as two days. Further, our average end-customer request resolution time has improved by 70 percent, to less than two days.
Meanwhile, our average bancassurance partner request resolution time has decreased by 60 percent, to less than one hour. We deliver almost all of our policies to our retail customers digitally via SMS, and we have also developed a new mobile interface for our customers, from which they can access our assistance services with just one click. Our customers appreciate all these efforts, as reflected in the improvement of our Net Promoter Scores.
Investing in society's future
At Zurich Turkey, we strongly believe that business is not just about making profit. We strive to carry out numerous corporate social responsibility (CSR) projects that reflect our values. Our CSR activities are focused primarily on women and children, as we strongly believe that the best form of insurance for a society is the wellbeing and empowerment of these social groups. In this context, we are proud to announce that we have recently started a six-year CSR project that will have a nationwide impact: in collaboration with the Ministry of National Education and the Turkish Education Association, we will be supporting female teachers who are assigned to work in rural villages and towns in remote parts of Turkey.
The objective is to try and reduce the environmental, physical and professional challenges experienced by teachers, to enhance their knowledge, to improve their confidence, and to nurture them as 'social entrepreneurs' in their own communities. With this initiative, we aim to reach 1,000 female teachers, more than 30,000 students and 150,000 family members in Turkey by the 100th anniversary of the Turkish Republic in 2023.
We play a vital role in Turkey's arts and culture scene as well. Since 2014, we have been the insurance sponsor of the Istanbul Foundation for Culture and Arts (IKSV), a leading art foundation in Turkey. Through this partnership, many projects and festivals have been jointly organised. For instance, during the International Istanbul Film Festival in 2018, more than 100,000 people watched around 230 international films.
In the same year, the Istanbul Music Festival hosted around 500 local and foreign artists and was attended by some 16,000 art lovers. Then there was the Istanbul Jazz Festival, which had an audience of 52,000 people watching 450 artists across more than 50 different concerts.
Our partnership with IKSV is not limited to organisation-based sponsorships. At present, we are working together to restore old Turkish movies: we recently restored Silky (ipekce in Turkish) and this year we plan to work on 10 Women (10 Kadin), in which one of Turkey's most popular actors, Turkan Soray, played a leading role.
We were able to achieve so much in the past six years thanks to our vision, and are well on track to becoming the country's best insurance company as rated by our clients, shareholders, business partners and employees. As we arrive at this significant milestone, we have also been named as Turkey's best general insurance company in the World Finance Global Insurance Awards, the sixth year in a row we have been honoured in these awards listings.
Going forward, with our 150 years of insurance know-how and global expertise, we will continue to offer the very best to our customers, providing them with the confidence that they are being well looked after.