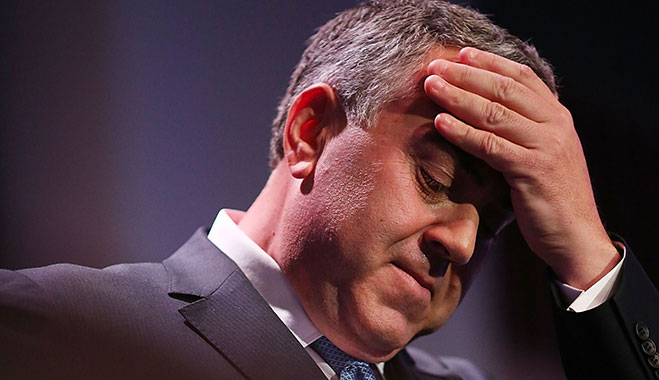 Australian Treasurer Joe Hockey recently delivered the 2014-2015 Budget, which has been met with surprise and criticism by some economists. Despite defending spending cuts, the government is bracing for a drop in the polls&nbsp
In a move that has prompted shocked reactions across Australia, the conservative government has presented what will be the toughest budget in years, making harsh cuts on welfare and start-up subsidies, as well as hiking the national pension age and top taxes.
The proposals add up to the most radical reshaping of Australian social safety, as broad structural reforms to welfare, healthcare, higher education and pension will see 16,500 public sector employees lose their jobs. The most controversial moves include the rolling back of universal healthcare leaving people to pay for visits to the doctor, hiking the pension age from 65 to 70 and having the country's highest tax bracket rise by two percent.
The proposals add up to the most radical reshaping of Australian social safety
Prime Minister Tony Abbott and Treasurer Joe Hockey said the budget was a blueprint for tackling "unsustainable deficits forecast at A$29.8bn ($27.9bn) next year and totalling A$60bn over the next four years."
However, Former Treasurer of Australia, Wayne Swan, argued that the budget was unnecessary in a time of no economic emergency.
"There is no budget emergency. Yes, there is a job to do in the future to ensure that our expenditure is sustainable, but what we've seen is really savage cuts on health and education and they are being used to pay for the government's other priorities, not debt," Swan told CNBC.
Unnecessary?
Australia's debt has grown in recent years, and is set to reach 14.6 percent of GDP in 2016/2017, its highest in 20 years. Nevertheless, this pales in comparison to other developed areas like the US and eurozone which both have debt accounting for more than 100 percent of GDP according to the OECD.
Australia's economy has fared well through the financial crisis thanks to a mining boom fuelled by Chinese demand. However, as resources began to slump in 2013 along with a rising expenditure, the government issued concern on the budget deficit.
"We know that for some in the community, this budget will not be easy. But this budget is not about self-interest. This budget is about the national interest," Treasurer Joe Hockey said in his Budget Speech.
Still, the budget might do more harm than good according to several banks and economic experts, who have expressed concern that the public spending cuts and tax hikes will hurt consumer sentiment and encourage the central bank to keep interest rates at record lows for longer than planned.
"In an environment where domestic demand growth is already fragile and significant risks remain in the handover from mining led economic growth, this Budget does pose a risk to the near-term outlook despite having laudable medium term objectives," economists at Goldman Sachs wrote in a note.
Start-ups hit
Aside from welfare cuts and changes to pension age and tax maximums, the Budget 2014, also revealed a new entrepreneurs infrastructure program. The $485m program will be rolled out over the next five years and replace eight initiatives, including those for start-ups, to deliver A$846m in savings.
Admitting that the budget will be tough on many, Cormann added that the government is "hopeful that the people of Australia will come with us"
Critics say that the entrepreneurs infrastructure program is skewed towards SME's instead of start-ups, and amongst those organisations hit, is Commercialisation Australia which has supported more than 500 start-ups with A$200m-plus in grants.
"Saving A$846m means the government will reduce its support for innovation by nearly A$170m a year. The reality is there's nothing in this budget that indicates the government wants to support tech start-ups in Australia," Steven Baxter, a board member at not-for-profit StartupAUS told The Australian.
Similarly, cuts above A$100m to arts and cultural activities across Australia are set to have a devastating impact on the film and arts industry, experts say.
Still, Australia's Finance Minister Mathias Cormann maintained, "it's a budget that puts our government spending on a more sustainable medium to long-term trajectory."
Admitting that the budget will be tough on many, Cormann added that the government is "hopeful that the people of Australia will come with us".
Areas that won't be cut as part of the new budget for the fiscal year beginning July 1 include defence spending, as well as increased investments in infrastructure and a new Sydney airport. It is estimated that the financial reforms will reduce the Australian deficit from A$49.9bn this year to AU$29.8bn in 2014-15.