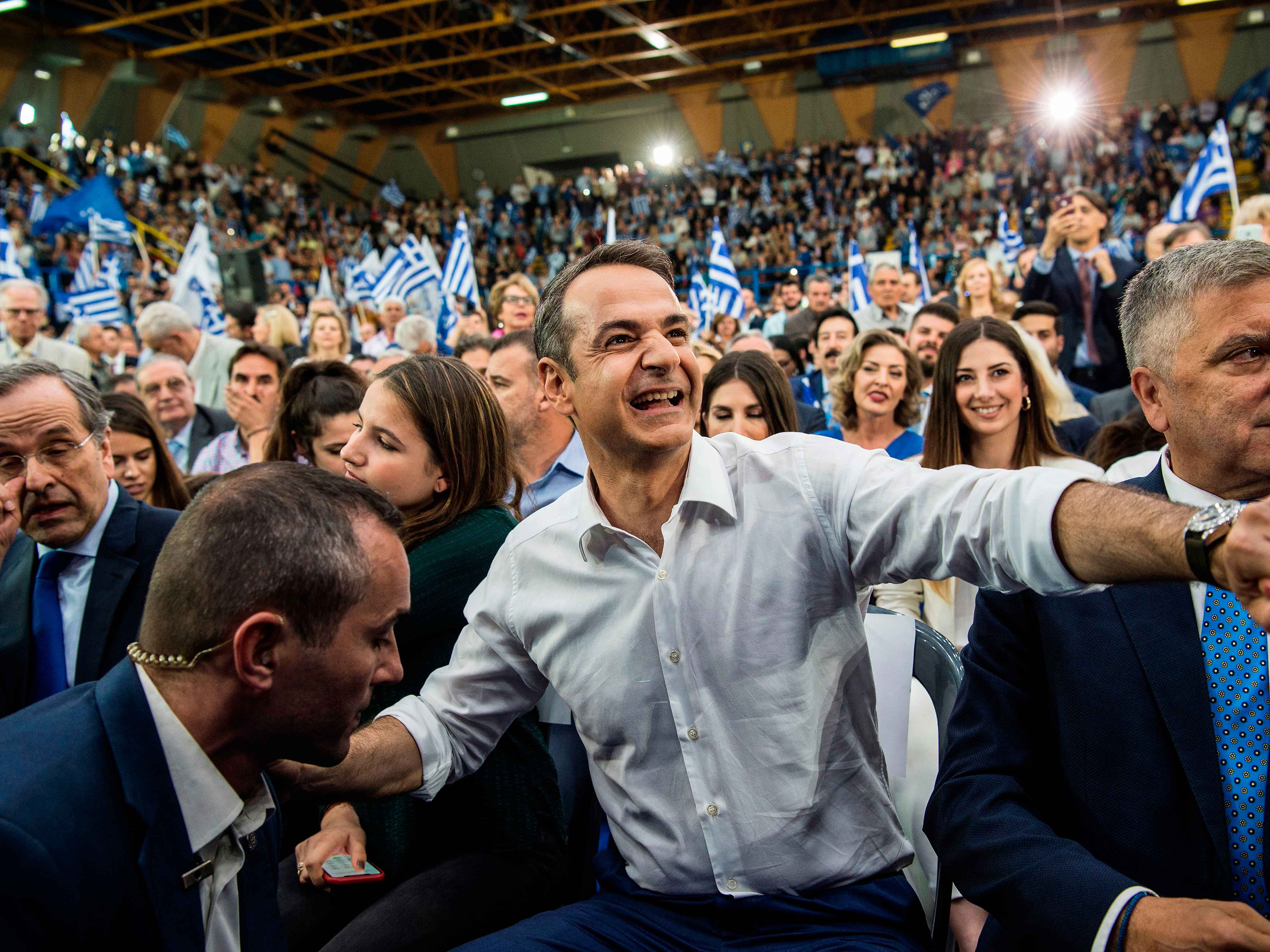 Kyriakos Mitsotakis won a landslide victory with nearly 40 percent of the vote. Investors are hopeful that his premiership will put Greece's finances back in order&nbsp
Author:
Charlotte Gifford
On July 8, the Greek electorate voted in Kyriakos Mitsotakis, leader of the centre-right party, New Democracy. Mitsotakis won by a landslide, with 39.85 percent of the vote.
"I asked for a strong mandate to change Greece. You offered it generously," said Mitsotakis in his victory speech. "From today, a difficult but beautiful fight begins."
Mitsotakis' victory is a momentous occasion for Greece and all of Europe. When the leftist Syriza party was voted in on a pledge to end austerity and tear up the bailout programme, it was one of the first populist parties to gain momentum in Europe. However, its leader, Alexis Tsipras, fell out of favour with the Greek electorate after imposing harsh fiscal measures in return for an €89bn ($99.8bn) bailout from the EU – effectively breaking his campaign promises.
Greece owes €266bn ($297bn) in debt to its troika of lenders, and although unemployment dropped to 17.6 percent in April, this figure is certainly still too high to be worthy of much celebration
As a pro-business conservative from a political dynasty, Mitsotakis' victory marks a shift away from populism and a return to the mainstream in Greek politics. The new prime minister has pledged to cut taxes, create jobs and encourage foreign investment. However, he would be right not to underestimate the size of the challenge ahead of him, as the Greek economy is still plagued by chronic financial difficulties. Unemployment is the highest in the EU, and in 2018 the World Economic Forum ranked Greece's overall competitiveness as the second-lowest in the EU. The country desperately needs to gain market access and see capital injected into its economy if it's to experience a full recovery.
Not out of the woods
Greece surprised the world this year when the Athens Stock Exchange enjoyed a 26 percent boom, outperforming the European average. This was partly in anticipation of Mitsotakis' win, which has been well-received by investors. After his victory was announced, Greek 10-year bonds fell by 14 basis points to all-time lows of 2.014 percent. This is a remarkable turnaround, considering yields reached 40 percent at the height of the eurozone turmoil. Investors taking risks on Greek's illiquid debt saw returns of over 20 percent as a result – the best performance in the eurozone. But Thanos Papasavvas, Founder and CIO of ABP Invest, believes the bond market's performance isn't sustainable.
"I believe the bonds are expensive at these current levels of two percent. I think they're overvalued," said Papasavvas. "As for the stock market, it's had a phenomenal rally. It's risen just over 50 percent since the beginning of this year. The strong momentum may have a correction, but valuations are still quite attractive from a long-term perspective"
Of course, returning to the markets at all is still a step in the right direction. Greece's bailout programme ended last year, meaning the country could once again stand on its own two feet, but there is still work to be done. Greece owes €266bn ($297bn) in debt to its troika of lenders, and although unemployment dropped to 17.6 percent in April, this figure is certainly still too high to be worthy of much celebration.
"Unemployment hasn't lowered as quickly as it did in Spain, Ireland or the other peripherals," Papasavvas told World Finance. "The reason why that's been the case is down to some of the underlying issues in the Greek economy. One of them concerns non-performing loans. About 41 percent of all Greek loans are non-performing loans. And that's what's keeping the banks on the back foot, because they can't do their work, they can't lend money to companies and households."
Because of the heavy burden of non-performing loans, Greek banks can't lend the capital needed to boost manufacturing and services and to increase employment. Had these non-performing loans been tackled earlier, they might not have spiralled out of control as they have. However, the close relationship between bankers and politicians slowed reform. The country's leaders also failed to pursue claims against business and households, concerned that doing so might deepen the crisis. One of the great challenges facing Mitsotakis will be digging the banks out of this debt and clearing their balance sheets in a way that doesn't deter the banks' shareholders. If he can do this, he will remove one of the major barriers to something the Greek economy sorely needs: foreign direct investment.
Attracting much-needed investment
Ever since the debt crisis began, Greece has been blacklisted by investors. Today, investments as a percentage of GDP are currently less than 13 percent, the lowest of all eurozone countries. Graded at B1 by Moody's, the country is not eligible for global indexes that are tracked by investors. In recent years, this has made its debt the preserve of hedge funds, which tend to make quick exits from markets and therefore stoke volatility as a result.
In order to progress, Greece needs to pull sizeable long-term investments into the country. Mitsotakis pledged to issue permits for the Skouries mining project in his very first month of office, and to push for the development of the Hellinikon Project. He's right to treat these projects as a priority: Eldorado Gold halted work at the Skouries gold mines of Northern Greece in 2017, after the Greek Ministry of Environment and Energy delayed the issuance of permits. Similarly, the country's €8bn ($8.9bn) Hellinikon Project – which aims to develop Athens' former airport complex into a business hub and tourist destination – has seen significant delays. Lamda Development, the consortium behind the mega-investment, has accused the Greek Government of presenting them with "insurmountable obstacles". For foreign investors, such setbacks are sure to ring alarm bells.
"As long as the largest direct foreign investment deals in the country do not progress, Greece appears as not being friendly to investments, and this is the wrong message the country is sending," said Dimitris Dimitriadis, Managing Director of Hellas Gold, the Greek arm of Eldorado Gold.
Athens has pledged to achieve government budget surpluses, before debt costs, of 3.5 percent of GDP for the coming years. This high surplus target has created a reduction in public investment and slowed economic recovery.
Investors will be watching closely to see if Mitsotakis can deliver on his promises and effectively execute these large-scale investment projects. There are signs investor confidence may already be increasing: ratings agency Moody's upgraded Greece's ratings from B3 to B1 this year, citing the momentum behind the country's reforms. Meanwhile, a survey by Metron Analysis presented at the InvestGR Forum in June, found that 60 percent of CEOs at 35 multinationals active in Greece said they would pursue furthering their investments. This figure represnts an increase of 53 percent from last year.
Overcoming obstacles
However, challenges remain. Also at the InvestGR conference, a survey of 40 CEOs was presented, showing that companies remained reluctant to invest in Greece until sizeable reforms were pushed through. High levels of bureaucracy, the heavy burden of non-performing loans in the country's banks and delays in the justice system are endemic problems within Greece. Mitsotakis is well aware that injecting more capital into the economy depends on his successful pushing through of these reforms.
This is likely to prove a challenge: although Mitsotakis has a majority, his opposition did not exactly suffer a crushing defeat. If they remain united under Alexis Tsipras, the Syriza party could present obstacles to reform. "The question is, how forceful will his opposition be?" said Papasavvas. "And – as and when they are forceful – how willing will the New Democracy party be to stay close to Mitsotakis, and fight this through?"
There is another obstacle to Mitsotakis' vision for an investment-friendly Greece: this is, of course, the troika of Europe. Athens has pledged to achieve government budget surpluses, before debt costs, of 3.5 percent of GDP for the coming years. This high surplus target has created a reduction in public investment and slowed economic recovery. Analysts are already arguing that Greece looks unlikely to meet its target this year.
Eurozone finance ministers have said key targets would not be changed. "Commitments are commitments, and if we break them, credibility is the first thing to fall apart," said Eurogroup President Mário Centeno. However, if Mitsotakis can present an attractive enough vision of a newly reformed Greece, then renegotiations could be on the table. To do so, he will need to push through reforms and attract foreign investment. If he is successful, Greece may finally shake off its reputation for debt and financial ruin.