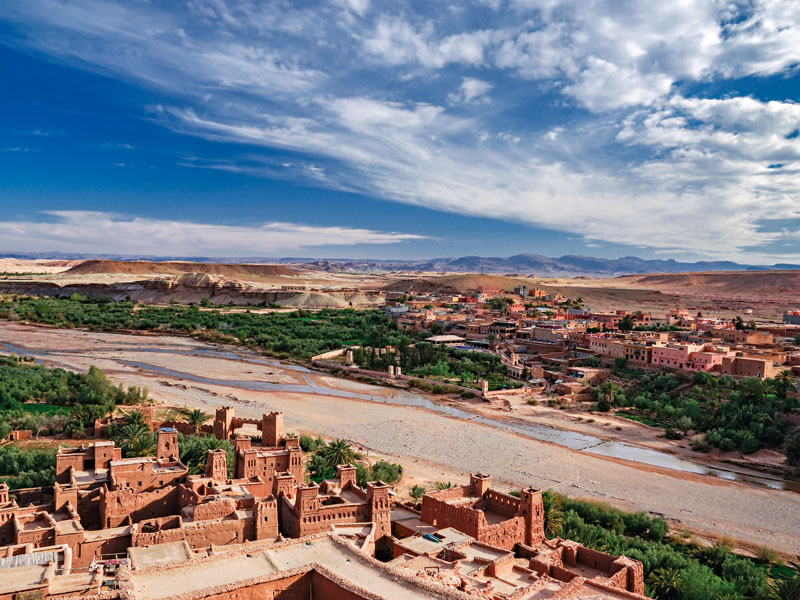 &nbsp
As Africa's sixth-largest economy, with a GDP per capita of just over $3,000, Morocco is certainly no economic minnow. Although growth has slowed of late, it measured a healthy 2.95 percent across 2018 and inflation remains low. But there is still work to do – particularly in terms of the country's infrastructural development.
According to the Global Infrastructure Hub (GI Hub), in the years leading up to 2040, Morocco is set to face an infrastructural investment gap of $37bn. It is not a challenge that is being left unaddressed, though. In June 2019, the country's government signed a $237m deal with the Arab Fund for Economic and Social Development (AFESD) to improve its dams and road networks. Then, in November, the African Development Bank approved a €100m ($110.6m) loan to finance further infrastructure projects.
Nobody could accuse Morocco of neglecting its infrastructure in recent years, even considering the funding gap facing the country
The Moroccan Government, however, should be wary of simply throwing more money at its infrastructural deficit. Overall, in terms of infrastructure, the country is actually performing pretty well; it is only in rural areas where a shortfall is particularly prominent. In many respects, Morocco's infrastructure is the envy of the rest of Africa, but the country should not start patting itself on the back until all of its citizens can enjoy the kind of advantages in transport, education and healthcare that are available to those based in its major cities.
It could be worse
Nobody could accuse Morocco of neglecting its infrastructure in recent years, even considering the funding gap facing the country. After all, no matter which country is being analysed, infrastructure always appears to be in need of development: Japan has an infrastructure investment shortfall of $91bn, while the US has one of $3.8trn. Compared with some countries, Morocco's infrastructural investment pipeline is not particularly worrying (see Fig 1).
"Morocco's infrastructure is second to none in Africa today," said Dr Ali Bahaijoub, Editor-in-Chief of North-South Publications. "There are motorways linking all the major cities, the new Tangier-Med port is the biggest in Africa and the Mediterranean, and there is a new high-speed rail link between Tangier and Casablanca, as well as new airport terminals in Casablanca, Marrakech, Rabat and Tangier. Roads within cities have also been widened to three lanes on both sides."
These projects owe their existence to the proactive approach the Moroccan Government has taken to finding outside funding sources. Over the last four decades, the AFESD has provided Morocco with 72 loans, totalling some $4.4bn. Nevertheless, Bahaijoub admits that "some regions in the country are better developed than others" and that placing a greater focus on rural areas and creating "schools and hospitals that are accessible to all" should be made a priority.
The money entering the country has, by and large, been funnelled into infrastructure projects that bolster Morocco's business environment, while residential areas remain underserved. Although corporate executives can travel between Casablanca and Tangier on Africa's fastest train, in the country's rural areas, Reuters reports that families are forced to travel by donkey to collect drinking water from outside wells. Infrastructure projects can be hugely effective in bridging inequality but, currently, the new builds in Morocco's glittering cities are merely serving to accentuate it.
Work to be done
Walking through the streets of Casablanca's city centre, which harbours ambitions of becoming the foremost financial hub for companies doing business in Africa, it is easy to forget what life is like for those living outside the country's urban areas. Approximately 40 percent of Moroccans live in rural areas and this often presents them with significant challenges that simply don't exist for the urban population.
Rural Moroccans receive an average of 2.2 years of formal education, compared with 6.1 years for their urban counterparts, while rural women are more likely to drop out of school early and exhibit higher levels of illiteracy. For many of these individuals, the difficulty posed by a lack of transport options means there is little time for education or economic development. While in urban areas, 100 percent of the population live within 5km of a healthcare facility, in rural areas, this figure drops to just 30 percent. Thankfully, things have improved in this respect – a 13-year road-building initiative improved rural access to all-weather roads from 54 percent to nearly 80 percent – but more could be done, particularly in the isolated communities that have established themselves around the Atlas Mountains.
The most prominent infrastructural project that the Moroccan Government has planned outside of its urban locales is the Noor Ouarzazate concentrated solar power (CSP) project, which forms part of the country's Moroccan Solar Plan (MSP). The largest solar complex of its kind in the world, situated where the Atlas Mountains meet the Sahara Desert, the project can supply around six percent of the country's total energy needs using two million mirrors.
"One of the key projects delivered under the MSP is the Noor Ouarzazate CSP complex, which will be one of the largest single solar complexes in the world," Marie Lam-Frendo, CEO of GI Hub, told World Finance. "The government of Morocco has set a goal of reaching 52 percent of installed capacity from renewable energy by 2030 and is well on track to meet this target, reaching 34 percent of targeted installed capacity of renewable energy in 2016."
While infrastructural developments like the Noor Ouarzazate plant may not, strictly speaking, be located in one of Morocco's urban hubs, the benefits that such projects deliver are unlikely to be felt in the isolated communities that need them most. Any employees will probably be drawn from the nearby city of Ouarzazate and the power it generates will not be much use to the people living in isolated Berber villages – not until much-needed cables are laid and power stations built.
Redressing the balance
While the Moroccan Government has been praised for the way it has sourced funding for its infrastructure projects, it knows there is still much more to do to address the shortfall in those areas outside its major cities. In July 2019, Moroccan Prime Minister Saadeddine Othmani announced that $1bn would be channelled into regional infrastructure projects by 2021 in order to achieve more equitable development. The government would do well to focus its efforts on the particular infrastructural sectors most in need of improvement.
"According to our [Global Infrastructure Outlook] report, Morocco is estimated to have an annual infrastructure investment need of $9.8bn in the years to 2040, primarily in the electricity and roads sectors ($4.5bn and $2.8bn respectively)," Lam-Frendo said. "To meet the UN's Sustainable Development Goals on universal access to electricity, water and sanitation by 2030, Morocco will need an additional cumulative investment of $16.2bn in the electricity sector and $4.6bn in the water sector."
Once again, attempts to plug the funding gap would be best served by targeting the country's poorer regions. Although reports of major development projects being launched in the Laâyoune-Sakia El Hamra region may appear to be a step in the right direction – the area is not home to any of Morocco's best-known cities – it is already one of the country's most prosperous regions. According to the World Bank, it ranks first in terms of education and access to fundamental economic, social and cultural rights.
The Finance Act 2019, approved in October 2018, should improve inequality to an extent, with its promise to increase the regional share of corporate and income tax from four to five percent. As will Othmani's commitment to delivering more interaction between government ministers and voters in these parts of the country. Similarly, a new approach to monitoring regional and local investment programmes should provide better accountability and transparency regarding the progress of any ongoing projects. These are the sorts of measures that are required – not more mega-projects that predominantly benefit those in society's upper echelons.
Building a framework
The reason why Morocco has been able to achieve its funding goals where other African states have failed is that the country boasts a solid regulatory climate, which gives investors confidence that they will achieve an adequate return on their financial support. "Among the 15 African countries included in the GI Hub Outlook analysis, Morocco is expected to be the country to meet the highest proportion of its infrastructure investment needs by 2040 (85 percent)," Lam-Frendo explained. "This may reflect Morocco's relatively strong infrastructure-investment-enabling environment."
In terms of governance, competition frameworks and permitting procedures, Morocco outperforms the average seen across emerging markets, as well as in many of its fellow African nations. And although Morocco does not have a national or sub-national infrastructure plan that covers all sectors comprehensively, the Moroccan Government has launched a number of separate sector-based infrastructure plans, including the 2040 Rail Strategy, Vision 2020 for tourism, the 2030 National Port Strategy and the Noor Ouarzazate solar plan. These plans are often supported by their equivalent-sector-based, state-owned enterprises and should help the country deliver more targeted infrastructure spending over the coming years.
The government would do well to focus its efforts on the particular infrastructural sectors most in need of improvement
Another reason why Morocco has managed to maintain relatively healthy finances is its diversified economy, which is much less reliant on commodities and fossil fuels than its neighbours, such as Libya. This has ensured that, while several states in North Africa have struggled to entice investors to the region, Morocco has not. A stable investment climate should not be taken for granted, however.
Morocco may have an economy that is spread across multiple industries, but it could do more to ensure that it is equally diverse geographically. This is where better infrastructure could make a significant difference. It would also help the country's poorer citizens support themselves economically as better transport links allow citizens to engage with the job market, sell their wares and access the amenities they need.
Morocco is certainly not ignoring its infrastructural shortfall in the hope that it goes away. The country's government should be praised for the way it has secured funding sources that have created its first-rate cities, airports and rail networks. However, now is the time to direct this funding elsewhere. Discontent is rising alongside inequality in the country. Another brand-new motorway or high-speed rail connection might see this discontent rise further still.