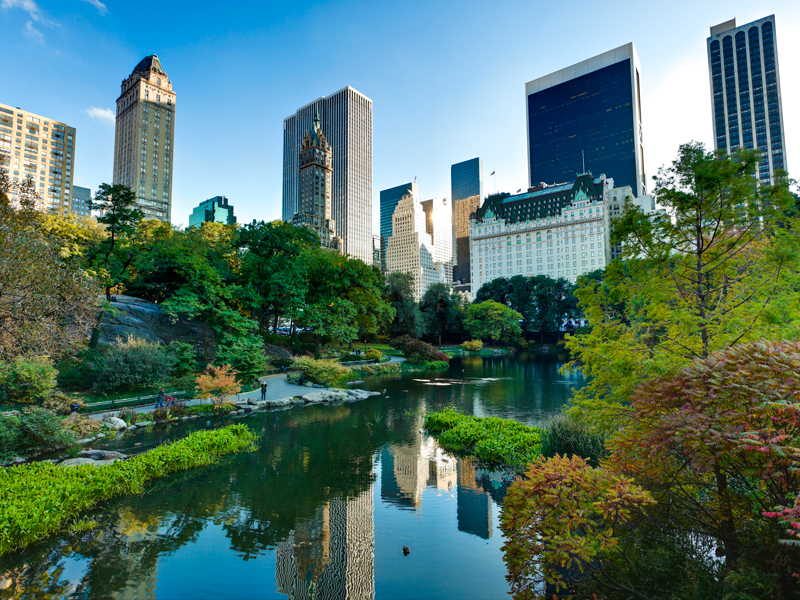 If Central Park, which is around 34 million square feet, were to be completely developed, there would be space for almost 62,000 studio apartments just at ground level&nbsp
Dick Whittington was by no means the first or last person to journey to London to discover whether the streets really were paved with gold. According to Trust for London, an estimated 426,637 people from both the UK and abroad moved to the city between 2014 and 2015, the latest period for which figures are available. The trend is not limited to the UK either: according to StreetEasy, more than 264,000 people moved to New York between 2017 and 2018, while, according to Federal Reserve Economic Data, 146,542 made Hong Kong their home in the first six months of 2017.
This influx of opportunity-seeking people has left many cities bursting at the seams, with ageing public and private infrastructure creaking under the weight of new residents. From transport to irrigation, education to healthcare, it's clear that a wide variety of facilities are in need of modernisation. What is less certain is who is responsible, or how best to go about it. The answer to these questions may lie in consultation and collaboration, in order to ensure that urban landscapes advance in a way that improves the lives of residents.
Talking it out
One of the greatest issues that befalls cities today is a lack of engagement between those building infrastructure and those they are building it for. When this feedback loop functions effectively, it's a powerful tool that can be used to shape the fabric of cities. In France, for instance, the Commission Nationale du Débat Public (CNDP) hosts early-stage debates on potentially contentious developments, with all interested parties given equal resources to make a case. Of the 61 projects debated by the CNDP between 2002 and 2012, 38 were significantly modified.
"One of the issues is a lack of engagement between those building infrastructure and those they are building it for"
However, in many cases, these consultation structures are not so well implemented. In AECOM's 2019 The Future of Infrastructure report, which surveyed more than 10,000 residents in 10 global cities, 52 percent of respondents said that requests for feedback on infrastructure improvement or investment came at too late a stage to be meaningful. By having the opportunity to comment, but not enact change, on ill-designed or poorly suited projects, urban residents have the worst of both worlds – they may be forced to live with infrastructure that they know could do more harm than good.
When it comes to commercial and residential projects, the picture is bleaker still. While some considerate developers do take the time to consult with local residents, these companies' own business interests remain the predominant driving force. "The commercial fundamentals for each side are: what the developer can get planning permission for; how much it would cost to deliver the finished project; [whether] there is a market for the proposed development and how much income will be generated; and [whether] the site can be bought at a price that leaves a sufficient margin…to make it viable," explained Don O'Sullivan, CEO at property developer Galliard Group.
Generating profit in urban landscapes, though, is hugely challenging. Availability of land stock is often very limited, and developers can be forced to pay extortionate amounts for plots, which is then transferred to the final purchase price. In San Francisco, for example, land is so scarce that the plot itself can account for up to 80 percent of a home's cost.
This often results in an affordability gap between what potential tenants or buyers can afford and what developers are willing to accept for newly constructed properties. Some developers are dissuaded from taking on new projects in the fear that they will not draw profit or even recuperate the significant upfront costs involved in development; this then leads to a shortage of available homes. "The massive undersupply of housing is what drives up the price of sites and – by consequence – the finished homes," said O'Sullivan.
Conflict of interests
In urban areas, developers must also ensure that land is safe and ready to be built upon. "Every site is 'brownfield' in London, and the other urban locations where Galliard work, so there is always some element of demolition and contamination to manage," said O'Sullivan. This previously developed land not currently in use generates an additional cost burden: in the US, for instance, the average per-site cost for brownfield treatment is an estimated $602,000, less than a third of which is covered by a government grant.
426,637
people moved to London between 2014 and 2015
264,000+
people moved to New York between mid-2017 and mid-2018
146,542
people moved to Hong Kong in the first six months of 2017
In a bid to obtain lower-cost land, some contractors have advocated for the development of green space – an option that is unpopular with city residents. There are a huge number of benefits in preserving urban parks, from providing outside areas for exercise to reducing city pollution and boosting the mental health of residents.
The fact remains, though, that they are expensive to maintain, and do occupy valuable land that could be utilised for high-density housing. For instance, the average size of a studio apartment in Manhattan is 550sq ft – if Central Park, which is around 34 million square feet, were to be completely developed, there would be space for almost 62,000 studio apartments just at ground level, without accounting for skyscrapers.
On the other hand, New York residents would lose all of the health and environmental benefits derived from urban green space. Aligning social, ecological and economic goals is near impossible in this regard.
Another option for developers is to build homes further away from transport links. Again, this is problematic as prospective buyers or tenants are then forced to endure longer commutes – and they expect a price reduction on housing as a result. Additionally, developers are less likely to obtain planning permission for inaccessible sites. "Access to transport links always positively influences sales prices, but in London it also affects planning – there is extra weighting attributed to sites with good public transport options nearby," O'Sullivan explained to World Finance.
In pursuit of collaboration
It's clear that more alignment between commercial, governmental and public interest is needed – and that begins with creating opportunities for all stakeholders to have their say. Similarly, the success of this endeavour relies on an understanding that the growing popularity of cities necessitates additional infrastructure development, and any reticence about that is simply not a productive attitude. "Our general experience is that almost every politician wants more housing built – as long as it is not next to where their voters live," said O'Sullivan. "If communities campaigned to encourage development in their area, the world would look very different."
One potential solution is increasing private sector involvement in public infrastructure projects. This would allow developers to have their say on proposals relating to transport or energy systems, for example, and would remove some of the logistical barriers to residential construction and building management. It's certainly popular with urban residents – 63 percent of respondents in AECOM's survey wanted more private sector involvement in city infrastructure. They hoped this could contribute to better financing, development, delivery and management in public facilities, which – given that 61 percent of respondents experienced power outages and 43 percent suffered an interruption to their water supply in the past year – is clearly needed.
63%
of AECOM survey respondents want more private sector involvement in city infrastructure
61%
of AECOM survey respondents have experienced power outages in the past year
43%
of AECOM survey respondents have experienced interruptions to water supply in the past year
O'Sullivan explained that Galliard already contribute financially to infrastructure development in the form of tax, which amounts to "tens of millions [of pounds] annually". As for delivery and management, he told World Finance that there used to be a private finance initiative (PFI) to do just that, but it was "formally killed off by the UK Government in 2018".
PFIs, which allow private sector companies to invest in public infrastructure, were pioneered by the UK and Australian governments and have found particular success in Spain: both the Parque Forestal de Valdebebas in Madrid and the Ciutat de la Justícia in Barcelona were built under PFI contracts. The Parque in particular has significantly boosted Madrid's environmental credentials: built on the site of a former illegal dump, it now removes an estimated 1,250 tonnes of carbon dioxide from the air every year, according to Foro Consultores Inmobiliarios. This not only alleviates pollution for city residents, but also facilitates property development in the area by replacing what was previously an eyesore with a selling point for construction firms. However, if PFIs are mismanaged – as was the case in the UK with companies like Carillion – they can collapse, leaving the taxpayer to foot an extortionate bill.
The success of joint projects like PFIs relies upon all stakeholders working collaboratively to ensure that urban infrastructure is fit for purpose for both current and future residents. After all, in the majority of countries, thriving cities are the lifeblood of the national economy – they are the birthplace of technological innovation, the lynchpin of financial markets and the setting for transformative political decisions. It is imperative that urban spaces are constructed to underpin their purpose.