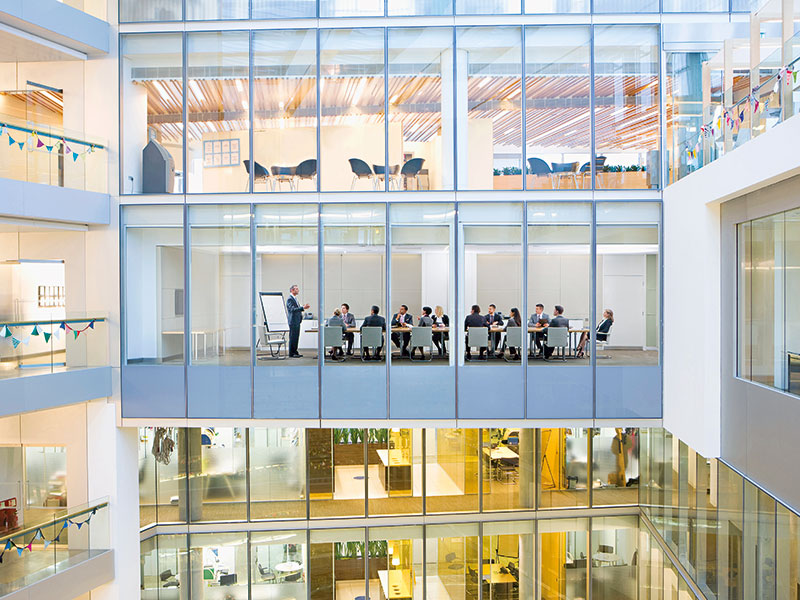 Breeding a positive office culture can directly correlate to a business' success&nbsp
Author:
Pavel Trenka, CEO, HB Reavis
January 9, 2017
A recent survey of more than 155,000 employees worldwide revealed almost half believe their office environment prevents them from working effectively. The survey by London-based workplace research firm Leesman found that 45 percent of office workers feel this way. For businesses, this does not only highlight a major productivity deficit, it also suggests that swathes of office workers are deeply unsatisfied with their workplace.
In the era of the so-called 'War on Talent', offering anything less than an office where people love to work is a risk few companies can afford to take. Moreover, unhappy staff members can have a direct, negative impact on a firm's bottom line. So, when commissioning future workplace designs and deciding on office locations, it is essential businesses find a formula that fosters staff wellbeing and productivity.
War on Talent
The battle to recruit and retain the best talent is a global phenomenon; never has it been so intense. KPMG's 2016 Global CEO Outlook study polled 1,300 bosses across 11 industries in 10 countries, and found 99 percent are taking action to develop existing or future talent. In addition, more than half reported skill gaps in key business functions, while some 96 percent of chief executives plan to increase their headcount over the next three years – a figure up from 78 percent in the previous year.
As attracting and retaining skilled people is a business imperative, companies need to understand what staff members want from their jobs, as do the developers building their workplaces. Much has been written about how to lure in tomorrow's leaders, the so-called Millennials. But it also is worth remembering that retirement ages are rising, and the world's population is aging. As a result, the workforce will continue to include a great many people who did not grow up with a smartphone attached to them like an extra limb. Employers, therefore, need to think about how they can please all the generations that make up their workforce.
Location, location, location
Studies such as KPMG's, which research exactly what keeps people in a job, are highlighting the emergence of the workplace itself as being just as important as other, more predictable factors, such as job role and salary – or, in some cases, even more so. For example, a survey conducted by OnePoll last year revealed location is the top factor keeping British workers in their current roles, ahead of both wages and job security: some 57 percent of respondents said they stay in their job because of its location.
So, what makes an ideal office location? Transport connectivity is the first essential, as employees must navigate through increasingly congested cities. It also matters a lot more in business culture, where the prevalence of electronic communications has placed a unique significance on face-to-face meetings, especially in a world where international travel has become faster and cheaper.
The transformation of London's King's Cross, once a rather unloved part of town, into one of the capital's most sought-after business locations is in no small part thanks to the area's rail and underground hub, from which you can access all corners of London, or even travel straight into the heart of Paris.
HB Reavis therefore sees transport connectivity as critical to new office developments. The Gdañski Business Centre in Poland, our commercial office scheme in Warsaw's fast-developing city centre fringe, is considered one of the best-connected schemes in the area. The scheme offers around 100,000sq m of modern offices and other amenities, and is located just 50 metres from a subway station. We have also financed a stairway to further improve the station's accessibility.
A great working environment leads to engaged staff members, as well as a more effective business overall
A train station is located opposite Gdañski Business Centre, and several buses and tramlines stop just 100 metres from the complex. A nearby bridge connects the site to the opposite bank of the Vistula River – a large residential provision – and a number of bicycle routes lead to the complex.
Being located in a primarily residential neighbourhood is also an effective way of ensuring people commuting into the development on weekday mornings are moving in the opposite direction to the heavier flows of transport heading out of the area.
Today's employees aspire to work in an office based in an attractive neighbourhood – or an office that functions as its own attractive 'neighbourhood'. Hence, smart employers are choosing to base their operations in districts where staff can enjoy great restaurants at lunchtime and cool leisure venues after work – the latter being a particular draw for those all-important Millennials.
When developing an office in an area that does not already have these assets, the alternative is to implement a 'placemaking' strategy, which involves creating the required amenities in or around the new office development. Curating the mix thoughtfully will create an interesting place where people want to be.
Our Twin City development in the Slovakian capital, Bratislava, demonstrates the power of placemaking. Currently the largest regeneration scheme in Central Europe, the scheme will bring back to life a former industrial zone, thus creating an expansive and lively new city district. It will comprise of Twin City offices on one side of the street and a shopping centre, Stanica Nivy, with a completely rebuilt coach station on the opposite side.
The retail offering will bring life and character to the district, both at street level and higher up, with a fresh foods market, complete with an entire floor devoted to speciality foods, and a multi-functional 'green roof' featuring a greenery and an outdoor gym.
Capitalising on our international experience, we strive to bring the latest trends and solutions to the development while making sure that the area will be 'alive' and serve the entire local community.
Internal wellbeing
This brings us to what happens inside the office. There is now overwhelming evidence to suggest the quality of a workplace affects not only the happiness of its inhabitants, but also their productivity, capacity for collaboration and ability to innovate. With staff on average accounting for 90 percent of any business's operating costs, it is essential employees are as productive as possible. Productivity includes very basic ideals, such as decreased absenteeism and more efficient use of time. However, organisations are now aiming for more: their goal is improved talent management, more engaged employees and faster innovation.
Engagement is particularly interesting: training consultancy Dale Carnegie has noted that organisations with highly engaged employees outperform those with low engagement by 202 percent, a fact that translates directly into the bottom line. Modern workplaces therefore must work to engage employees.
To an extent, how an engaging workplace looks depends on the nature of the work and the demographic segments employed, as mentioned previously. The ping pong ball and bean bag-strewn workplaces pioneered by the media tech sector, which are often held up as the best model for businesses universally (especially for those seeking to recruit Millennials), are not right for every company. But plenty of workplace principles currently in vogue can be widely applied in order to improve how people experience their workplace, such as maximising natural light, ensuring good ventilation and offering a variety of settings for working to suit various tastes, moods and tasks.
Our own headquarters in Warsaw – Post˛epu 14, where 34,500sq m of Grade A office space also houses AstraZeneca, Samsung and Ikano Bank – are designed to ensure the wellbeing and effectiveness of the HB Reavis team. A variety of breakout spaces support different tasks and ways of collaborating. There are also social spaces, such as a games room featuring a football table and an elevated area with beanbags. In addition, board members sit in an open plan area and the CEO's desk is located in a commonly used 'corridor', which fosters interaction between the leadership team and the rest of the staff.
Our London office development, 33 Central, is due for completion in 2017 and was recently sold to the third largest US bank by assets, Wells Fargo. The building is a light-filled island site featuring a quarter-acre roof top garden that offers panoramic views of London's most famous landmarks. Another of our London office schemes, 20 Farringdon, will provide six external terraces and 142 bicycle parking spaces upon completion. It also promotes a 'ditch the lift' mentality: the interior stairs are double width for ease of access and are visible from reception, drawing people towards them. The 12-floor building is also a stone's throw from Farringdon train station, through which Crossrail – London's major new east-to-west transport link – is set to run from December 2018.
The winning formula
Going forward, the best offices in the world will harness digital technology and data to produce an environment that better meets the needs of their occupiers. By knowing who is in the building, where they are, and their preferred lighting and temperature conditions, technology can improve the workplace experience for all staff members – and potentially reduce the employer's heating bill as well.
The winning formula for an office that promotes staff wellbeing and productivity is comprised of multiple elements. These may range from the macro – such as the building's proximity to an airport or train station – to the micro – for instance, whether the building has bicycle parking spaces and potted plants.
The formula will be different for each business, according to the nature of the work and staff demographics – but get the equation right, and the result will be an aspirational and truly occupier-responsive workplace.