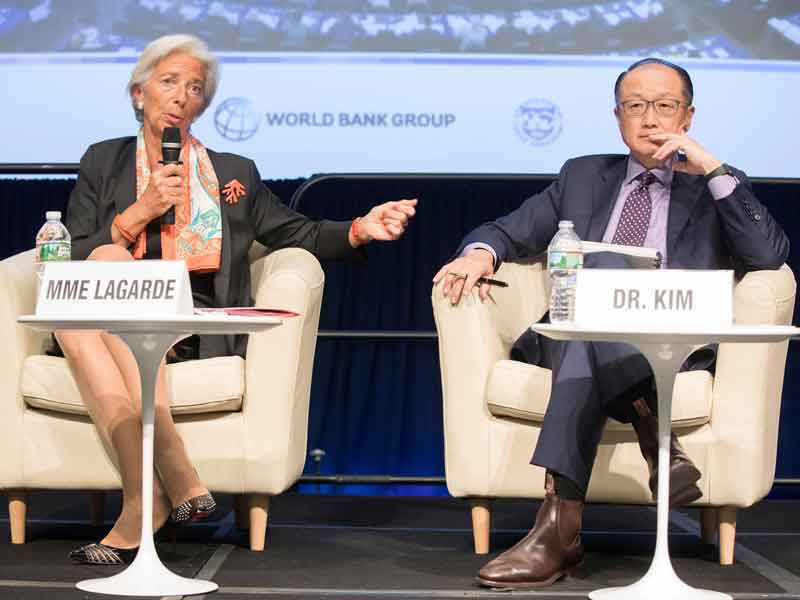 IMF Managing Director Christine Lagarde and World Bank President Jim Yong Kim at the IMF and World Bank semi-annual meeting. This October's meeting coincides with the OECD's optimistic projection for the world's economy&nbsp
Author:
Luján Scarpinelli
October 10, 2017
On October 9, a forecast by the Organisation for Economic Cooperation and Development (OECD) showed that the global economy will continue to grow at a strong pace in the last months of this current year, and will keep this up momentum into 2018.
The news comes at a time when G20 finance ministers and central bank governors are gathered in Washington for the semi-annual meeting of the IMF and the World Bank.
Economic leaders are closely following the state of the world's economy to make strategic moves. In the US, for instance, the Federal Reserve is expected to raise interest rates in December for the third time this year, while the European Central Bank (ECB) is waiting for signals to cut its bond-buying programme, which was introduced after the 2008 financial crisis.
The OECD leading indicator, which is designed to anticipate turning points in economic activity, projected an upbeat scenario of economic expansion in the countries that represent most of the world's economic output.
The latest figures for economic growth showed a 3.6 percent annual growth in the second quarter, marking the strongest pace in more than two years. The last time economies showed such robust performance was in the first quarter of 2015, The Wall Street Journal reported.
The OECD leading indicator projected an upbeat scenario of economic expansion in the countries that represent most of the world's economic output
In the next six to nine months, the US, Japan, Canada and the majority of European countries are expected to maintain "stable growth momentum", according to the OECD. Others, such as Italy, are forecast to grow faster.
With regards to China, whose performance is a matter of concern worldwide, the report highlighted that the economy's output will be boosted in the months ahead by strong performance in its industrial sector.
Another emerging economy with an outstanding forecast is Brazil, which is expected to experience healthy growth, despite suffering political turmoil this year.
The UK and Russia, however, will follow a different trend as, according to the OECD, the countries' economic growth is decelerating.
The forecast extends the period of optimism for the world's economy. However, some central bankers, such as President of the ECB Mario Draghi and Fed Chair Janet Yellen are still being careful to not make rash decisions based on market pressure and positive predictions.
Draghi has maintained the ECB's stimulus programme over the past year despite robust economic growth in the eurozone, while Yellen postponed a rate hike in September.