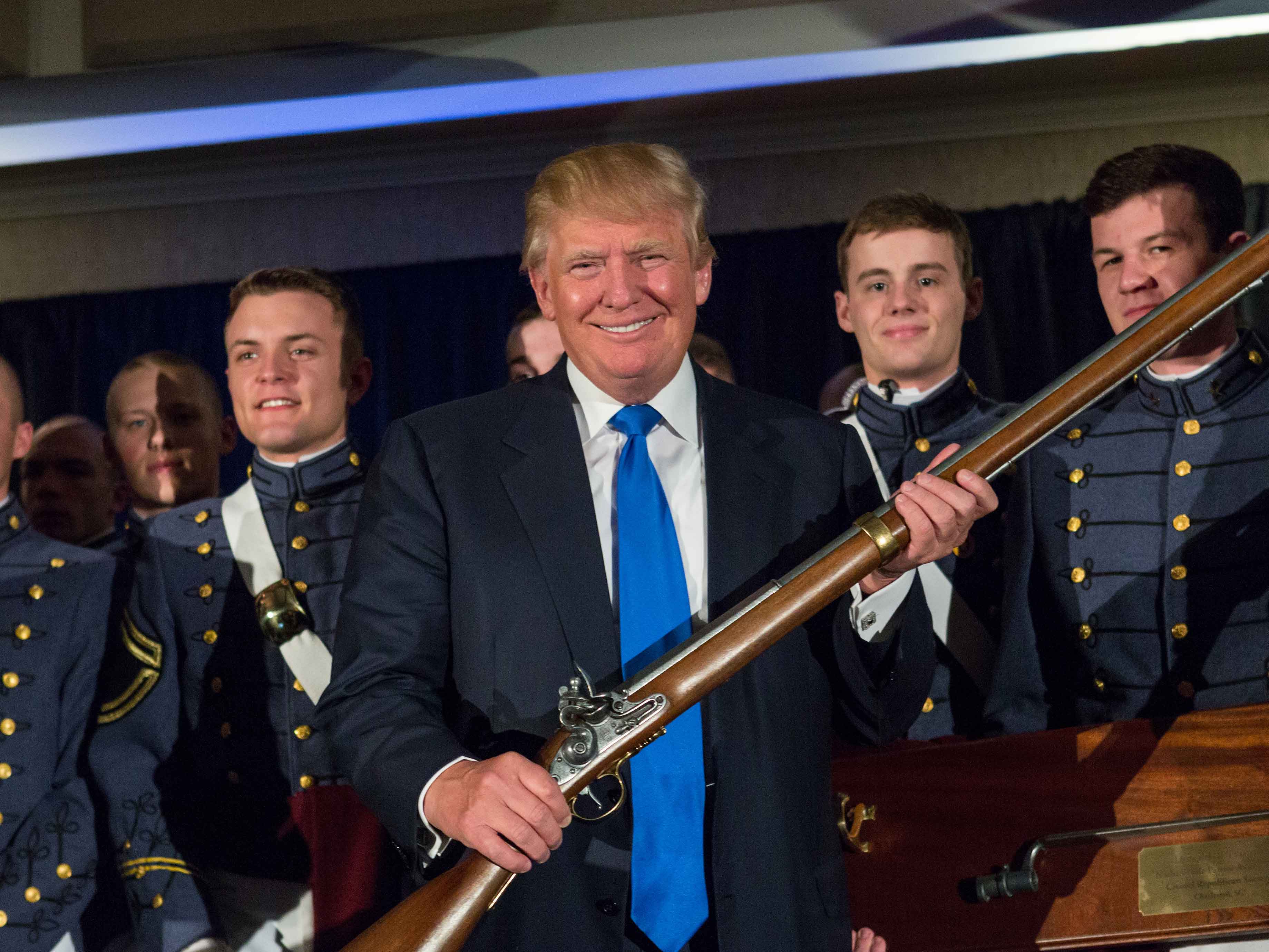 Donald Trump, like many Republican presidents before him, is viewed as being sympathetic to the rights of gun owners. Under his presidency, firearms sales in the US have dropped&nbsp
Barack Obama was once deemed to be the best gun salesman in the US. Under his presidency, firearms purchases reached record highs as Americans became increasingly concerned that he would push through legislation restricting gun ownership. Such legislation never came to fruition, but it certainly was mooted – enough to cause a surge in sales, anyway.
Under President Donald Trump, the industry has a very different complexion. Last year, gun sales fell by 6.1 percent – the second straight year of decline. While it would be easy to interpret this as a sign of an industry in crisis, in reality, it is likely to be little more than an overdue market correction.
The political climate in the US has always had a huge bearing on the firearms market, but that doesn't mean firearms suppliers have reacted with complacency to the recent downturn. Attempts to broaden the customer base have largely proven effective, particularly regarding female buyers. In fact, in spite of lower sales figures, the firearms industry has demonstrated remarkable resilience over the past few years: it remains a $28bn industry, and it doesn't look to be going anywhere just yet.
Another way of viewing falling firearms sales is simply as a form of normalisation after years of politically motivated growth
The Trump slump
Given that gun culture in the US stands apart from that of the rest of the world, it is tempting to view any drop in sales as evidence of the country finally falling in line with everyone else. Whenever mass shootings occur – which they do with lamentable regularity – an outpouring of support for stricter gun controls usually follows. At such times, it seems inevitable that the US will lay down its arms – or some of them, at least – sooner rather than later.
Certainly, some businesses have moved in that direction. In response to the February 2018 shooting at Marjory Stoneman Douglas High School in Parkland, Florida, Dick's Sporting Goods announced that it would no longer sell assault-style rifles and would stop selling guns to anyone under the age of 21. Other organisations, including cybersecurity firm Symantec and airline Delta, announced that they would cut ties with the National Rifle Association (NRA) in the aftermath of the tragedy.
In reality, though, these approaches are likely to have little effect. In fact, they may cause pro-gun citizens to double down, making additional firearm purchases and boycotting the brands that have spoken out. In any case, the long-term impact on sales is likely to be minimal. "We are definitely in a business cycle," Jurgen Brauer, Chief Economist of Small Arms Analytics, told The New York Times. "For those who have been around for 30 years, this [sales dip] is old hat, and you just deal with it."
Rather than being indicative of a long-term sea change in attitudes towards gun ownership, recent sales trends are more likely being driven by the current occupant of the White House. Donald Trump, like many Republican presidents before him, is viewed as being sympathetic to the rights of gun owners, so demand naturally tapers. "You have organic growth and then, historically, the industry has always had peaks and valleys that are driven by political pressures going on domestically," Larry Keane, Senior Vice President and General Counsel of the National Shooting Sports Foundation (NSSF), told World Finance.
"Leading into the election of 2016, there was quite a bit of concern among consumers that if [Hillary] Clinton won, they would be facing significant additional gun control legislation. Whenever there is concern among [consumers] that their Second Amendment rights are likely to be restricted or impinged upon, the market responds. It has occurred in the past, so what we saw in 2016 was far from unique."
Another way of viewing falling sales, therefore, is simply as a form of normalisation after years of politically motivated growth. When the industry is analysed over a prolonged period of time, its performance leaves little to be worried about.
Bulletproof industry
More than anything else, Keane believes the recent dip in sales should be viewed as a market correction: "Long term, the growth of the industry is very healthy. The market now is down, relative to the peak leading into the 2016 presidential election, but it is levelling out at about where sales were in around 2014. So, if you look at the long-term growth of the industry in sales, you'll see that it has substantially increased over the past 10 or 15 years. The long-term trends are very positive. Everybody understood that the peak levels observed a few years ago were not sustainable [in the] long term."
And while there are certainly good arguments for curtailing gun ownership in the US – the country has by far the highest rate of gun-related violence among developed economies – the industry does provide economic benefits. "The impact that firearm and ammunition companies have on the US economy is huge," explained Amy Robbins, CEO and co-founder of Alexo Athletica, a US-based 'carrywear' brand. "Not only was it responsible for about $52bn in total economic activity in 2018, but it even has a broader impact on business seemingly unrelated to firearms. From job creation to tax, the firearms industry's impact is huge – providing good jobs and paying significant amounts in state and federal taxes [see Fig 1]."
Even if sales are lower than they have been of late, the economic impact of the US firearms market has continued to grow: in fact, according to the NSSF's Firearms and Ammunition Industry Economic Impact Report 2019, it has risen from $19.1bn in 2008 to $52.1bn in 2018. Between 2017 and 2018, total industry-related jobs grew from 310,908 to 311,991. These are often well-paid jobs too, averaging $50,400 in wages and benefits. Aside from direct sales, the firearms industry also supports supplier firms and a number of other ancillary organisations. What's more, by providing a number of jobs – from California to New York – it indirectly generates business for industries far removed from the firearms market.
Shifting targets
One of the ways in which the US firearms industry has been able to maintain its economic impact even in the face of downward market pressure is by diversifying its customer base. Traditionally, the firearms market has centred on men, but this is something that the industry has been working hard to change.
According to a Harvard-Northeastern study, the percentage of women owning guns rose from nine percent in 1994 to 12 percent in 2015, with handguns proving particularly popular – in fact, 43 percent of those who only own handguns are female. A cultural shift appears to have occurred – one where women feel more comfortable using firearms for protection. Between 2012 and 2014, the percentage of women who believed that owning a gun was more likely to protect someone from crime than endanger them rose 11 percentage points.
In addition, the way that firearms manufacturers and related brands have marketed their wares has changed. Not so long ago, women had to make do with youth-model guns; now, companies are creating firearms and accessories that are specifically targeted towards the female customer, whether they want a gun for recreational target-shooting, hunting or self-protection.
"Based on our research, we have tapped into a market by connecting to a deeper message that supports women's right to choose how they want to defend and protect themselves," Robbins said. "As more women are deciding that a firearm is the ultimate equaliser and tool of choice for themselves, they are looking for brands to provide functional options that make it easier to live this lifestyle. We were the first company to do this in the activewear space by creating a lifestyle brand of carrywear for the modern woman."
Women in the US are looking for good carry options that ensure they don't have to sacrifice their current lifestyles. They are flocking to brands that make carrying a firearm comfortable and convenient, as well as stylish and safe. Concealed carry is a very personal choice for women and more brands are beginning to reflect this, with organisations that make it easier for women to carry a firearm in a variety of different situations experiencing a significant uptake from consumers.
A cultural shift appears to have occurred – one where women feel more comfortable using firearms for protection
Keane is eager to point out that the stereotype that only white, middle-aged men living in rural America are still purchasing firearms is not reflected in the customer data: "We are witnessing the changing face of the consumer – the demographics are shifting and you are seeing a more ethnically diverse customer base. We are also seeing more urban purchases."
Programmes like the NSSF's First Shots initiative have proved hugely effective in getting new customers interested in firearms. It's an approach that will have to continue if the industry wants to maintain its long-term growth.
A long shot
For the US firearms market, the priority is finding a way to continue generating the kind of organic growth that can insulate businesses from the inevitable dips in demand arising from political developments.
"There will always be spikes in demand that are driven by external factors – that is the reality of the market," Keane said. "The product is not merely a consumer item – it is protected by the Second Amendment of the US Constitution and so the market is fairly unique in that regard. There aren't many products that are constitutionally protected. It makes it challenging for the industry to manage sales peaks and troughs, which are generally unpredictable."
Organisations like the NRA and the NSSF should continue to structure their marketing activities in such a way that ensures the industry appeals to as broad a spectrum of customers as possible. This has proven effective at changing the image of the typical gun owner, particularly among female customers. American Outdoor, a firearms and outdoor sports brand, spent $56m on marketing and PR in 2018 – approximately 78 percent more than it did five years ago. Marketing helps to prop up sales when times are tough.
Approximately three in 10 Americans own a firearm – down from historic peaks – so it seems that more guns now reside in the hands of fewer individuals. What's more, it is not completely out of the question that further restrictions on gun ownership will one day be implemented (legislative differences already exist at state level), and while these may cause a short-term sales boost, they will dent revenue in the long term. According to the Pew Research Centre, almost 60 percent of US citizens believe that gun laws should be stricter: these are things that firearms firms will have to keep in mind.
For now, though, the industry's long-term growth looks promising, driven by a diversified customer base that, to some extent, reflects changing demographics in the US population as a whole. As the country starts preparations for the 2020 presidential election, sales may well fluctuate again, making the industry's most recently acquired customers of particular importance: they will be needed to maintain the firearms industry's momentum, regardless of whether the next president is a Republican or a Democrat.