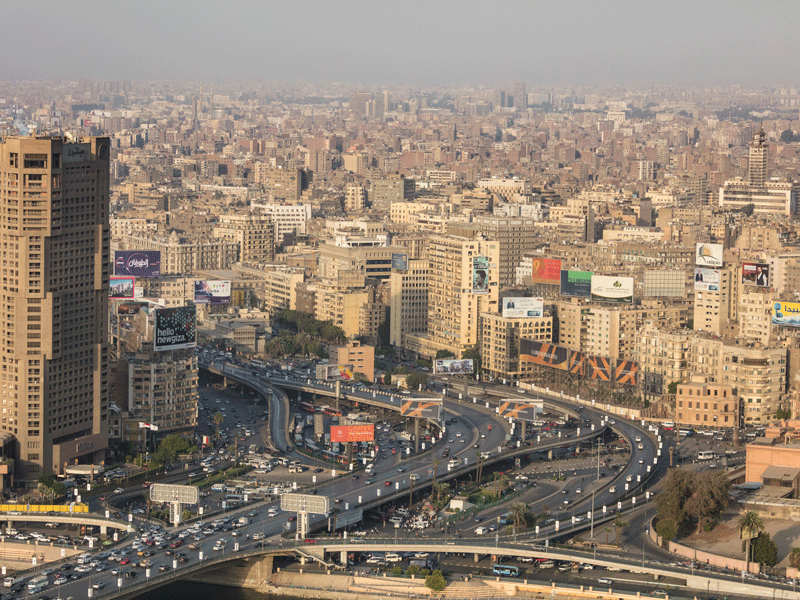 Egypt's economy is proving remarkably resilient; despite the significant upheaval wrought by recent revolutions&nbsp
Author:
Ahmed Abou Hashima, CEO & Chairman at Egyptian Steel
A revolution is always earth-shattering for any nation. Major socio-political changes occur and they are followed by years of unrest. Egypt had two revolutions in the space of a few years, yet the resilience of the Egyptians and the Egyptian economy has been unprecedented. The population's reaction was astonishing: the June 30 revolution took place in 2013, and people still went to work as normal the very next morning.
Egyptian Steel was established just six months before the first revolution and, seven years later, is now one of the largest building materials companies in Egypt and the region. We were able to grow and flourish during this difficult period, and are not the only success story to emerge from these turbulent years. The country has definitely had its struggles, but I believe we are bouncing back much faster and stronger than other nations that have gone through similar circumstances.
Steel demand
The demand for steel is always high, especially in Egypt and other African nations where there are fast-growing populations and a desperate need for new infrastructure. I firmly believe that Africa is the future, and the world's main opportunities for growth and new business will come from this continent.
The demand for steel is always high in nations with fast-growing populations where there is a desperate need for infrastructure
That said, providing energy and electricity for heavy industries such as steel and cement still remains a challenge for the sector. Fortunately, our government has been working on numerous projects to provide enough power to boost the industrial sector. For instance, the government is currently building several new power plants, including the world's largest electricity power plant in collaboration with Siemens, in addition to revamping and improving existing plants. The cost of raw materials required for production is also a challenge. That being said, our group's plants are built with the latest energy-saving technologies, which enable us to produce high-quality products and still remain competitive.
Steel and other heavy industries are typically some of the strongest sources of GDP for any country. As such, I believe governments should be willing to protect their national industry by imposing anti-dumping tariffs and customs on imported steel. Indeed, this procedure is not limited to countries like Egypt: even the US has imposed tariffs to protect its steel industry. However, in Africa generally and in Egypt specifically, we face a different set of problems than those faced in developed countries, where there is usually an overproduction of steel. We are still building our continent, so there is always an appetite for steel.
Investment climate
Egypt's main power lies in its people. With more than 60 percent of the population aged under 30, we are a youthful nation and, aided by the increased development of vocational centres, our workforce is energetic, educated and skilled. Egypt also benefits from its strategic location overlooking the Red Sea, the Mediterranean and the River Nile. I believe all of these factors make Egypt a unique investment opportunity.
Since the second revolution, the government has been particularly keen to attract foreign investors with the introduction of new investment laws to create an even more attractive environment for investing. Moreover, the necessary decision to float the Egyptian pound has made the capital for investing in Egypt more affordable for investors. Indeed, the establishment of joint ventures and investments into already established Egyptian companies is an ideal scenario for foreign investors who want to minimise their risk.
Our group is developing a world-class business model and corporate governance structure. We do not settle for anything other than outstanding quality, and we aim to compete globally. This quality is embodied by our plants, suppliers, workforce and final products. We also make use of energy-saving technologies and, with the completion of our fourth steel plant in Al Ain Al Sokhna at the end of 2017, we have become the largest green steel producer worldwide, with a production capacity of 2.3 million tonnes annually.
The locations of our steel plants are also very strategic. With plants in Alexandria, Port Said, Al Ain Al Sokhna and Beni Suief, they are all situated near Egypt's main ports, which facilitates transportation. I also take great pride in the workforce of the group: I call them the 'dream team', as they are all at the top of their respective fields.
Another important point of distinction is our CSR programmes, which aim to improve the quality of life for as many Egyptians as possible. We adopted the initiative to assist the country's 40 most impoverished villages, providing people with proper housing, clean water and electricity. We also provided them with micro projects that would ensure a steady income in the future and the sustainable development of their local communities.
In the same way, we are revamping existing schools and investing in new community schools in rural areas to ensure that no child goes through life without an education. We have also refurbished and equipped orphanages for children with special needs, and sponsored athletes and young inventors who represent Egypt abroad. Through these initiatives, we will continue our efforts to improve people's lives and the standard of living throughout the country.
Creating enterprise
We always welcome foreign investors who would like to place their trust in us. Our group includes Egyptian Steel, which will reach a 20 percent market share of Egypt's steel market by the end of 2018, and Egyptian Cement, which is set to produce two million tonnes of cement annually. We have also established the Egyptian Complex for Building Materials Industries with the aim of creating an integrated industrial area on Egypt's investment map.
Our first choice of location was Sohag, due to its previously untapped abundance of natural resources and raw materials. The project will contribute to reducing unemployment in Upper Egypt and will help with the migration of young people both locally and internationally. In fact, this initiative alone will provide 5,000 to 6,000 jobs.
The complex consists of six factories that produce cement, lime, cement slabs, prefabricated concrete, cement bags and cement bricks, in addition to interlock factories and a steel reforming centre. It is the first of its kind to include all industries related to building materials, and so should meet the needs of consumers, retailers and real estate developers alike. The complex is scheduled for completion by the end of 2018 and, with a total investment of EGP 6bn ($339.9m), it is the largest ever investment project in southern Upper Egypt. Not only does it aim to create an investment boom in Upper Egypt, it will also increase the country's industrial capabilities and boost the national GDP.
Made in Egypt
We have so much in the pipeline, and the group is committed to expansion, whether in heavy industries or in other sectors.
Our success in the upcoming years will stem from the introduction of a powerful slogan: 'made in Egypt'. At present, Egypt's imports are valued at around $65bn annually, while its exports are valued at somewhere between $25bn and $30bn. This gap can be closed by empowering the country's industrial and manufacturing sectors, and by developing more integrated industries. To make this possible, the government must better protect national industries with appropriate laws and protection fees, while it is the duty of manufacturers to present products that are competitive in both quality and price. If we are able to minimise our imports, we will see a positive impact on the currency and behold an Egyptian nation that is stronger than ever.