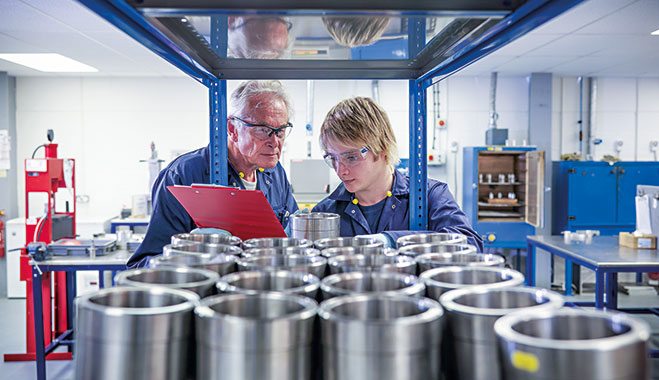 Externships are usually shorter and less hands-on than internships, but can contribute to reducing youth unemployment&nbsp
When it comes to introducing fresh faces into the workplace, one often-heard complaint is that secondary and tertiary education offers little-to-no experience of the skills that are required in industry. With this in mind, alternative forms of employment have emerged as a means of easing new candidates into the workforce – and though the pay is less, the insight into any one particular field of work is invaluable for jobseekers.
Internships, for example, have enjoyed a sudden surge in popularity in recent times. The model is not without its critics, however: 'exploitative', say some, and 'menial', say others. Indeed, the promise of valuable experience has been obscured somewhat by employers who see the system as little more than a way of accessing cheap – or even free – labour. But irrespective of its critics, the fact remains that ideas like this hold the solution, at least in part, to a youth unemployment crisis in Europe, the US and beyond (see Fig. 1). As such, externships have re-emerged recently as a means to this same end.
Rise of the externship
In short, externships give students and workers an opportunity to shadow an experienced professional, usually over a much shorter timeframe than an internship or apprenticeship might. While internships usually last upwards of four weeks, externships typically range from one day to two weeks and involve far more observation than they do hands-on experience. With less practical work on offer, the nature of the process means that the level of commitment is less for both the student and the company in question.
"Externships serve as valuable opportunities to become immersed in a host's (and hosting organisation's) daily activities in order to gain a better understanding of a particular career field", according to Melissa Schultz, Associate Director of Gateway Programme and Graduate School Advising at Lafayette College. "While traditionally observational in nature, some opportunities may allow for the extern to gain hands-on exposure to work tasks. Through externships, students are often able to attend meetings, tour the workplace, visit with clients and meet with other members of the organisation."
Externships have been welcomed by employers, as well as students, as a means of plugging the skills gap that exists in certain industries
Those in favour of externships usually hold the opinion that graduates are of limited use to employers without at least a brief stint of practical training, and so learn-and-earn programmes could play an important part in preparing workers for a particular career. "Learn-and-earn is important in today's increasingly competitive and turbulent work environment, particularly for low-income or under-skilled workers who seek better jobs, a better standard of living and a potential for career success", according to An analysis of US learn-and-earn programmes, a report published by Michigan State University's Collegiate Employment and Research Institute.
Keith Bevans, a partner at Bain & Company and leader of the firm's global consultant recruiting, told World Finance, "At Bain, externships have been a part of our professional development offering for a really long time. I think the surge [in popularity] is felt more by companies that have not thought about it as part of their employee development toolkit. Many young professionals are interested in validating the career vision they have. For us, allowing them to do externships has been a great tool for them to 'scratch the itch' while staying at Bain."
Getting a head start
Mentoring and networking are invaluable aspects of the experience, and an opportunity to preview a field of work can offer a real and intelligible insight into what exactly the job demands of entry-level candidates. Those involved in the scheme often report that the process leaves a long-lasting impression on them during their time in work and, crucially, their decision over which field they would like to work in. "Students benefit from externship opportunities in a myriad of ways", Schultz told World Finance, "including gaining a realistic understanding of a career field, exploring career options connected to their major, learning about the daily activities of an occupation, gathering information and advice by asking questions of their host and colleagues, and gaining insight that allows them to plan for future courses, internships, and other ways to explore their career interests."
Schultz told Forbes in 2013 that 86 percent of the students in a Lafayette survey reported that they had stayed in touch with their extern host. What's more, 99 percent said that an externship had helped them to clarify their career goals, and as many as 93 percent of the hosts surveyed confirmed they would participate in the programme again if given the opportunity.
"For some students, an externship may be their first exposure to a professional setting, which can also help them to gain first-hand experience with standard business practices, professional etiquette, and the culture of the organisation and/or industry they're exploring", she told World Finance. "Each of these benefits translates into allowing them to launch professionally (upon graduation) with greater confidence and clarity around the alignment between their skills, abilities, and interests with the professional pathway they are exploring." However, placements like this are not always the responsibility of the student, and a number of schools and universities are fast beginning to realise that too many students are graduating ill-prepared for the working environment. Discerning institutions, therefore, are forming partnerships with major industry names in the hopes that doing so will smooth their transition into the workplace. "Our education system can no longer afford to wall itself off from the world of industry", wrote Ayesha Khanna, Co-Founder and CEO of The Keys Academy, in a Project Syndicate opinion piece.
Youth unemployment
The resurgence of the externship concept, which first appeared in the Merriam-Webster dictionary of 1945, at this moment in time is no coincidence: with the issues that are currently plaguing the labour market, both in the US and across Europe, an extra bit of experience can make all the difference.
Looking at figures compiled by the International Labour Organisation (ILO) in its Global employment trends for youth 2015 report, the youth share of global unemployment stood at a worrying 36.7 percent in 2014, and deficiencies in job quality are troubling developed and developing markets alike. On a smaller scale, youth unemployment in the Middle East, Asia and North Africa worsened in the period through 2012 to 2014, and two thirds of all European nations were found to have an over-20 percent youth unemployment rate, with 35.5 percent of that sample out of work for a year or more.
Looking at the period spanning 1991 to 2014, the youth labour force has declined by approximately 29.9 million people. This was during a time where the youth population expanded by 185 million, representing an 11.6 percent decline in the youth labour force. To compound the problem, and underline the case for externships, the reason for the decline is due, partly at least, to greater engagement in secondary and tertiary education – and while it is true that improved education amounts to a positive development, the suggestion that these institutions are largely isolated from the workplace looks only to exacerbate the central issue of youth unemployment.
"Youth employment is now a top policy priority in most countries across all regions, and at the international level is being translated into the development of a global strategy for youth employment and embedded into the 2030 development agenda", according to the report. "With a growing multitude of country-level initiatives involving many actors and institutions from the public and private sectors, focus now turns to forging partnerships for policy coherence and effective coordination on youth employment."
An externship, while not necessarily the solution to a gathering youth unemployment crisis, is simply one way of preparing today's youth more effectively for the demands of the modern-day workplace. Additionally, while much has been made of the obstacles standing in the way of graduates and well-paying jobs, this isn't to say that there aren't benefits for employers seeking new talent. Although the issue of recruitment is secondary to that of youth unemployment, externships have been welcomed by employers, as well as students, as a means of plugging the skills gap that exists in certain industries.
Skills shortage
The issue of youth unemployment boils down to much more than there being fewer jobs than there are candidates in the labour market: in fact, McKinsey figures show that a quarter of European employers were struggling to fill vacancies in 2014. Rather than a simple shortfall, there is a mismatch in many parts of the world between young people's skills and the specific needs of employers.
Figures cited by The Economist, for example, show that 70 companies – not least Microsoft, Verizon and Lockheed Martin – are working with schools to redefine vocational education and cherry pick what skilled employees they find. Likewise, IBM's Pathways in Technology Early College High School combines high-school education with community college courses and, again, with paid work experience.
Employers, as much as prospective employees, stand to benefit from externships, and should the scheme bridge the skills gap at all, we can expect to see them grow in popularity even more than they already have done. "As employers are seeking to secure interns earlier and earlier in their academic training, the externship programme can often allow the employer to "test" the fit of a potential intern through the shorter-term externship. It also allows employers to showcase their culture and brand to prospective interns or staff members", according to Schultz.
With students on the one hand struggling to lock down a permanent position, and companies on the other struggling to attract the right candidate, an externship arrangement means that both parties can finally begin to act on the issues dogging the labour market.